BWW Review: Next Stop's DISGRACED a Stunning, Necessary Examination of All-American Prejudice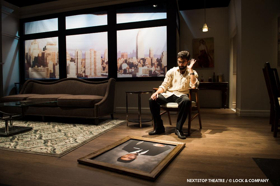 The first, indelible image when you enter the theatre for Next Stop's taut production of Ayad Akhtar's Disgraced is an immaculately conceived and executed New York apartment. Immaculate white walls, tastefully hung artwork, a niche for a walnut-toned credenza, stocked with decanters of fine whiskey and port, and - of course - floor-to-ceiling windows opening onto a balcony with a spectacular view of the Manhattan skyline.
Set Designer Jack Golden has created the perfect space for a play that tracks the sudden, tragic fall of a successful immigrant's career, his reputation, and the utter destruction of his marriage. Under the fine direction of Thembi Duncan, the cast of Disgraced gives us a contemporary morality tale that earned a Pulitzer Prize when first staged in 2012-the year of President Barack Obama's re-election.
Stop for a moment to think how things have changed in the interim; how the election of Donald Trump and the imposition of a travel ban on Muslims (ostensibly from countries tainted by terrorism but, well...), and the openly anti-immigrant, pro-white nationalist sentiment has torn away at the nation. Is it any wonder that Akhtar's searing drama deserves its place on the stage right here, and right now?
Anchoring the fine cast is Jesse Bhamrah as Amir, the son of 'Indian' immigrants, who passes as Hindu at the prestigious Jewish law firm where he works but whose family is Muslim. Bhamrah deftly manages the difficult feat of earning our empathy and admiration in the play's opening moments, only to throw it all into doubt by the end.
Doubts about Amir, however, are the farthest thing from our mind as we meet him and his sweet, American wife Emily, an accomplished painter who (perhaps as a part of embracing Amir as a spouse) has embraced Islamic art for its abstraction and geometric precision. A passing insult at a restaurant has inspired Emily to paint a portrait of Amir in the spirit of an Italian Renaissance master. Jenna Rossman gives us a sympathetic adventurer, with the optimistic worldview that has made (and broken) our reputation as a nation. Emily prefers to see the good in everything, even as Amir voices his misgivings, in a manner that calls to mind one of Shakespeare's most famous mixed marriages (one which Akhtar no doubt had in mind as he wrote).
This perfect young couple is soon joined by Abe, Amir's nephew who has so thoroughly embraced America that he has changed his name. His request, that Amir come to a court hearing to support a local imam, leads to a series of events that end up utterly destroying Amir and Emily's domestic harmony. Nahm Darr's Abe is sympathetic - striving, anxious, trying his best to succeed in his adopted country-and his disillusionment is all the more heart-breaking to watch.
Rounding out the play are Isaac and Jory, another ambitious young, mixed couple. An art impresario, Isaac is quite taken with Emily's artwork-and Emily-while Jory works alongside Amir at the same law firm. As Jory, Chaela Phillips offers us another all-American success story, one which involved struggles every bit as tough (if not more so) than Amir's. And as Isaac, Jordan Friend gives us perhaps one of the most chilling performances of the night, an urbane self-anointed liberal whose hidden biases (like Amir's) give the lie to what he claims to espouse.
The professional and artistic friendships that have developed between the two couples, so solid in appearance at first, turn out to be as fragile as any fine china. Amir's attempt to mediate the imam's imprisonment is blown up in the New York press and leads to a vicious backlash within his law firm. Amir is branded a terrorist sympathizer in spite of the fact that he is personally anti-religious; still, like many immigrants, however, he still harbors resentment against the American government for the ways it has meddled in the politics of the Muslim world.
These sentiments, when expressed in the context of a civil discourse about world affairs, would barely raise an eyebrow; but Akhtar crafts a sequence in which these sentiments turn the audience against Amir on a dime.
The emotional wreckage onstage is truly memorable here, and Akhtar forces us to examine the many forces, common throughout American culture, that drew these characters together and yet tore them apart. What does it take for an immigrant to succeed in America? To gain the respect and trust of others that she or he deserves? What are the costs of turning our back on our heritage? And is it really possible for us to speak freely, or must we sacrifice that precious right in order to survive?
These questions and more will haunt you, and I highly recommend when you go to see Disgraced - and see it you must - be sure to go on an evening when there is an after-show discussion. There is so much we need to know about each other in order to heal the deep wounds that have been torn open and amply salted by recent events. This production is one place where the healing just might begin.
Production Photo: Jesse Bhamrah as Amir. Photo by Lock & Company.
Running Time: 1 hour and 30 minutes, with no intermission.
Performances of Disgraced run through October 1 at the Next Stop Theatre, 269 Sunset Park Drive, Herndon Virginia. Tickets can be ordered by calling Ovation Tix at (866)-811-4111, or online at: