Click Here for More Articles on REGIONAL - DC Metro Area Maryland
BWW Review: HUCKLEBERRY FINN'S BIG RIVER at Adventure Theatre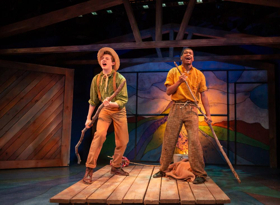 NOTE: Huckleberry Finn's Big River features two casts of young performers in some of the key roles. This review reflects the Blue Cast's performance on February 13, 2019.
The 1985 Broadway season might have been one of the weakest on record for musicals; in fact, only three shows were nominated for Best Musical at the Tony Awards that year. We had an Ellie Greenwich jukebox musical (Leader of the Pack), one of Harold Prince's big budget disasters (Grind), and a musical based on Mark Twain's The Adventures of Huckleberry Finn (Big River). Needless to say, at least in my opinion, Big River won the Tony Award for Best Musical and several other awards in part due to a lack of competition. Despite some catchy songs by Roger "King of the Road" Miller the show suffered, in my opinion anyhow, from there simply being too much of it. William Hauptman's book tried to focus on multiple stories as opposed to having Huck and his relationship with runaway slave Jim be the true heart.
Fast forward to now and inside the mind of our local Theatre for Young Audiences (TYA) visionary and Adventure Theatre Artistic Director Michael J. Bobbitt. Almost 34 years after it premiered on Broadway the bones of what was the sprawling Big River is now a brand new, more focused adaptation for TYA audiences entitled Huckleberry Finn's Big River. The show is a co-production with Adventure Theatre and The Lyric Theatre of Oklahoma in association with Rodgers and Hammerstein Theatricals and First Stage.
Keeping the best of the late Roger Miller's score intact and Hauptman doing a huge rewrite to the book, the show now focuses on the slavery angle present in Twain's novel pretty much exclusively. While adult actors portrayed Huck and Jim on Broadway, this production also features performers closer in age to the two characters.
There are two questions to be answered here. First, does chopping the almost three-hour original version down to a little over an hour help in presenting the material? Second, does a decision to cast performers closer to the actual ages of the characters help or hinder this production?
Read on to read my opinion and judge for yourself, but first a little plot synopsis.
Huckleberry Finn (Max Gerecht) lives with the Widow Douglas (Sarah Anne Sillers) who is determined to turn the mischievous boy into a respectable grown up. One day, Jim (Nathan Butts), the Widow's slave, overhears her intention to sell him off. Together, Huck and Jim escape on their raft down the mighty Mississippi River. Jim will be a free man if they can make it up north.
Enter The Duke (Matthew Schleigh) and The King (Joshua Simon), two con artists masquerading as theatrical artists. They are out to make some money and concoct a scheme to not only sell Jim back into slavery, but also con the widow Mary Jane (Anna Maria C. Shockey) out of her gold. Huck realizes the two are up to no good and hides the gold in the most unlikely of places. This is just a small set up to what you will see if you buy a ticket to the show.
While some of Hauptman's dialogue is still a bit stilted and dry throughout, the rewrite does help make the material more cohesive.
In my opinion, the best part of Big River was (and always will be) Miller's score which ranges from gospel to true musical theatre pieces. "Muddy Water," "River in The Rain," and my favorite " Leavin's Not the Only Way to Go" helped bring Twain's characters to musical life in the original production. Unfortunately, some of the songs are not served as well as they should be in this version. My biggest beef is a decision to push some of the tempos on some of the ballads. The biggest and most noticeable misstep is the decision to put a back beat on Jim's big solo "Free at Last." It now comes off as a throwaway moment more than a big anthem of one man's independence. Changing the song's placement doesn't help either.
On a few higher notes William Yanesh's re-orchestration provides the score with a more "down home" sound. He also utilizes real guitar and violin in the show's recorded track, which is always a plus.
As performed by Gerecht, Butts, Shockey, and a pint-sized dynamo named Alexa Givens as Alice, " Leavin's Not the Only Way to Go" offers up one of the best vocal moments in the production. Givens also really knocks it out of the park with her solo turn, "How Blest We Are".
Sarah Anne Sillers does not necessarily need any help to turn out a dynamic performance, but I was very amused by her feature on "Arkansas," which involves her Strange Fellow character being a puppet. Let's face it, Sillers leaves you saying "more please" every time she is on stage and this production is no exception.
As The Duke and The King, Matthew Schleigh and Joshua Simon give us the old vaudeville treatment on "When the Sun Goes Down in the Sout." - with all the grace and ease you'd want. They are so good, yet so slimy.
Calvin Malone does well with his multiple characterizations of Judge Thatcher and others throughout.
As far as Max Gerecht and Nathan Butts as Huck and Jim, respectively, I regretfully have to say that Director Michael Baron was not able to get the performances needed to make these two young performers carry this show. At least during my performance, both guys were inaudible during some of their dialogue sections. You do however see the friendship between them on songs like "Worlds Apart." While I can see definite potential in both performers, the production does suffer from not having two stronger leads driving it.
Ashleigh King's choreography of the opening number "Look A Here Huck" starts us off with a big splash. The other production elements are top notch. Scenic designer Debra Kim Sivigny's attractive set manages to fit a backdrop (ably lit by Harold Burgess) of the Mississippi River. It also features an ingenious way to show movement for Huck and Jim's raft in the cozy confines of Adventure Theatre's space at Glen Echo Park.
Because of the subject matter, including a disturbing image or two, I am suggesting you reconsider taking really young kids (say five and under) to this production. I don't want to reveal anything, but just remember the theme and content of the story and use your best judgment.
All in all, Huckleberry Finn's Big River does make significant improvements to the overall original material and Adventure Theatre gets big kudos from me for presenting the show at all. The waters of the Mississippi are still muddy though and it might ultimately still leave you "Waiting for the Light to Shine."
Running Time: 65 minutes with no intermission.
Huckleberry Finn's Big River runs through March 10, 2019 at Adventure Theatre, which is located at 7300 Macarthur Blvd, Glen Echo, MD.
For tickets, click here.
| | | |
| --- | --- | --- |
| | Donations | Arts Orgs |
Related Articles