Review: HENRY V at We Happy Few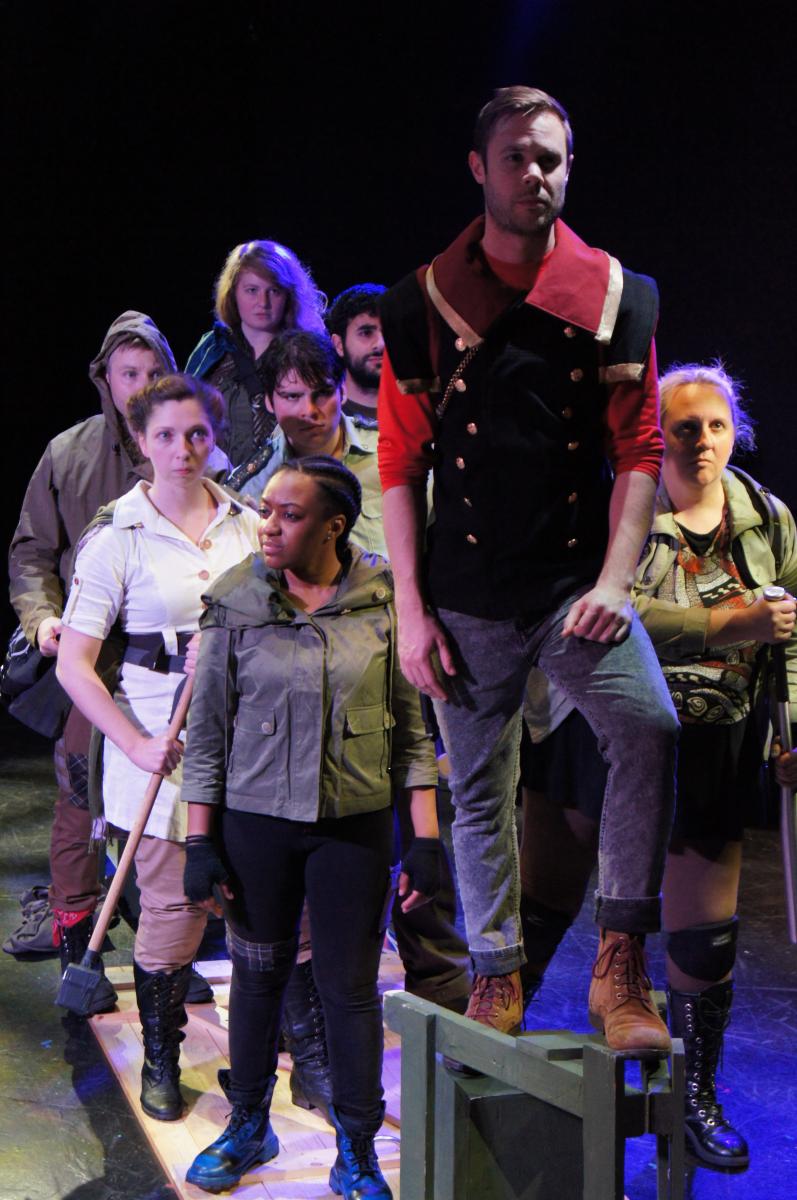 Shakespeare's HENRY V gains new perspective with a retelling by We Happy Few Productions that takes a closer look at the stories and stakes of the everyday foot soldiers. It is a fascinating, resonant, and important new take on a known work that's only around for another week, so make plans now to take it in.
Director Kerry McGee was always drawn to the tale of the Cheapside buddies trudging through the day-to-day reality of war, not to Henry, the glorious leader. McGee tilts the viewpoint and invites us to reconsider those on the front lines subject to the whims and decisions of others.
"And what have kings that privates have not too,
Save ceremony, save general ceremony?"
In this HENRY V we see the privates, those dismissed as "no one else of name," as they are heading off, when they are anticipating battle, then mired in conflict. We see a mounting senseless loss along with hard-fought victory. When the victorious English boast of just a "little loss" on their side, we must disagree. This is most keenly felt with a quiet moment of Pistol's, laying out mementoes of fallen comrades.
This HENRY V is truly an ensemble piece, with eight actors (Josh Adams, Wyckham Avery, Riley Bartlebaugh, Raven Bonniwell, Natasha Gallop, Kiernan McGowan, Niusha Nawab and Robert Pike) portraying more than 18 roles. Natasha Gallop, in her roles as both Exeter and Boy, is grounded, focused and quietly demands our attention. Kiernan McGowan shows us Henry who completes his evolution from playboy Hal to the inspiring leader. Josh Adams as Nym, Westmoreland, and Constable has authority and command in each that makes us stop and consider his work. Wyckham Avery as Pistol explodes with energy, nerve and bravado; her turn as Alice, the French princess' confidante, is a fun contrast. The moments among Alice and Raven Bonniwell's princess, Katherine, offer delightful lightness amid the war.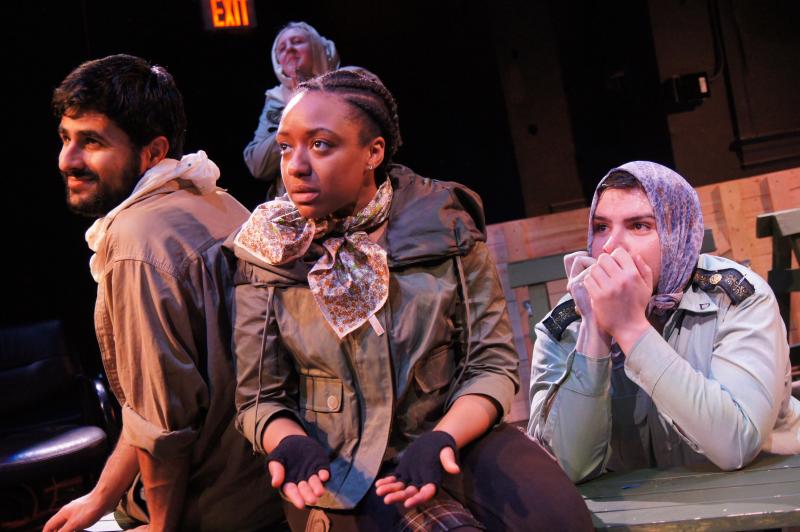 With double- and triple-casting and minimal production elements, transitions between scenes and characters are effectively indicated by a shift in accent, a slight adjustment of costume (pulling up a hood, adding an apron, donning a vest), and by drumming on boxes that sometimes do double duty as set pieces. While the drumming served a very useful purpose at most points of the play, Henry's St. Crispin Day's speech, one of Shakespeare's most famous and powerful addresses, was all but drowned out by the punctuated drumming. Kiernan McGowan as Henry has fine connection and intensity, and Shakespeare needs no help in making a point. It's a time when the audience wants the words to wash over and transport them; the drums were an unfortunate distraction then.
Spare, highly flexible, and well-considered production elements made a lot of a little. The audience is seated on all four sides of the small, black box theatre. Arnel Sancianco's set design uses sawhorses, boards, and boxes reconfigured in seconds to place us at once in an office, a barricade, a gate, a boat or a bar. Jason Aufdem-Brinke's lighting design integrated beautifully with the scenic design to help transition from battlefield to tavern. The pre-battle evening scenes under the stars were especially effective. Robert Pike does double duty as actor and sound designer. Liz Gossens' costumes had a nod to the Hundred Years' War and a nod to modern punk. The costumes could very simply and effectively indicate rank, stature or temperament. Like the ragtag soldiers in Harry's army, the production's costumes and scenery are literally scrappy with patches and connections making an intriguing whole.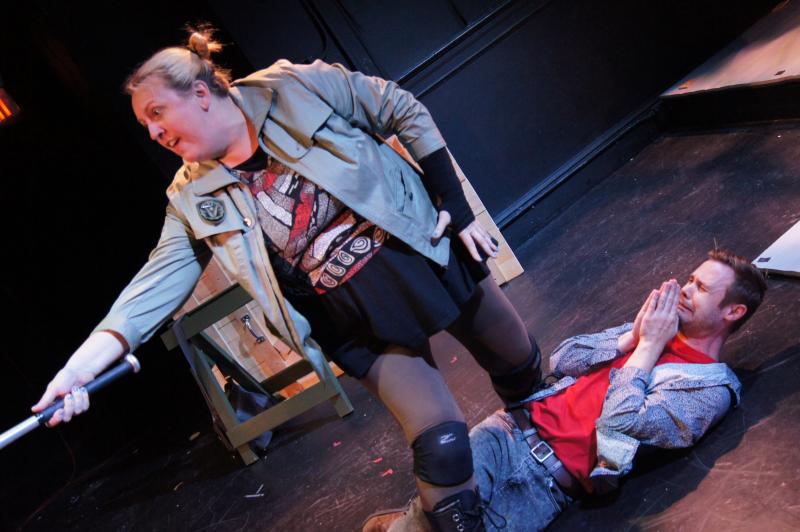 Lorraine Ressegger-Slone's choreography delivered power, danger, volatility and unpredictability in a very small space. While always in control, there was the same thrill and wildness of a roller coaster that seems to threaten to go off-track. The movement was visceral, violent and literally in our face.
In program notes, dramaturg Keith Hock makes a strong case for the production's explicit punk aesthetic as an access point; war and punk are both youth-fueled, fast, loud, chaotic and brutal. In this production the motif is overtly highlighted through music and some costuming. The theme would have been just as strong and well-served if it remained internalized. The swagger, rawness, energy and aggression were there and rightly carried the production. By layering the more obvious punk aesthetic it linked the company and production so closely with the mission with their fellow Capitol Hill Arts Workshop company Taffety Punk who also looks to the stripped-down essence classical text for modern resonance. We Happy Few's HENRY V has its own unique voice and perspective.
The production runs just a few more days at Capitol Hill Arts Workshop. We Happy Few has created a fresh and modern exploration of war and humanity, power and politics. The simplicity of the design and the intimacy of the space help drive the focus to the timeless and enduring nature of Shakespeare's work that has plenty new left to say.
"In Little Room confining mighty men,
Mangling by starts the full course of their glory.
Small time, but in that small most greatly lived..."
Runtime: approximately 90 minutes with no intermission
HENRY V presented by We Happy Few Productions through April 29 (Monday, Wednesday, Thursday, Friday and Saturday at 7:30 PM, Saturday matinee at 2:00 PM) at the Capitol Hill Arts Workshop (545 7th Street SE, Washington, DC 20003). For tickets, please visit the We Happy Few website.
Photos by Tori Boutin. At top: Riley Bartlebaugh, Niusha Nawab, Kiernan McGowan, Wyckham Avery, Natasha Gallop, Robert Pike, Raven Bonniwell, Josh Adams; Center Photo (l to r): Niusha Nawab, Wyckham Avery, Natasha Gallop, Robert Pike; Bottom: Wyckham Avery and Kiernan McGowan.