BWW Review: GALA Theatre's Tasty LIKE WATER FOR CHOCOLATE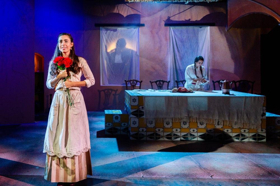 The GALA Hispanic Theatre is opening its 43rd season with a new adaptation of Laura Esquivel's popular 1989 novel "Like Water for Chocolate" that had previously been made into a hit Mexican film of the same name in 1992.
The book memorably opened every chapter with a recipe and while only a couple of them emerge briefly as well in the new adaptation by Garbi Losada, the action never moves far away from the colorfully tiled kitchen, where the central character Tita was born and where her very emotions are baked into her every dish.
When her tears fall into the wedding cake for her sister, who is marrying Tita's true love, the whole wedding party gets sick.
When she makes a quail dish with the rose pedals from her true love, it's such an aphrodisiac for another sister that she makes love to a revolutionary bareback on a horse before joining a brothel.
There's no recipe for getting her mother off her back, though. It is her declaration that the youngest sister never marry and take care of her mother that keeps Tia from true happiness.
Much happens in Esquivel's tale - deaths, ghosts, marriages, births, changes of fate and fortune over a period of decades, and Losada, a writer, playwright and director who is a member of the Ados Teatroa in Spain, endeavors to include it all.
That means a lot of acting of high emotion, a kind of fast forward through a telenovela whose mix of magic realism backfires particularly at a climax of ecstasy and tragedy intersect so over the top, much of the audience could only react in surprised laughter.
But food is like that - you never know how people are going to react.
"Like Water for Chocolate," named after a phrase for the scalding temperature required for the water in making hot chocolate, has, like most productions at GALA, a strong and accomplished cast and an ambitious set design flashing with projections that go well beyond the English supertitles.
Inés Dominguez del Corral is well cast as Tina, full of light and bright smiles as a teenager who meets her heart's desire early on, but retains her spirit as she endeavors through hardship, madness, temptation, guilt and triumph through the years.
GALA favorite Luz Nicholás is so convincing as the overpowering matriarch she might as well be a Disney stepmother. Guadalupe Compos and Yaremis Félix portray the sisters with some distinction; the former showing hints of taking after the mother, the latter a hot-blooded free spirit.
Peter Pereyra is the picture of the leading man who makes one big mistake - marrying the sister to stay close to his love. Delbis Cordona does a lot with his character as a kindly doctor who steps in for romance, but not without a number of comic flourishes.
Teresa Yunque and Karen Morales are strong as the real matriarchs who raised the heroine with love and support - the family cook and maid.
Director Olga Sánchez of the Milage in Portland, Ore., does a great job moving through a lot of material. Even so, her best moments may come in a series of wordless day-to-day montages that express the passage of days as David Crandall's evocative music plays.
Niomi Collard's projections weren't always discernible on Mariana Fernández' set. And while a fine smoke seemed to rise from the oven for most of the show, how much better would it have been if we could also have been smelled cooking onions?
An underlying theme of the work that stresses the passing of certain traditions is of the ensuing revolution all around, but the activities of Poncho Villa appears only in the bondolier-wearing revolutionary played by Carlos Castillo who only shows up a couple of times.
More likely it is the ties of family and its occasionally crippling bonds that keeps the work alive for 21st century audiences, despite its length.
Running time: About 2 1/2 hours with one intermission.
Photo credit: Inés Dominguez del Corral and Karen Morales in "Like Water for Chocolate" at GALA Theatre. Photo by Daniel Martinez.
"Like Water for Chocolate" runs through Oct. 7 at GALA Hispanic Theatre, 3333 14th St NW. Tickets at 202-234-7174 or online.
Featured at the Theatre Shop
T-Shirts, Mugs, Phone Cases & More