BWW Review: Folger's Beautifully Poignant THE WINTER'S TALE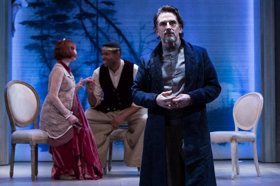 Is The Winter's Tale a comedy, tragedy, or romance? For thine is the question that has plagued William Shakespeare's play for centuries.
I myself have long classified the play a tragedy with a semi-sweet ending, that is until I attended the Folger Theatre's beautiful production. Director Aaron Posner's The Winter's Tale is remarkable because it leads us to think that the play has been misunderstood. Rather than simply characterized as a comedy or tragedy, this Winter's Tale is a poignant story about forgiveness, the passage of time, and folly of old men.
Now to be fair to centuries of scholars and devotees of the Bard, it is easy to see why The Winter's Tale has long been classified as a "problem play." The first half is an intense psychological drama involving the jealousy of Leontes (Michael Tisdale), King of Silicia who is consumed by the belief that his wife Hermione (Katie DeBuys) has had an affair with Polixenes (Aldo Billingslea), his lifelong friend and King of Bohemia. The result is a child whom Leontes considers a bastard and orders to be discarded outside the kingdom.
In the second half, we fast forward 18 years to Bohemia where the child, Perdita (Daven Ralston), has grown into a beautiful shepherd's daughter. She is in love with Florizel (Drew Drake), unaware that he is the King's son, and they become engaged. When Polixenes discovers this, he bans his son from seeing Perdita, and the two lovers escape to Silicia and ask Leontes for help. However, neither is aware of Perdita's royal lineage.
Indeed, at times the play can cause a sense of whiplash. Moments of great drama are quickly followed by moments of great levity, usually thanks to Eric Hissom. He plays Camillo, a nobleman in Silicia, amongst other roles, and often comments in between scenes about what we have just seen. What Posner focuses on with pinpoint precision is the story and the characters, allowing the audience to do the same. Additionally, he doesn't shy away from the play's humor; he embraces it, largely thanks to Hissom who relishes performing the play's most famous line, "Exit, pursued by a bear."
Tisdale is an intense and impassioned Leontes. He and deBuys are exquisite in the trial scene, with both giving performances filled with passion. Once again Posner stages the scene in such a way that all else fades and we, the audience, are transported to the royal court where fate is about to come crashing down.
Meanwhile, the juxtaposition with the events in Bohemia can feel like another world. Luciana Stecconi's set has gone from a background of wintery blues and grays to oranges, yellows, and green. With the exception of the curved proscenium and painted drop, the set is rather minimalist and yet, nevertheless, quite effective.
We see the joy inherent in Perdita and Florizell thanks to Ralston and Drake's performances. There is passion and laughter, love and honesty, and none of the trappings of the royal court. The two make an elegant couple, symbolizing the hopefulness of youth against the hard-bitten beliefs of their fathers.
What helps makes this a tale of forgiveness is the actions of the seconday characters, led by the aforementioned Hissom as Camillo and Grace Gonglewski as Paulina a Sicilian noblewoman. Both are well aware of Leontes' jealousy and lament his actions, yet their loyalty remains ever faithful. Gonglewski's Paulina in particular has a powerful confrontation furthering this point and yet, we can't help but later be warmed by her compassion over Leontes' penance.
Composer Liz Filios provides this production with incidental music that often eases the transitions between scenes. Hissom, strumming a guitar, often is the lead musician, but the cast rotate instruments and roles. It also makes the ensemble feel less like a cast an more like a troupe, in the best and most Shakespearean of ways.
Heading into this production, I was hesitant. After seeing the Shakespeare Theatre's production of The Winter's Tale at the 2014 Free For All, I was left cold. For me, Shakespeare was uncertain with what he was hoping to accomplish or state. However, watching the Folger's production, I was struck watching the final act and thinking that this play was not so much a comedy or tragedy, but a story of life and the importance of forgiveness.
Is there anything better than going to the theatre and having your perspective changed? If you answered no, head to the Folger Theatre!
Runtime is two hours and 40 minutes with one intermission
The Winter's Tale runs thru April 22nd at the Folger Theatre - 201 E Capitol St SE, Washington, DC 20003. For tickets please click here.
Photo: King Leontes (Michael Tisdale) begins to feel the pangs of jealousy, as his queen Hermione (Katie DeBuys) speaks with his best friend Polixenes (Aldo Billingslea). Folger Theatre presents Shakespeare's The Winter's Tale, March 13 - April 22, 2018. Photo by Teresa Wood.