Katie Redford's TAPPED Will Embark On UK Tour
The tour runs 9 May – 27 May 2023.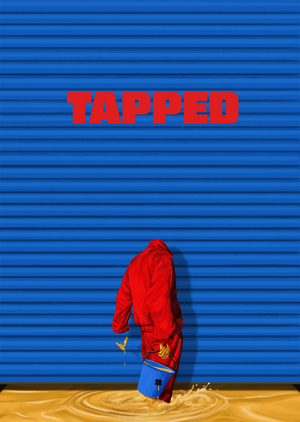 Bethany Cooper Productions and Theatre503 have announced the UK tour of Katie Redford's Tapped. Following a successful run at Theatre503 with Katie Redford receiving an OFFIE nomination for Most Promising New Playwright. The production opens at the Courtyard Theatre, in Hereford on 10 May 2023, before touring to Peterborough, Bolton, Hull, Scarborough, Kendal, Newcastle, Nottingham, Rugby, Norfolk, Colchester, Wolverhampton, Bath and concluding in Guilford at the Yvonne Arnaud Theatre on 27 May 2023.
Tapped was written as a response to the resurgence of the self-help dialogue, now deeply embedded in today's online culture, highlighting that positive jargon is ultimately meaningless without real human connection.
Playwright Katie Redford said today: "I'm so excited about Tapped going on a UK tour. It's a play that celebrates community, regionality and hope, so I really hope it resonates with audiences (at some very exciting theatre venues!) across the regions."
Tapped is a heart-warming comedy that explores the importance of connection, fulfilment and (lack of) hope. In Stapleford aka Stabbo, we meet Gavi, Jen and Dawn at an amateur self-help group who all share one commonality: they're desperate for escapism. Tapped is a witty and sensitive portrayal of managing mental health within a family, highlighting the barriers we put up in order to put on a brave face, whilst having those all-important lightbulb moments, like realising Aldi really does sell everything.
A play about eating too many biscuits, missed opportunities, big dreams in small places and how the idea of change is far easier said than done.

Gavi wants to inspire his community. Which is tricky when everyone would prefer to just stay at home and watch Bake Off. Adamant to succeed, he starts hosting motivational meetings from his garage for his fellow Co-op colleagues. With the help of daily mantras, goal setting and repeatedly listening to Spandau Ballet, he believes he can change their lives for the better. However, when the only two attendees are bickering mother and daughter Dawn and Jen, it's not quite the enlightening experience they all thought it would be. Dawn wants more from life, Jen wants a brand-new life and Gavi just wants Jen in his life; but there's only so much 'positive visualisation' they can all do before simply facing up to the painful reality of what's really going on.
Katie Redford is a BAFTA Award winning writer & performer from Nottingham and a BBC Comedy writers room alumni. Tapped was her debut play for stage premiering at Theatre 503, where she received an Offie nomination for Most Promising Playwright. Her other works include Christmas Wings (2022) Yellow Lips (2021) and Ghosted (2018).
Tour Dates
Courtyard Theatre, Hereford
10 May 2023
Box Office: 0207 739 6868 / thecourtyard.org.uk
The Key Theatre, Peterborough
11 May 2023
Box Office: 01733 852992 / keytheatre-peterborough.com
The Octagon, Bolton
12 May 2023
Box Office: 01204 520661 / octagonbolton.co.uk
Hull Truck Theatre, Hull
13 May 2023
Box Office: 01482 323638 / hulltruck.co.uk
Stephen Joseph Theatre, Scarborough
16 May 2023
Box Office: 01723 370541 / sjt.uk.com
Brewery Arts, Kendal
18 May 2023
Box Office: 01539 725133 / breweryarts.co.uk
Northern Stage, Newcastle
19 May 2023
Box Office: 0191 230 5151 / northernstage.co.uk
Nottingham Playhouse, Nottingham
20 May 2023
Box Office: 0115 941 9419 / nottinghamplayhouse.co.uk
Macready Theatre, Rugby
21 May 2023
Box Office: 01788 556203 / macreadytheatre.co.uk
Wells Maltings, Norfolk
23 May 2023
Box Office: 01328 710885 / wellsmaltings.org.uk
Mercury Theatre, Colchester
24 May 2023
Box Office: 01206 573948 / mercurytheatre.co.uk
Arena Theatre, Wolverhampton
25 May 2023
Box Office: 01902 321 321 / wlv.ac.uk/arena-theatre
Theatre Royal Bath, Bath
26 May 2023
Box Office: 01225 448844 / theatreroyal.org.uk
Yvonne Arnaud Theatre, Guilford
27 May 2023
Box Office: 01483 440000 / yvonne-arnaud.co.uk