Elmhurst Ballet School Flies the Flag for Birmingham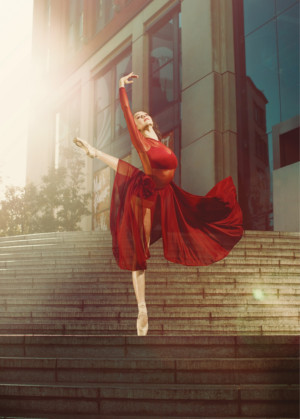 Elmhurst Ballet School, the vocational school in association with Birmingham Royal Ballet, celebrates its home city of Birmingham in its latest drive to attract the very best local, national and international dance talent to the region.
Elmhurst Ballet School's Your Place for Dance campaign positions the world class ballet school in the world class city - a unique and pioneering school in a city known for its diverse cultural offering, innovation and opportunities.
Based in Edgbaston, one mile from Birmingham's vibrant city centre, Elmhurst Ballet School is a world-renowned centre of excellence and nurtures individuality in talented students aged between 11 and 19 as they prepare to become the thinking dance professionals of the future. Through an all-rounded approach to training, education and health and wellbeing, students become independent, collaborative and versatile artists, professional-ready to take their places on stages across the world.
With many major dance and arts organisations located close to the school and as high profile sports and cultural events, international businesses and transport infrastructures turn to the region, Your Place for Dance highlights Elmhurst's standing in the dance sector and also places the school in the city it calls 'home'.
For the campaign, the school worked with Louise Gale Design and Birmingham-based photographer Ian Winstanley and reached out to city organisations for their support. Mailbox Birmingham, Selfridges Birmingham at Bullring, The Big Peg in the Jewellery Quarter and Birmingham Botanical Gardens all jumped on board.
Upper school students were photographed in the popular locations: Amelia Hancock graces the steps of Mailbox, Birmingham - a stylish shopping, lifestyle and restaurant destination; Harvey Evans leaps in front of Selfridges Birmingham, part of the city's famous Bullring; Janice Felices lights up the city skyline from the roof of The Big Peg in the historic Jewellery Quarter; and James Lovell defies gravity in the 15-acre Birmingham Botanical Gardens, a neighbour of the school in the premium Calthorpe Estates.
Jessica Wheeler, Principal of Elmhurst Ballet School, said: "Your Place for Dance is an important and timely campaign that shows some of our incredible students in city locations. In the UK, Elmhurst graduates work with Birmingham Royal Ballet, Northern Ballet, Scottish Ballet, Ballet Black and Rambert and further afield with dance companies in the USA, Japan and across Europe. We hope the campaign shows potential students that the world really is their oyster if they come to Elmhurst Ballet School in the City of Birmingham."
David Pardoe, Head of Marketing, Retail and Tenant Engagement at the Mailbox, added: "We had no hesitation in taking part in this photo shoot and were delighted when Elmhurst Ballet School approached us as one of Birmingham's iconic locations for their campaign. The school is doing great things in this incredible city, and we're absolutely thrilled to be part of such a special and expanding creative project."
Featured BroadwayWorld Events
Check out these concerts...




More Hot Stories For You