Find Your Dream: The Songs of Rodgers & Hammerstein at Toronto Symphony Orchestra
Dates

2/22/2022 - 2/23/2022

Theatre


60 Simcoe Street Toronto, ON M5J 2H5
Toronto,
Twitter Facebook Instagram

Tickets Info

$47-$138
Phone: 4165983375




Principal Pops Conductor Steven Reineke takes the Orchestra and a pair of sensational singers back to Broadway in a captivating concert dedicated to the unforgettable tunes of one of the most successful pairings in the history of musical theatre. With treasured classics from The Sound of Music, Carousel, Oklahoma!, and South Pacific, you'll experience a few of your favourite things and then some!
Steven Reineke, conductor
Emily Padgett, soprano
Josh Young, tenor
Tue, February 22, 2022 at 8:00pm
Wed, February 23, 2022 at 2:00pm & at 8:00pm
Ages
: Suggest 12+
News About Find Your Dream: The Songs of Rodgers & Hammerstein at Toronto Symphony Orchestra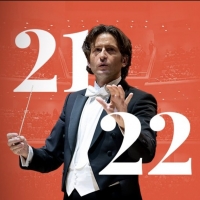 Toronto Symphony Orchestra Announces 2021/22 Season
June 16, 2021
The long-awaited reunion between the Toronto Symphony Orchestra and its patrons is scheduled for November 10, 2021, with 30 dynamic programs running through June of 2022. The return to live performances will be defined by the leadership of Music Director Gustavo Gimeno, who will mark his first complete season on the podium, conducting 11 subscription programs.
Toronto Symphony Orchestra Frequently Asked Questions
What shows are coming up next at Toronto Symphony Orchestra
Where is Toronto Symphony Orchestra located?
Toronto Symphony Orchestra is at 60 Simcoe Street Toronto, ON M5J 2H5, Toronto.
What shows have played recently at Toronto Symphony Orchestra