Interview: Q&A with OTHER SIDE OF THE GAME's Amanda Parris
OTHER SIDE OF THE GAME marks the playwriting premiere for Toronto-raised writer, Amanda Parris. Presented by Cahoots Theatre and Obsidian Theatre, Parris' play gives voice to the stories of Black women, who are too often silenced.
Parris, the host of CBC's Exhibitionists, CBC Radio 2's Marvin's Room and weekly column writer for CBC Arts, chats with BroadwayWorld's Taylor Long about the process of bringing OTHER SIDE OF THE GAME to the stage.
---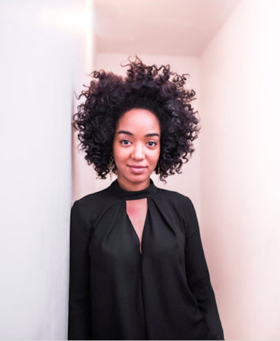 PROFILE: Amanda Parris
Zodiac sign | Scorpio
What are you listening to?
The new dvsn album "Morning After" and The Ride or Die Project Mixtape.
What are you reading?
Bellevue Square by Michael Redhill.
What is your motto?
Anything is possible.
---
Tell me a bit about yourself. (Something I can't easily find in a google search!)
Being a writer was the first dream I ever had for myself. I'm a book nerd at heart. I hate to cook. I call Oprah, "Auntie Oprah" in my head. I don't trust people who don't love Nina Simone.
What inspired you to start writing for theatre?
I've always been fascinated with stories and the act of storytelling. Family functions have always been spaces of natural theatre and my grandfather is an incredible storyteller. In high school I read the slave narrative, Incidents in the Life of a Slave Girl by Harriet Jacobs and it was such a transformative experience I wanted to tell everyone about it. But summarizing the story for friends felt insufficient, no one was interested in reading the book, and making a film seemed incredibly inaccessible (I didn't even own a camera). So I decided to adapt the story into a theatre play that I presented at the Black History Month Assembly that year. The play was terrible (due to casting issues the Slave Master ended up being played by a Black woman so I unintentionally transformed a slave narrative into a fantasy play complete with an alternate reality) but the accessibility of the medium and the magic of live performance became a permanent fascination.
How did your journey begin with OTHER SIDE OF THE GAME?
The journey began when I was sitting in the waiting room of the Don Jail to visit a friend who was incarcerated. I quickly realized that the majority of the people sitting around me were women and I became curious about their stories. I began conducting interviews with women who have supported a loved one who was incarcerated. At the time I wasn't too sure what I would do with those interviews but after connecting and exploring ideas with my initial collaborator, a poet named Keisha-Monique Simpson, the idea to create OTHER SIDE OF THE GAME was born.
How did you gather the interviews? Tell me about the process of taking those raw recordings and creating a play.
My first interviews were with friends and acquaintances, people that I knew had supported someone who was incarcerated. Although I had some superficial knowledge of this fact, I had never listened to the nuances of their experiences.
My questions in those interviews were generally about the rudimentary facets of supporting someone: Who did you visit? How often did you visit? How did you get there? Did you go with other people? How did you feel? Were you nervous? What was it like seeing them? Why did you go? As simple as those questions were, they became an invitation for people to talk about experiences that most of them had never vocalized. Each of those interviews were incredibly intimate and moving, often involving a lot of tears.
I transcribed the interviews, read them and listened to the audio interviews several times. Keisha-Monique and I brainstormed the skeleton of the story and created composite characters based on the stories shared in those interviews. After the first reading of the play at the Piece of Mine Festival, more women started reaching out to me to share their stories. The play was already developing a life of its own with characters inspired by those interviews but now living independently. So I decided to create The Ride or Die Project Blog. For one year I invited women to share their stories using the blog as the platform.
Why is this piece important?
OTHER SIDE OF THE GAME is important because it centers the stories of women who in movies and television are often cast in the supporting role. They are generally cast as the sister, wife, girlfriend or mother of the male star, only be seen on the edge of the frame, rarely receiving a close up. I want audiences to focus their attention on these women and explore their complexities and conflicts.
How do you think we, as a society, can better represent and include the stories of Black women?
We can train Black women writers. We can hire Black women writers. We can produce the work of Black women writers. We can publicize the work of Black women writers. We can distribute the work of Black women writers. We can award the work of Black women writers. We can have retrospectives on the work of Black women writers.
Anything you'd like to add?
Thank you for publicizing the work of this Black woman writer. Come see the play!
---

OTHER SIDE OF THE GAME, written by Amanda Parris, is presented by Cahoots Theatre and Obsidian Theatre and runs from Oct 14 - Nov 5, 2017 at Aki Studio, Daniels Spectrum, 585 Dundas Street East, Toronto, ON
For more info and to buy tickets, visit http://www.nativeearth.ca/otherside/
(main photo credit: Dahlia Katz)