Actor Douglas Rain, Stratford Pioneer And Voice Of 2001's HAL, Dies At 90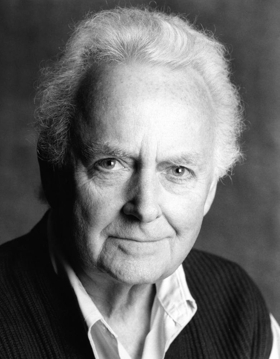 The Stratford Festival lost one of its pioneers today. Douglas Rain died of natural causes early this morning at the age of 90 at St. Marys Memorial Hospital, just outside of Stratford, Ontario, the city in which he established his career, becoming one of the world's great classical actors.
Mr. Rain was one of the few surviving members of the Festival's founding company and during his career spent 32 seasons at Stratford. Born in Winnipeg in 1928, to James and Mary Rain, he performed as a child actor on CBC radio. He attended the University of Manitoba and afterwards travelled to London to study at the Old Vic theatre school. He returned to Canada for the Festival's inaugural season in 1953, playing the Marquis of Dorset and Tyrrell in Richard III, in which he also understudied Alec Guinness in the title role.
In the Festival's second season he played Claudio in Measure for Measure and the Messenger in Tyrone Guthrie's renowned production of Oedipus Rex, which was filmed and released worldwide. He toured to Broadway with the Festival's 1956 production of Tamburlaine the Great, in which he played Bajazeth and Maximus.
It was under the artistic directorship of Michael Langham that Mr. Rain grew to become one of the Festival's most respected leading men, taking on such roles as Malvolio in Twelfth Night (1957), Iago in Othello (1959), the title role in King John (1960), Cardinal Wolsey in Henry VIII (1961), Apemantus in Timon of Athens (1963, which also toured to Chichester), Ulysses in Troilus and Cressida (1963), Mr. Pinchwife in The Country Wife (1964), Edgar in King Lear (1964) and Sir Toby Belch in Twelfth Night (1966).
In 1958, Langham cast him as Prince Hal in Henry IV, Part 1, and it was a role that would resonate with him throughout his life. He returned to the character in 1965, in both parts of Henry IV, and in 1966 took on the title role in Henry V. In 1979 he took great interest in approaching the role from another angle, playing the father of the wayward Prince Hal, King Henry IV, in both parts of the play. He also had great affection for the role of the Chorus in Henry V, which he played in 1980.
Coincidentally, it was as HAL that Rain made an indelible mark on popular culture as the iconic voice of the computer in Stanley Kubrick's landmark film, 2001: A Space Odyssey. Rain had deep respect for Kubrick and as a result sought to protect the voice from exploitation, declining a string of commercial requests for it over the years.
"Canadian theatre has lost one of its greatest talents and a guiding light in its development," said Artistic Director Antoni Cimolino. "Douglas Rain was that rare artist: an actor deeply admired by other actors. The voice of HAL in 2001: A Space Odyssey, Douglas shared many of the same qualities as Kubrick's iconic creation: precision, strength of steel, enigma and infinite intelligence, as well as a wicked sense of humour. But those of us lucky enough to have worked with Douglas soon solved his riddle and discovered that at the centre of his mystery lay warmth and humanity, evidenced in his care for the young members of our profession. Douglas dedicated his talent to the stages of his native land, and we are proud in return to dedicate the coming season's production of Othello to his memory. We owe him so much."
Mr. Rain performed with the Stratford Festival until 1998, taking on such roles as Philip the Bastard in The Life and Death of King John (1974) with Edward Atienza and Amelia Hall; Angelo in Measure for Measure (1976), opposite Martha Henry; Macbeth (1978) with Maggie Smith as Lady Macbeth; the Earl of Gloucester to Peter Ustinov's King Lear (1980); John Aubrey in Brief Lives (1980), directed by Martha Henry; the Stage Manager in Our Town (1991), with Susan Wright, William Needles, Eric Donkin and Peter Donaldson; Holofernes in Love's Labour's Lost (1992), directed by Marti Maraden, with Colm Feore, Peter Donaldson, Antoni Cimolino, Marion Day and Bernard Hopkins; Humpty Dumpty in Marti Maraden's production of Alice Through the Looking Glass (1994), with Sarah Polley; Polonius to Stephen Ouimette's Hamlet (1994) ; Shylock in The Merchant of Venice (1996), with Marion Day as his daughter, Jessica, and Susan Coyne as Portia, directed by Marti Maraden; Tiresias in Oedipus Rex (1997), directed by Douglas Campbell; and Sir Thomas More in A Man for All Seasons, directed by Marti Maraden, in his final Stratford season, 1998.
Mr. Rain performed across Canada, at the Manitoba Theatre Centre, the National Arts Centre, Toronto's Tarragon Theatre, and the Shaw Festival, where he played such roles as Caesar in Caesar and Cleopatra (1983), Andrew Undershaft in Major Barbara (1987), and Captain Shotover in Heartbreak House (1985 and 1999). His U.K. credits include Hadrian VII, directed by Peter Dews (1968) and The Heretic, directed by Morris West (1970). He was nominated for a Tony Award for his role as William Cecil in Vivat! Vivat! Regina! in 1972. From 1974 to 1977 Mr. Rain was head of the English acting section of the National Theatre School of Canada.
Mr. Rain had more than a hundred television and film roles to his name, often working with director Eric Till. He also worked on hundreds of radio plays, many with the CBC, with directors Esse Ljungh and John Reeves, and did a great deal of voiceover work for the National Film Board of Canada.
Mr. Rain is survived by his two sons, David and Adam (with first wife Lois Shaw), his daughter Emma (with second wife Martha Henry), granddaughter, Salima, and daughter-in-law, Asira.