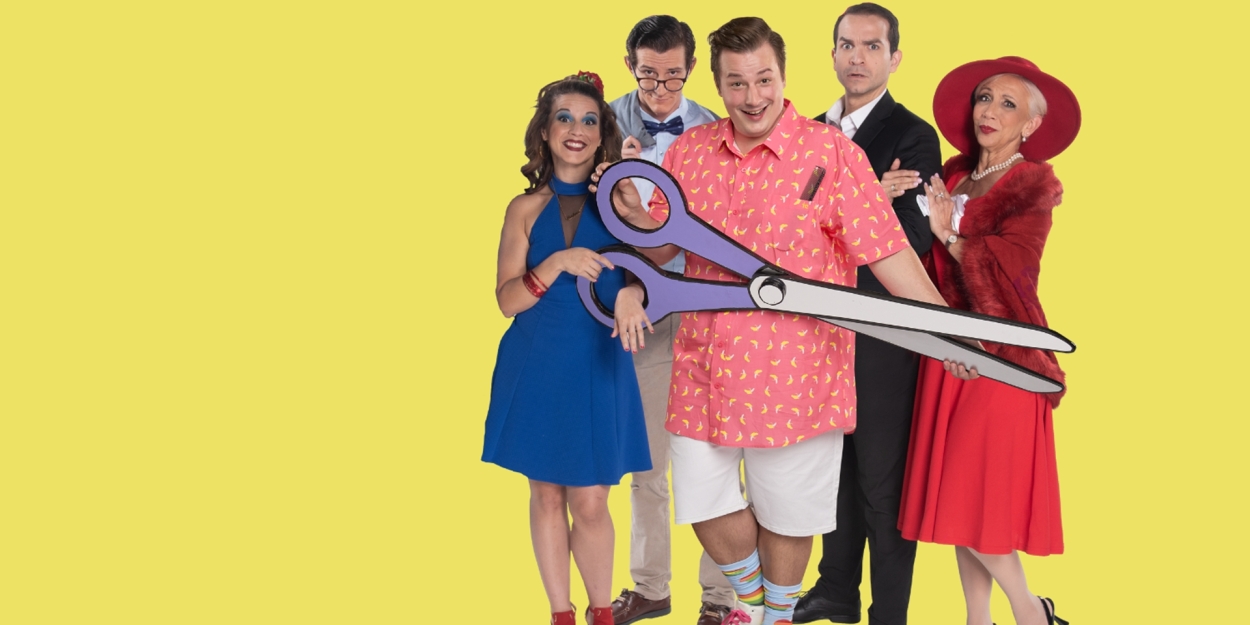 Review: SHEAR MADNESS at Straz Center for the Performing Arts
The Straz-produced season continues with this hair-splitting laugh-out-loud comedy. 
Shear Madness an audience interactive murder mystery whodunit play is the second of this seasons Straz-Produced productions produced fully in-house in the Straz Center's Jaeb Theatre. Featuring a cast of local area talent, and spotlighting the incredible performers residing here in the bay area, Shear Madness is one of the longest-running non-musical plays in the world.
Shear Madness was written by Paul Portner and premiered in 1963 in Ulm, Germany. The action takes place inside the "Shear Madness" hair salon, and is geographically set in the city in which the production takes place. A murder happens, and while anyone is a suspect, the characters of our story with help from the audience try to determine whom the killer amongst them is. The characters of our story include the flamboyant hairdresser Tony, a flirty/ditzy assistant Barbara, an older socialite Mrs. Schubert, an Antique Dealer Eddie, and two men named Mikey, and Nick.
The thing that makes Shear Madness a hit, is that not only is there a script, but a majority of the dialogue and humor are improvised by the performers on stage. Making cracks about the geographical location of the production, and its surrounding areas, pop-culture references, and political views are all on the docket here, and nothing seems to be off-limits. The other interesting and intriguing thing about the show, is that no two endings are the same. Not to give anything away, but you will need to see how your evening/afternoon plays out as you watch the performance.
Our cast of players includes Jessica Moraton as Barbara DeMarco, Shaun Memmel as Mikey Thomas, RP McLaughlin as Tony Whitcomb, Luis Rivera as Eddie, Aaron Castle as Nick, and Roz Potenza as Mrs. Shubert. Each cast member provides their own wit, and comedic-timing to the roles to create a world of hilarious antics, and side-splitting mayhem that will have you falling out of your chair laughing.
As our shop owner Tony Whitcomb, RP McLaughlin is perfection. His comedic timing comes off at a rapid-fire pace, and he is in his element the entire time. There is a couple bits with a bottle of shampoo and a can of shaving cream that you have to experience for all its hilarity. The perfect amount of flamboyance without being over the top, RP McLaughlin's Tony is everyone's zany shop owner, and this is a performance that needs to be seen in all its glory. Having last seen RP onstage in last season's Nunsense A-men, he is in another realm here, and we are just happy to be in his presence.
As Barbara DeMarco, Jessica Moraton is exceptional. Like a latin Peg Bundy, she pulls out all the stops. A firecracker in red heels, and street smarts to boot, here Barbara is sensational. Her moments with Tony are perfect played out, and this makes for one of, if not my favorite performance from Jessica to date.
Luis Rivera as Eddie, is the sleazy Antique dealer that you never know where his motive lies. Luis is wonderful here, and his moments running from one side of the stage to the other, while trying to prove his innocence is dynamic down to the final bow. Luis has a strong knack for comedic timing, and his Eddie is right on the money. Having last experienced Luis on-stage in Plaid Tidings, he is always in his element when onstage.
As Mrs. Shubert, Roz Potenza is a great addition to the company. She is great in the role of the older Socialite. From the moment she steps into the salon she commands the stage. There is a moment in the Supply Closet that is hilariously portrayed. You get the sense that Mrs. Shubert is heard no matter who is in the room. Roz's performance is calculated down to the final bows and an exceptional turn.
As Mikey Thomas, Shaun Memmel is hilarious. You get the sense that he is a by-the-book detective, and his zany antics and nerdy disposition is a great turn from this young performer. His moments with Aaron Castle's Nick have great chemistry and create a great back-and-forth.
Finally, as Nick, Aaron Castle is exceptional. In his element at every moment, Mr. Castle doesn't miss a beat. From his first entrance as a construction worker to his reveal as a beat-cop Lieutenant, Aaron's work here is a masterclass. Always on-top of the comedic timing, and smart as a whip this is a wonderful performance from Mr. Castle.
Paul McColgan's Technical Direction under Steven K. Mitchell's Scenic Design provides a beautiful rendering of the Salon in which the story is set. Tea Roberts' beautiful scenic artistry helps blend the world of the show amidst the zany antics of its characters wonderfully. You can see Tony's personality in every lavish detail. Jo Averill-Snell's beautiful lighting design blend the world of the show seamlessly together, and helps set the mood for the story. Costume Design by Nadalia H.M.Z provides each of our zany characters their own unique identity within the world of the show. The stage management team of Liz Ent, and David Fraga keep the show moving at an expert pace.
Under the expert direction of Bruce Jordan, Shear Madness is a laugh-out-loud, side- splitting, sharp-as-a-tack whodunit. From the improv by the performers, to the expertly timed-performance not a weak link is seen.
Shear Madness is onstage as a Straz-Produced performance until April 8th inside the Jaeb Theater. Not giving away any secrets to this exceptionally funny whodunit, is hard, but if you wait too long to get tickets, you might find yourself without an appointment.
Tickets can be purchased by visiting www.strazcenter.org.
Photo Credit: Straz Center