Click Here for More Articles on STUDENT CENTER - HIGH SCHOOL EDITION

BWW Review: Berkeley Preparatory School Wows Audiences with Their Production of Kander & Ebb's CHICAGO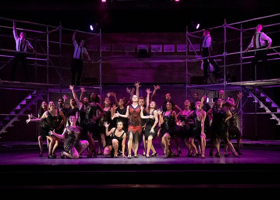 Who knew that Kander and Ebb's CHICAGO, which first opened in 1975 and was set in the 1920's, would be so pertinent in our modern world of "fake news" and tabloid star culture?
When it premiered with its dueling divas (Chita Rivera and Gwen Verdon) and visionary creator (Bob Fosse), it was a hit that ran for a couple of years, but nothing compared to the musical that overshadowed it: A Chorus Line, which opened a month later in the 1970's. Then CHICAGO seemed to slink away into oblivion. In the meantime, Bob Fosse died, A Chorus Line ran until 1990, and Kander and Ebb moved onto other shows. But in 1996, with the brilliant revival of CHICAGO, Fosse's take on the Jazz Age has now became as iconic and as famous as A Chorus Line, if not more so. The 2002 movie is the last musical to win the Best Picture Oscar, and the stage production is still running on Broadway. Its themes of corruption, crooked lawyers, hungry paparazzi, criminals as superstars, and a world that idolizes celebrity of any kind, seem to be speaking about 2019 instead of the Era of Jay Gatsby and the Charleston.
Berkeley Prep's Upper Division Theatre Program has presented the high school edition of CHICAGO in their Lykes Center for the Arts; it closes on Saturday, March 16. This isn't your normal high school production, just as CHICAGO isn't your normal musical. This is an astounding ensemble piece where every performer, some onstage for the first time, look like Broadway Babies who have made the stage their home for their whole lives. And the musical numbers, especially the Fosse-esque dance routines choreographed by Seth Travaglino, are some of the finest seen on local high school stages in recent memory.
It's a huge ensemble, looking more like a graduation roster than a cast list, and every one of those kids puts 100% effort into their parts. What makes this even more startling is that, unlike performing art schools, there is a "no cuts" policy at Berkeley Prep, which means if someone auditioned, they got in the show. But you would never know that with these talented kids. And more than one of them will have their lives changed by this experience.
Leading the cast is the ferociously talented Tallulah Nouss as Roxie Hart. She's alive onstage, sultry, salty, and desperately cunning, and her numbers ("Funny Honey," "Roxie," and "Me and My Baby") are zapped to life. The best number in the show, "We Both Reached for the Gun," is dazzling in this production, with the ensemble, Billy Flynn (Ben Graham), and especially Ms. Nouss giving their all; she's so believable as a ventriloquist dummy in the number, and it's a home run, not just for a high school, but for any professional company that put on this number.
Kassidy Gavagan, as Roxie's criminal rival, Velma, has a remarkable voice. Her "All That Jazz" isn't the belter version that we're used to; she sounds more laid back here than most Velma's. But she's a marvelous presence and certainly holds her own with Nouss, especially in their duets: "My Own Best Friend" and "Nowadays."
As the world's sleaziest, big-grinning fictional lawyer, Billy Flynn, Ben Graham is having the time of his life onstage. With his wide smile, he looks like a hybrid of Jim Carrey and Donny Osmond. He's not a natural song and dance man, but he makes each number his own, a force of nature of sorts, and his out of this world charisma carries the part.
In a twist with this version, the master of Ceremonies has a lead part, onstage the whole time and playing various roles--reporters, jury members and even the judge. It's an amazing feat, and the young man knighted to tackle these roles, Curran Seth, is a stunner. As the sad-sack nonentity and husband to Roxie, Amos, Derek Sokol is brilliantly nebbish. He resembles a young Ray Bolger, and his "Mr. Cellophane" is one of the standout numbers (I just wished it had the bigger, splashier finish that his performance deserved).
Katherine Nerro as Matron "Mama" Morton sings the bejeezus out of "When You're Good to Mama," and I wish her non-singing moments matched her powerhouse vocal chops. Chaz Chou makes the most out of his role of the doomed Fred Casely. I still don't quite know why there were two people playing Mary Sunshine (a job well-done by Zoe Carovano and Antoine van Veen), and it took a while to adjust to it.
As good as all of these parts are, this is an ensemble piece, a well-oiled machine with lots of heart (and Hart). And this ensemble is stellar, dancing and singing and bringing some of musical theatre's most iconic songs to life, proving that even the smallest role matters. Everyone is in character onstage, everyone a being, not what I call a mere B.O.S. (Body On Stage). If one cog of this group happened to come undone, then the whole musical would crumble. That's how important each part of this ensemble is. They were outstanding and should be recognized as the true stars of this show: Katie Fletcher, Kennedy Perry, Bella Gregory, Ornella Pigeon, Chloe McLeod, Brianna Serafin, Anna Ames, Stephanie Corn, Sofia Leche, Emily Patrick, Lea Testeil, Nate Carovano, Alex Smith, Thatcher Crouch, Nicholas D'Andrea, Samia Diasti, Laura Faris, Vicki Freedman, Gigi Gibson, Sutton Johnson, Kelly Matera, Jaina Patel, Maroula Pavlokas, Emma Reilly, Ava Siegelbaum, Avery Sketch, Hunter Sketch, and Sophia Vasiloudes.
As is the case with most high school productions, not everything is perfect. Many of the non-musical moments lack punch and pop, and the Jazz Age energy seems to dissipate for a spell. Also, sometimes you sensed that the actors didn't always move with motivation. (It's hard to follow each character's motivation in the high school edition of the show anyway, since it's been truncated quite a bit.) There were some missed lyrics and lines during the Friday night performance, but the good news is that it didn't throw the young actors later on, and they carried on with much aplomb.
Brittany Reuther's costumes work well, with lots of glittering dresses that bring out the glam atmosphere of CHICAGO. Keith Arsenault's set design is appropriately minimal--an "urban, open warehouse" feel with scaffolding, a brick wall, old school typewriter, and a laundry line of newspaper headlines. That's all that's needed for this show because the actors, especially the heavy-lifting ensemble, carry the production. Mr. Arsenault also designed the lighting plot and once again proves why he is head and shoulders above most lighting designers in the area-this is solid work, where two worlds collide, the seedy Fosse-esque darkness mixed with the red and blue glitzy pizzazz of show biz.
Musical director Carrie Dietsch brings the best out of the cast. The orchestra, conducted by Brian Panetta, is outstanding, with several students in the pit, including Michael Cui, Jalen Li, AJ Papes, and Albert Chang.
Best of all is Seth Travaglino's choreography. Travaglino, one of the finest theatre educators in the state (he runs Corbett Prep's top-notched program), has outdone himself here. Many of the young performers in CHICAGO are not dancers, but you would never know that. The opening number, "All I Care About" (with a wink to Fosse with the use of feathered fans), and my aforementioned Best In Show winner, "We Both Reached for the Gun," are as good as it gets. This choreography is totally alive, and the dance ensemble live up to Travaglino's high standards.
Chris Marshall is the director of CHICAGO, and this is the fastest paced, tightest production you'll find. I've seen Marshall as an actor (phenomenal in Tampa Rep's Copenhagen), and he's equally strong as a director. His vision works here, where he can play with the material creatively without taking away the meaning of the piece and the Fosse-inspiration behind it. The stage is his playground, and all of those kids, that huge roster of talent, is lucky to have him at their helm. Marshall started teaching Theatre at Berkeley Prep four years ago, where the school wanted to elevate the performing arts by hiring the best of the best. Berkeley Prep hoped to create a theatre department that would stand toe to toe with any other in the future. Make no mistake: Based on this production of CHICAGO, their future is now.
Related Articles