BWW Previews: LITTLE BLACK DRESS MUSICAL CHRONICLES STAGES OF LIFE WITH HUMOR AND HEART at The Straz Center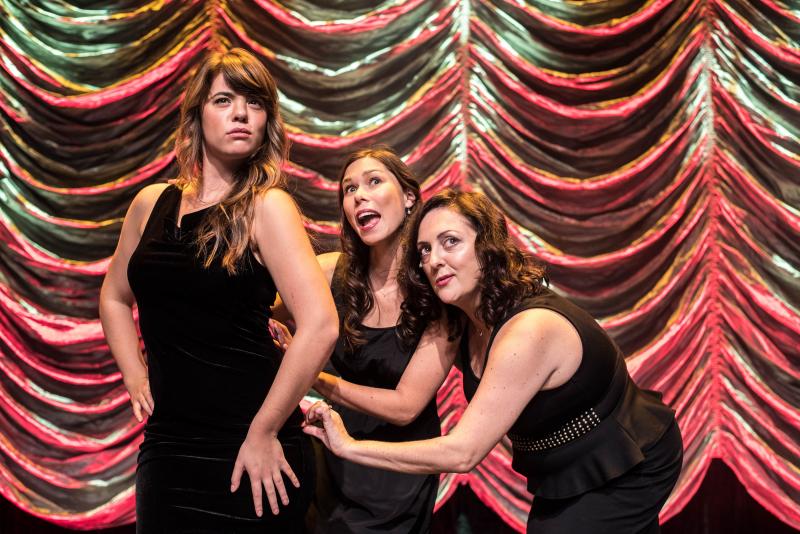 Almost every woman owns a little black dress. It may be dust-laden, buried in the back of the closet, and seldom worn, but even if you don't own one, the name itself evokes a certain meaning. This simple piece of ebony fabric symbolizes a reason to get dressed up, a glass of wine or two, a night to escape and shed the role of homemaker, professional woman, wife and/or mother, and catch up and make some fun new memories with your girlfriends.
Tampa owes the collapse of the Women's United Soccer Association (WUSA) in the early 2000s to advent of the Little Black Dress - not the one that you wear, but the traveling musical event that hits Jaeb Theatre at The Straz Center stage on April 27 & 28.
If it weren't for the close of the WUSA, Danielle Trzcinski, producer, actress and co-creator of The Little Black Dress might have led an illustrious life as a soccer legend and she would have never looked into an acting career that serendipitously led her to writing a fearless, funny musical like Non-Equity the Musical! and now Little Black Dress.
She said, tongue firmly planted in cheek. "I thought when WUSA folded, 'I can't be in something unsteady,' so I became an actress."
Always the sportier of her two sisters, this Tampa native, Tampa Catholic graduate had no idea when as a high school junior she auditioned for Masque Theatre's Annie Get Your Gun and won the lead, her life was going to take a very different path.
"I loved it. I told my parents I wanted to go to college for acting and they were like 'what?'."
Danielle graduated from Florida State University and AMDA College and Conservatory of the Performing Arts in New York City. At AMDA, she stopped in to an extracurricular composition writing class to see what it was, staying in the back of the classroom to audit. All participants had instruments with them and songs prepared. Danielle did not.
"I was in the back and the teacher said 'hey girl in the back, what do you have?'"
When she explained that she was only there to watch the class, professor Peter Susser asked her to come front and center and challenged her to make up a song in front of her peers on the spot. Danielle performed a funny song and he suggested she come back. After months in the class, through professor Susser's encouragement Danielle applied to become part of BMI, a prestigious musical theatre writing program equivalent to Julliard for music. His belief in her talent changed her life. She was accepted.
"Every major musical theatre writing team has come out of this program," Danielle rattled off a list of names that were the Who's Who of Broadway. "BMI was the turning point for me. I realized that I was good at this and had something unique that I brought to the program and to writing. I'm a female - which there are not a lot of female musical theatre writers - and I write funny stuff, which a lot of people don't."
After the conclusion of the two-year program, Danielle auditioned to be in the advanced program by writing a 20-minute musical. Though a highly competitive program with a lifetime membership, Danielle applied and was accepted.
"I met Natalie Tanenbaum, who wrote the music for Little Black Dress through this program. She's an amazing composer. BMI gives out an award a year and she won both of them."
Danielle didn't wait for her big acting break; she created it. As an actress, she jokingly called herself the "almost girl." She'd audition for large shows, get selected into the top two, but never got booked. Instead of giving up, Danielle decided to write and star in her own show.
"I was tired of waiting. That's when I wrote Non-Equity the Musical! I didn't even know what producing was. I just wanted to write and act in something funny that had a lot of heart. It sold out and we were voted top 10 shows at the Fringe Festival," she said. "That was the first time I truly considered myself a writer."
Immediately after that she booked SPANK! The Fifty Shades Parody and after being on a sold-out tour, acting for three years, she was inspired to write Little Black Dress.
She described Little Black Dress like Menopause the Musical for the younger set.
With a talented team of composer Natalie, writer and director Chris Bond, and co-writer and fellow SPANK! castmate, Amanda Barker, Danielle brought the trials and tribulations of womanhood to the stage, chronicling the major stages of life - birth, friendship, dating, sex, love, death - all important reasons for a little black dress.
"We all brought something unique to the table. I love the process of being in a room together and throwing ideas off each other. It's incredible to come into a space with a concept and walk out with a song."
After coming off the hugely successful SPANK! tour, bringing the production of Little Black Dress to stage was surprisingly not a simple endeavor. In a male-dominated industry, producing executives did not understand what LBD was and why every woman (and even their significant other) could relate.
Frustrated by the lack of response, with the fundraising support of her businessman father keeping her grounded, Danielle decided she would take on the arduous task of producing the musical, as well writing and acting in the production.
"Until SPANK!, I didn't know this crowd of women- women who liked to party and go to the theatre - existed. We wanted to write a show for them. The females in our show are strong, smart women. We wanted a show that every woman could relate to and laugh at, but also write a show with heart."
Danielle's goal was to give women a special reason to don that little black dress.
"It's not even just about the show. It's also about the experience before the show and then during the show, we do audience participation where we do improv. We ask the audience members questions and then we improvise a scene on stage."
In the midst of a full musical, the cast improvs the audience member's response to make each show completely original to the patrons who sees it. A meet and greet with the cast afterwards, where photos and social medias shares are cordially invited, makes for a perfect evening.
"I'm really proud of the show we put together because everyone has worked so hard. If you're looking for a fun night in Tampa with blue humor, this is the show. Every woman has a little black dress or they know what it is. Little Black Dress is a beautiful funny musical about friendship and female empowerment," she paused. "And it just happens to have a sexy stripper... because well, why not?"
Little Black Dress runs 8pm on April 27 and 4pm and 8pm on April 28 at Jaeb Theatre at the Straz Center. To purchase tickets for Little Black Dress, visit https://www.strazcenter.org/Events/Straz/Shows/1718_Theater/Little-Black-Dress.