BWW Previews: A MONSTER OF SHOW, THE CURSE OF FRANKENSTEIN'S CASTLE COMING to Carrollwood Players Theatre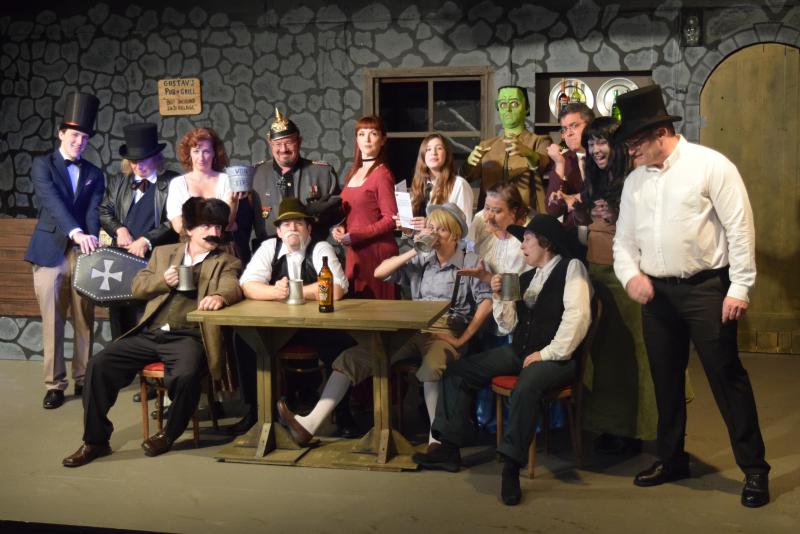 It's not always about producing the well-known plays and musicals at Carrollwood Players Theatre. Sometimes, it's about giving a platform for incredibly talented men and women to showcase original productions.
One Friday, October 20, the world premiere of the original comedy THE CURSE OF FRANKENSTEIN'S CASTLE debuts on the Mainstage at Carrollwood Players.
Written and directed by local playwright Joe Pauly, the story is a satirical take on the classic Mary Shelley's "Frankenstein" and the old Universal Horror Movies of the 1930s & 1940s. It's what happens when you cross a classic monster movie with the comedy style of "Airplane," Monty Python" and "The Three Stooges."
Joe explained, "You see the small village of Frankenstein, Germany and all of its oddball residents, the bizarre Dr. Victor Frankenstein, his hunchback assistant as they try and uncover the greatest mystery of all - creating life... while trying to keep their experiment from Victor's fiancée Elizabeth."
Enter in the town constable Inspector Von Kraut who attempts to match wits with Doctor Van Helsing to try and uncover the mystery.
Perfect for Halloween, the show offers monsters, zombies, gypsies and a slew of strange residents of the odd little town, mere pawns in this horror classic.
Sponsored by the Tampa Bay area Hooters, THE CURSE OF FRANKENSTEIN'S CASTLE features Miguel Rodriguez as Narrator, Trish Farber as Elizabeth's Mother / Mother Focker / Lipp, Penni Willen as Helga, Joe Kirane as Ybor The Hunchback / Muckenfuss, Sasha Beers as Ball, Pam Yado as Maleva, Patrick Colliano as Burgermeister-Meisterburger / Driver's Voice / Wanker's Voice, Michael Juliano as Monster / Gustav, Will Chamblee as Peter, Brian McCreight as Doctor Van Helsing, Mary F. Jordan as Elizabeth, Dan Allmond as Victor Frankenstein / Dryer, Stephan Bielawski as Inspector Otto Von Kraut, Devany Green as Grizelda, and Jessica Harrington as Pizza Delivery Person / Zombie.
Tongue firmly planted in cheek, Joe said about his laugh-out-loud play, "You don't want to miss it. It's going to be a MONSTER of a show!"
Carrollwood Players is located at 4333 Gunn Hwy. THE CURSE OF FRANKENSTEIN'S CASTLE runs Friday, October 20 through Saturday, November 4 with performances at 8 pm on Fridays and Saturdays, 3pm on Sundays. Tickets are $23 adults, $20 senior, students, military - general admission. Evening Performances Contain Some Adult Humor. Tickets can be purchased at https://carrollwood-players-theatre.ticketleap.com/curse-of-frankensteins-castle/