Review: The Limits Of Forgiveness Are Challenged In New Australian Short Play PAPER DOLL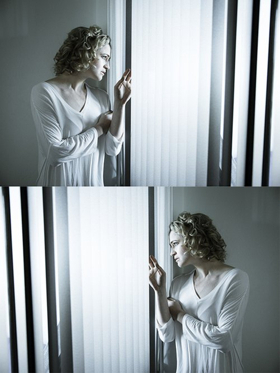 Tuesday 7th November 2017, 6:15pm, Old Fitz Theatre
Captivating and heartbreaking, Katy Warner's new short play PAPER DOLL challenges the audience to consider how and if would forgive when faced with betrayal of trust. As the latest in Red Line Productions New Fitz New Writers Program 2017, this new work continues the conversation started in Arthur Miller's A VIEW FROM THE BRIGE, the sold out main stage production at Old Fitz Theatre.
Warner has created a tight two hander to delve deeper into the inappropriate relationships and betrayal of trust that comes out of Miller's famous work. Whilst Miller used Uncle Eddie's largely unacted upon infatuation with his 17 year old niece Catherine as the motivation for turning his wife's cousins in to immigration authorities, explores a darker relationship between a young woman (Lucy Goleby) and her uncle (Martin Ashley-Jones) where the betrayal lies in the trust afforded to the guardian meant to protect the orphaned girl. With the niece in her early 20's now, she remains the only relative willing to give her uncle, who she has not seen since she was 14 years old, a place to stay but is she really able to forgive and has he really changed.
With a prickling atmosphere of politeness and hesitation Lucy Clements (Director) keeps the tension high as the two relatives reunite. Ashley-Jones gives the uncle an air of being contrite and reformed whilst still showing signs that he still doesn't believe what he did was wrong. As he tries to remind the young woman before him that he only ever wanted her to feel loved and adored as his 'little princess', his pain that he has lost that bond is palpable but he slowly starts to show that he isn't ready to take the blame for his actions until it is really too late. Goleby expresses the niece's pain and wariness that war with her innate nature to be kind as she tries to forgive but is still haunted by her past any time her uncle goes to touch her. She captures the role a gravity and maturity of someone that has had to grow up fast to deal with events no child should be exposed to whilst capturing the innocence the woman's younger self in the voices that echo the past.
PAPER DOLL is a well crafted challenging work presented with a crisp simplicity and an honesty and truth that shines a spotlight on the good and bad of humanity. Whilst hopefully most people will not have experienced the specific type of betrayal of trust the young woman experienced, this holds a relevance for anyone who has been let down by someone they love and had to decide whether they can forgive or not.
Old Fitz Theatre
7 - 18th November 2017
Image by Kate Williams Photography.