BWW REVIEW: SILENT DISCO Captures The Challenges Of Adolescence In A Society On The Periphery Where Education And Aspiration Often Falls Through The Cracks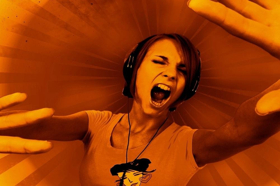 Sunday 8th April 2018, 5pm, New Theatre
Dreams and destinies derail in Lachlan Philpott's SILENT DISCO as growing up in a society of broken marriages, drugs and delinquency play out. The multi award winning Australian play is revived for the New Theatre stage to share the challenges of wanting to be more when the circumstances and bad decisions combine with a damaged society.
Philpott's contemporary story, which won the Griffin Award for New Australian Playwriting in 2009, centres on of 16 weeks in the life of intelligent teenager Tamara (Gemma Scoble) as she navigates getting through high school, dealing with young love and living with the resentment of a mother who has moved on and left Tamara and her reclusive father to struggle on. The smart girl with the potential to become something more than the usual high school dropouts that dominate the area has fallen for Squid (Badaidilaga Maftuh-Flynn), a boy with his own issues of abandonment and a dysfunctional family but the world that Tamara thought was finally showing signs of happiness starts to crumble. Overseeing it all is Squid and Tamara's English teacher Mrs Petchell (Leilani Loau) who wishes she could do more for the string of students she knows will probably not achieve their potential, sucked under by the society with they belong as they are forgotten by most, but still does her best, within the constraints of the system, to try to reach out to Tamara. This text driven work plays out on Ester Karuso-Thurn's stark set of linoleum lined box, complete with faded water damaged walls, which serves as a public-school classroom and the run down modest homes of the two central students.
Whilst Philpott's work originally saw cross cultures of anglo saxon Tamara pairing with a boy with an indigenous background, casting constraints have forced Johann Walraven to present the story with less of a focus on Squid's heritage apart from the fact that ensuring that he is different from Tamara and her father Laurence (Brendan Miles). The shift presents a broader expression of the Sydney suburbs with no specific commentary on social breakdown and criminality in any particular group whilst still putting the diversity of society on stage.
Initially sounding a little too 'trained', once Scoble settles into the role, her Tamara is convincing as a cocky well-read teen with an interest in writing. She presents Tamara's description of her world with a pace and precision fitting an Australian high school student. There is interest and disinterest infused in each statement and a knowing confidence as she lets the audience into the 'secrets' of her world with monologues breaking the fourth wall. She captures the teen's physicality well to present a disillusioned youth, dismissive of the education system and Mrs Petchell's sincerity, and an anxious teen wanting to please and wanting to have more control over her own life as she struggles caring for her father and herself.
Badaidilaga Maftuh-Flynn as Squid captures the quintessential teenage boy with often monosyllabic statements that verge on grunts and a stance that signifies a lack of confidence and interest in many things, particularly school. He ensures that whilst Squid is seen as rough around the edges, engaging in tagging the grumpy neighbour's fence, he has redeeming qualities as he tries to be romantic whilst still being a typical teenage boy.
As the English teacher Mrs Petchell, Leilani Loau captures the common complaint of educators, particularly in the public school system, where they would wish for better futures for their students but constraints of time and regulations mean they cannot do more for their students. Loau delivers the role with a degree of distance and rigidity in her interactions with the students and the delivery to imaginary classes. Mrs Petchell's monologues delivered direct to the audience which list the students who fell through the cracks and she seems to feel she failed to save are however presented with the appropriate regret and disappointment with an undertone of resignation to the inevitability of the statistics.
Tom Misa gives Squid's brother Dane the requisite bad boy danger and ensures that whilst he keeps saying he will straighten up once he is released, there is that niggling doubt that he will succeed. As Tamara's reclusive, depressed and damaged father Laurence, Brendan Miles presents a broken man, appearing to have given up on life after his wife ran off to build another life. Whilst Miles also doubles briefly as another teacher, Natasha McNamara takes on the most roles as Tamara's colleague Dezzie, her mother Leanne and Squid and Dane's Aunty. To present these brief roles, McNamara ensures their character is quickly understood with a degree of stereotyping and caricature, from the disinterested shop assistant to the animal print lycra clad tart and the protective Aunty left to look after two boys.
Philpott's text is beautifully poetic and descriptive whilst still capturing the linguistic patterns of the people presented. The work is relatable as a contemporary piece with a reliance on mobile phones and ipods with the messaging culture presented succinctly without the use of visuals that many other productions employ for similar 'conversations'.
A relatable work for anyone who has any idea of the public education system and youth in general, SILENT DISCO is also a cry for help for society to do more to save our children from falling through the cracks and throwing away opportunity and talent.
22 March -14 April 2018