BWW REVIEW: Love, Loss And The Damage Of The AIDS Epidemic Are Considered in MY NIGHT WITH REG
Thursday 7th February 2019, 7:30pm New Theatre
A quarter of a century after it premiered in London, Kevin Elyot's MY NIGHT WITH REG holds an enduring relevance for all communities whilst also providing an insight into the fear that gripped the Gay community in the 1980's. Under Alice Livingstone's (Director) careful eye, this tragi-comedy is presented with truth and sensitivity for New Theatre's contribution to the 2019 Sydney Gay and Lesbian Mardi Gras season.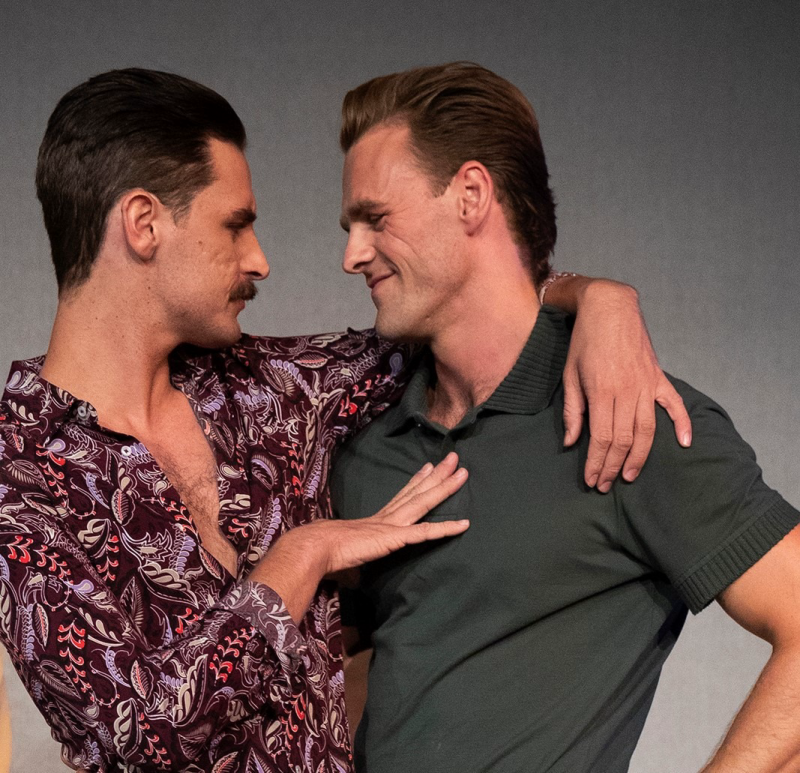 MY NIGHT WITH REG is a fly on the wall glimpse into the lives of six gay friends in their thirties as they gather over three different nights in Guy's(John-Paul Santucci) London apartment. Guy is a meek man that spends his days as a copyrighter and his nights knitting or cooking for one with a kinky phone sex relationship and the occasional trip to the local gay pub as his exceptions to his safe, cautious life. We first meet him as he waits for a housewarming party with old college friends, some of whom he hasn't seen in a long time. His friends comprise of the single wealthy socialite John (James Gordon) who is bemoaning the decline of his fortune, having spent his inheritance that has saved him from working for years, the suave and incredibly camp art dealer Daniel (Steven Ljubovic) who attends without his partner, the committed couple Bernie (Steve Curnow) and Benny (Steve Corner) and new friend and painter from the pub, the young Eric (Michael Brindley). The Reg of the title is never met but by the accounts of the men, all of which apart from Guy have had a relationship of some form with him, is a caring charismatic character, if not a bit loose with his affection.
Tom Bannerman's set recreates a sleek 80's bachelor pad where a minimalist living room looks out onto what is implied to be a roof top garden beyond the large angled window. Near constant rain on the window ties the work to London. A raised living room space has a sofa, armchair and coffee table positioned in front of a long counter and a large white wall and which serves as a canvas for Christina Hatzis' projections that cover the changes in time between the three acts. Sallyanne Facer's costuming expresses the personalities well as she has dived into the retro fashions of polyester patterned shirts and prim knitted cardigans favoured in the 80's.
Guy is the group's confidant and Santucci ensures that it is clear why the quiet conservative man has been afforded this privilege. He ensures that Guy is seen as hospitable, painfully polite and generally eager to please, particularly in the first Act when the dormouse of a man interacts with the self-confident John and flamboyant Daniel. His subtle expression of Guy's pain at discovering the love of his life is hopelessly in love with another man, and how undeserving that other man is, is palpable and relatable. He is typically British in his inability to express his underlying emotion and his belief that he needs to remain amiable and appear unaffected.
The handsome heir to family wealth John is played with casual indifference to everything by James Gordon. With no job and little besides a clandestine affair to entertain him, he remains somewhat self-absorbed and oblivious to Guy's obvious regard which Gordon plays with an intriguing aloofness. The more overt Daniel is presented with the kind of flair that takes over a room by Ljubovic as Reg's long time partner breezes in, champagne bottle in hand and picks up the college antics and social structure they left some years earlier. He ensures that Danie's growing doubt and resulting hurt about Reg's true personality is clear despite his protestations that he doesn't care what his lover does. Friends Bernie and Benny are presented with less impact by Nick Curnow and Steve Corner.
Along with Santucci, Michael Brindley presents the other strong performance as Eric, the young outsider from Birmingham who is incorporated into the group. He presents the youthful ignorance of the culture and conventions of the older men wonderfully to present a blue collar perspective against the formality of his new friends whilst also ensuring that Eric is likable in his energy and innocence.
MY NIGHT WITH REG is a well crafted insight into the London gay world in the 1980s and whilst AIDS is never explicitly mentioned it is clear that it forms a central issue of the work with the burgeoning epidemic on all of the men's' minds. An interesting work for both people that relate to the characters but also the wider community in understanding not only history but also the universal concerns of love, belonging, longing, deception and betrayal.
MY NIGHT WITH REG
https://newtheatre.org.au/my-night-with-reg/
Photos: Bob Seary