BWW Review: New Jewish Opens a Gorgeous DISTRICT MERCHANTS.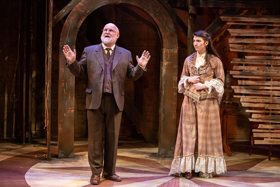 The New Jewish Theatre has opened District Merchants, by Aaron Posner, and it is certainly among the finest productions I've ever seen there. Posner's script is most remarkably beautiful-it's masterful indeed.
And this production is blessed by two of our very best veteran actors, J. Samuel Davis and Gary Wayne Barker, who perform at the absolute peak of their powers. These are two towering performances.
The story of District Merchants is drawn from Shakespeare's Merchant of Venice. It is set in Washington, D.C., during the Reconstruction period-the 1870's. But this is not a mere reworking of Shakespeare's play; though characters and plot of the two plays are largely congruent, their theme's are utterly different. Shakespeare wrote Merchant of Venice as a comedy. And Shylock? Shakespeare had probably never even seen a Jew; the Jews had been expelled from England in 1290 and they were not readmitted until 1657-over 60 years after Merchant of Venice was written. In Shakespeare's day the only familiar Jew was the grotesque comic or villainous character often seen on stage. Shakespeare was not writing a play about the need for tolerance of "the Others" in our land. Why then does he evoke our sympathy for Shylock? (". . . if you prick us do we not bleed?") I guess Will's innate humane-ness just had to burst out-even in a comedy.
The New Jewish Theatre calls this "an uneasy comedy". No, despite the generous larding of humor throughout, and despite the three impending marriages at the end, this is not a comedy; it's a very moving, complex, deeply honest play about the relations and conflicts among the various "tribes" that make up this nation of immigrants. But (at least until the very final moments) it is not a moral lecture.
Among Posner's characters only Portia (Courtney Bailey Parker) represents the dominant culture: white, protestant, affluent. Others are:
Shylock, the Jewish money-lender (Gary Wayne Barker)
Antoine DuPres, a prosperous free-born black businessman (J. Samuel Davis)
Jessica, Shylock's over-protected daughter (Alicen Moser)
Benjamin Bassanio, a poor young friend of DuPres' (Rob White). Benjamin is "passing for white".
Finneus Randall, a poor Irish friend of Benjamin's (Paul Edwards)
Nessa (Rae Davis), the wise and spirited black servant of Portia
Lancelot (Karl Hawkins), the spritely, talky, witty black servant of Shylock. As with Shakespeare's Launcelot, our Lancelot is by nature a clown.
Barker and Davis are simply wonderful. They show such command of Posner's graceful-even poetic language, such ease and strength in their soliloquies.
If these wealthy men are the "high-falutin'" members of the cast, the "low falutin'" folks deserve almost equal praise:
Rae Davis brings a wonderful, deep realism to the sassy soul that fills Nessa. She convinces us that even in a world which shouts out the injustice of their disparate social positions, she can in fact love her high-born mistress.
The diminutive Karl Hawkins is a true gem as Lancelot. His delicious, agile comic gifts brighten the play immensely. His brave and easy embrace of an almost vaudeville comic vocal style is perfect and appropriate-a defensive mask for his true cleverness. He is, like all of Shakespeare's clowns, both forgivable and adorable.
The "mid-falutin'" folks are less exceptional, but then their roles are less deftly written.
Miss Parker glows with confidence as the assertive proto-feminist who masquerades as a man (even binding her bosom) to attend law classes at Yale. But when she wants to tell Bassanio that she loves him but can't quite make herself do it, she blithers on, seemingly at the mercy of the fit of silliness with which the playwright burdens her. It could have been, but was not, a moment when we see this confident woman undone by love. We feel her liberal discomfort when she abashedly admits that Bassanio's confession of his negro blood is indeed a deal-breaker, but she never quite convinces us of her love for him in the first place.
Rob White gives us a pleasant and earnest Bassanio, but in costume and in manner he is a working-class lad. He never projects that charisma that would draw Portia to him across their class differences. (He should at least shave to visit such a lady.)
Alicen Moser makes a lovely, unworldly Jessica. Her feelings of rebellion toward her father have very modern resonances.
Finn Randall, Jessica's suitor, is played by Paul Edwards. He's attractive, lively, personable and the proper bit roguish-but Edwards is not totally at home in his Irishness.
Playwright Aaron Posner gives us by far the most honest, the most penetrating exploration of the tensions among races and religions that I have ever heard. He does not preach, he merely presents the details, the struggles, the pains of these individual lives. He leads us to understand the intractability of these tensions, and the long, slow forgiving work that faces us in our effort to resolve them.
David Blake gives us a q
uite gorgeous set-an archway, a balcony, stairs, walls of fragmented lath-all in old wood, all in a beautiful burnt Sienna glow. Behind it all is a great antique map of Washington, D.C. Sean Savoie's graceful lighting carves out a number of different acting areas. Zoe Sullivan designed the very evocative sound.
Felia Davenport's costumes are perfectly period and appropriate. Mr. Davis's elegant clothing is particularly well-fitted. What a handsome fashion-plate he is.
Director Jacqueline Thompson deserves all our thanks for putting together this remarkably beautiful production of this magnificent play.
District Merchants runs at the New Jewish Theatre through February 10. Don't miss it.
Related Articles View More St. Louis

Stories

Shows