BWW Review: RIMBAUD at Daehangno TOM Theater Hall 1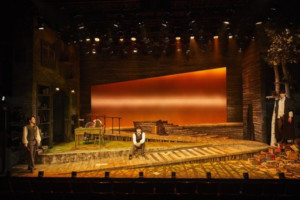 "Genius is the recovery of childhood at will," this is a famous quote by Rimbaud, the mischievous genius French Poet. A prodigy of literature, he later fled from his home to Paris, spending some time with Paul Verlaine. The story of Rimbaud's life has been made into an original musical, having its first performance on October 23rd and it has so far led many audience members enchanted into the story of the young poet's life.
RIMBAUD the musical has three characters, of course, Rimbaud himself, his short-term companion, Paul Verlaine and last but not least, Rimbaud's childhood friend, Ernest Delahaye. For the role of Rimbaud, Donghwa Jeong, Youngsoo Park, Seongwon Son, and Soho Yoon were cast. Verlaine is played by Enoch, Jong-goo Kim, and Sangyoon Jeong. For the role of Rimbaud's friend, Delahaye, Yong-gyu Lee, Hwi Jeong, and Eonil Kang were cast. It was interesting to see how the cast consisted of actors with different length of experiences. Regardless, each of the actors fit with the character they were cast for.
The stage set could be divided into three parts. The stage right was decorated like a room, later mostly used to express Verlaine's room throughout the show. Stage left had a tree and a stack of books on the floor, which expressed the special hiding spot of Delahaye and Rimbaud. The main stage has a railway with a large LED screen behind. This was the main set, as it was not only the biggest but because most of the important scenes were acted there. The LED screen was used several times to express different time periods of a day or to show the change of locations. For example, when the characters go to Africa, the LED screen changes into a bright orange color and when they are back on a boat, the LED screen changes into a shade of blue.
RIMBAUD the musical's story was more like a biography of Rimbaud. Rather than, focusing on main events, the story starts from when Rimbaud talks to Delahaye, saying that he will be a clairvoyant. Later, he leaves Delahaye to go to Paris and meet Verlaine. The plot goes on with the dangerous relationship of the two poets and ends with Delahaye going to Africa with Verlaine to find Rimbaud's last poem. Overall, the story was not hard to follow, however, because most of the poems of Verlaine and Rimbaud were translated, there were some scenes that were confusing. The music of RIMBAUD was varied, with slow tempo songs and fast tempo songs altogether. There were several scenes where the music had lyrics consisted of Rimbaud's poems. It was interesting to see the actors not read but act out the poems.
One point that stood out in RIMBAUD was the acting. The show I watched, Soho Yoon played Rimbaud, Sangyoon Jeong was Verlaine and Hwi Jeong was Delahaye. Though every actor portrayed their character perfectly, Soho Yoon stood out. His interpretation of Rimbaud was the most similar to what I had in mind. His actions clearly showed Rimbaud's mischievous and somewhat devil-like character as well as his dangerous relationship with Verlaine. As Rimbaud was the main character, he had not only the most songs but also the most difficult ones. He did an amazing job of hitting each note and maintained in character until the very end of the show.
RIMBAUD was an interesting musical. The contents were about a French poet's life, as exotic as it was while watching the show, I could feel some sense of similarity. The musical may be hard to understand for those who are not familiar with Rimbaud. I recommend reading about Rimbaud's life before watching to show to have a more clear understanding.
RIMBAUD plays at the Daehango TOM Theater & Academy Hall 1 until January 13th. Tickets start at 22,000 KRW and can be purchased online or at the ticket box. Please check the cast and discount info prior to buying the tickets.
For more information, visit www.globalinterpark.com.
Photo Credit: newsis.com
Related Articles View More South Korea

Stories

Shows