BWW Review: DADDY LONG LEGS at Baekam Art Hall, Dear Mr. Daddy Long Legs Smith...
In 2017, one of the most popular theatrical magazines in Korea, THE MUSICAL did a poll to pick the top favorite female musical characters performed in Korea. In the top 3, Jerusha Abbott of DADDY LONG LEGS the musical was selected. When seeing the poll, I could immediately agree in why Jerusha is such a beloved character, especially in Korea. Why? Because she is brave, intellectual, and unique. The list of her charms goes on and on. The best way to know this is for you to go and see the wonderful show which has returned for its 3rd production, currently performing in Baekam Art Hall.
DADDY LONG LEGS is a musical based on the same name novel written by Jean Webster. It premiered in West End in 2012 and later in Off-Broadway in 2015. In 2016, the first run in Korea was very successful leading it to revive year after year. An interesting aspect of the Korean production is that unlike most other musicals performed in Korea, the cast had minimal changes. In 2016, Sungrok Shin, Wongeun Song, and Dongho Kang were cast for the role of Jervis Pendleton and for the role of Jerusha Abbott, Jisook Lee and Yuria were cast. For the second run in 2017, the male actors remained the same and instead of Jisook Lee, Hyeyoung Lim and Jihye Kang joined the crew. Finally, for this year's production, everybody came together with the addition of one more actor for the role of Jervis, Doosup Sung.
This is my fourth time seeing the show. I've seen it every single year and it's still always a show that I want to see. Wherever the venue is, whoever the actor is, DADDY LONG LEGS is a very special show. It is not simply a theatrical version of a popular novel or a beautiful love story where the female character is rescued by a prince on a white horse.
The narration of the story is unique. Instead of the actors actually interacting with each other, it's mostly based on the "letters" written by Jerusha. To show the change of years and location, a beam is shot in each corner where it states currently where Jerusha or Jervis is. The set and props are mostly simple. Suitcases are used to form a desk, a bed and even to express Manhattan. The main set is the office of Jervis Pendleton, with a row of bookcases and a desk where the actor who plays Jervis is usually at. The downstage is used as different places, such as the school that Jerusha attends or the streets of New York. Though it is an overall simple setting and a small stage, it manages to express everything needed.
For this year's production, I saw a show where Jervis was played by Sungrok Shin and Jerusha played by Hyeyoung Lim. It was my first time seeing this pair and it was interesting to see how they each had specific strong points compared to all of the other actors I've seen before. Since it was not their first time playing each of their characters, they seemed to be naturally comfortable acting. One point that stood out for Sungrok Shin was that he ad-libbed several times during the show. In the case of adlibbing, the result can come out in two ways. It's either really good and adds character or just totally awkwar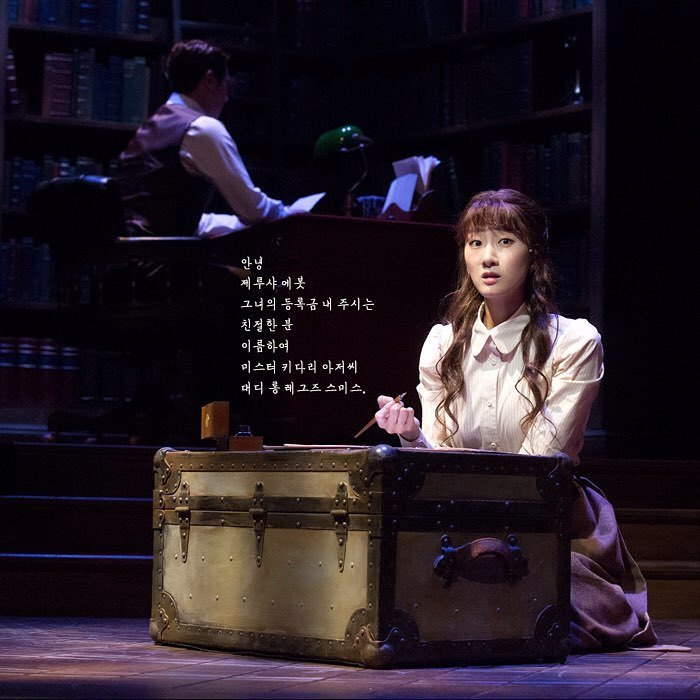 d and ends up making the show messy. For Sungrok Shin, it was the former case. His ad-libs were not too much and built up to create his own interpretation of Jervis. In the case of Hyeyoung Lim, there is one unique action that she does which adds to the connection between Jerusha and the audience. In DADDY LONG LEGS, Jerusha is usually on downstage; therefore it is easier to interact with the audience. Starting from the first number, when Hyeyoung Lim sings or acts, she always keeps eye contact with the audience. It may first seem like any normal kind of eye contact that actors do but as the show goes on, you will notice a difference. Especially, in the main number, "The Secret to Happiness," Hyeyoung Lim directly stares at the audience in the front rows, that it almost feels like she is addressing and singing to them.
DADDY LONG LEGS is not simply a show to be entertained by. It is a show that sends a powerful message to everybody, especially women. While, some may see the show and enjoy the romance between Jervis and Jerusha, in my belief, the character of Jerusha is someone that can be a role model for many people. Musicals and plays that have been performed and are being performed in Korea lack strong female characters. Most of them are portrayed either as a helpless princess saved by a prince or someone that brings an "innocent" character to destruction. For this reason, the symbolism of Jerusha is important. She is not a typical hopeless character or a so what called "Cinderella," she's unique, brave, and intellectual. Jerusha fights for what she wants, acknowledges and tries to challenge the obstacles the world has put in front of her. She is indeed the kind of character we need to see more in musicals and plays.
"Happiness," is a simple one word but it can have so many different meanings. To some people, it could mean finding one's true love or abundant riches to last forever. Also, for some people, it could be something that cannot be eternally found. However, after seeing DADDY LONG LEGS, I realized that "happiness" can be something much simpler, something that can be found easier than we expect. Jerusha from DADDY LONG LEGS the musical taught me that the secret of happiness is living in the present and not to run too fast. This is not the only lesson you can learn from the musical DADDY LONG LEGS. This show will teach you valuable lessons with wonderful songs and amazing acting.
Don't miss the opportunity to be a part of Jerusha's life. DADDY LONG LEGS the musical plays in Baekam Art until November 18th. Tickets start at 44,000 and can be purchased at www.yes24.com or the ticket box offline. Be sure to check the cast and for discounts prior to purchasing the show.
For more information, visit www.yes24.com.
Photo Credit: DAL Company
Related Articles View More South Korea

Stories

Shows