A Gentleman's Guide to Love & Murder - Broadway
If you're looking for a musical with the laurels of Downton Abbey and the morals of a mongoose, look no further! A Gentleman's Guide To Love & Murder-the new comedy of manners (well, bad manners) that has won unanimous raves
Monty Navarro has just received some really great news! He's a long-lost member of a noble family and could become the next Earl of Highhurst. There are only eight minor issues, namely the other relatives who precede him in line for the title. So Monty does what any ambitious, highborn gentleman would do: he sets out to eliminate them one by one, all while juggling his mistress (she's after more than just love), his fiancee (she's his cousin, but who's keeping track?), plus the constant threat of landing behind bars! But it will all be worth it if he can slay his way into Highhurst Castle... and be done in time for tea.
Tony winner Jefferson Mays (I Am My Own Wife, Gore Vidal's The Best Man) gives one of the most gasp-inducing performances ever attempted on the American stage, playing all eight doomed heirs who meet their ends in the most creative and hilarious ways. Mays leads a knockout cast alongside the delightfully debonair Bryce Pinkham (Bloody Bloody Andrew Jackson) as Monty, the scoundrel whose greatest weapon is his charm. Don't miss this unabashedly raucous new show that Charles Isherwood of The New York Times calls "among the most inspired and entertaining new musicals I've seen in years!"
Video preview
Photo preview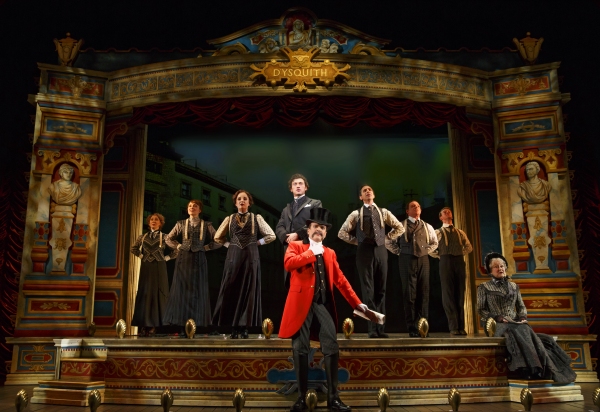 Schedule
Running Time: Two hours and 20 minutes, with one intermission
Featured Reviews For A Gentleman's Guide to Love & Murder
'A Gentleman's Guide' kills it with comedy - USA Today
Mays is as funny evoking the characters' often-grisly ends as he is giving them quirky life. The buff, blustering major is undone by his machismo, while poor, delicate Henry - whose particular fondness for Monty informs the side-splitting duet Better with a Man, one of several catchy, clever songs by composer/lyricist Steven Lutvak and lyricist/librettist Robert L. Freedman - finds his beloved little buzzers turned unwittingly against him...The actor who plays Monty, Bryce Pinkham, is pretty of voice and bone structure, but not a natural comic performer. He loosens up nicely as Guide progresses, though, and receives ample support from a sassy Lisa O'Hare and crystalline-voiced Lauren Worsham, as Monty's rival love interests. Ultimately, of course, this is Mays' show - and he seems to have as grand a time carrying it as you will watching him.
Review: The More Murders, the Merrier in "A Gentleman's Guide to Love & Murder" - NBC New York
As the Reverend Lord Ezekial D'Ysquith, [Jefferson] Mays is pushed from a church steeple, a bloody scene with Hitchcockian overtones.The murders go on like that, satisfying stand-alone moments that allow Mays to do what he does best: rush backstage, jump into the next costume and play scenes to the hilt. They're delectable schadenfreude. You'll thrill in seeing him bring boundless energy and distinct personalities to his assorted D'Ysquiths of either gender. Pinkham, as well, achieves a tall order, remaining perfectly likable, though his character is committing nefarious acts...If it's escapism you're out for, and you also take pleasure from the suffering of others - after pushing through Times Square to get to a theater during the holidays, you very well may - "A Gentleman's Guide to Love & Murder" has the trappings of a fun, lightweight night out. Like many two-for-one offers, it's a rewarding proposition.
A Gentleman's Guide to Love & Murder Broadway Cast