Tacoma Little Theatre Announces 104th Season Featuring ROCK OF AGES, A CHRISTMAS STORY & More
The season will also feature Steel Magnolias, Murder on the Orient Express, and more.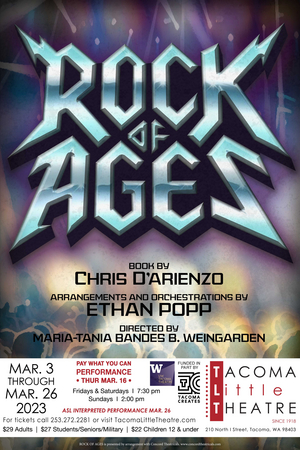 Tacoma Little Theatre has announced their 104th Season of theatre beginning this September.
TLT is calling this season "SOMETHING TO CAPTIVATE EVERYONE". It brings some audience favorites back to the stage, along with some shows brand new to TLT and the Northwest. The season will include the following seven productions:
STEEL MAGNOLIAS September 9-September 25, 2022

Directed by Deanna Martinez
With sharp witty banter and memorable one-liners, Steel Magnolias returns to TLT.
Truvy's salon is Chinquapin, Louisiana's go-to place for a beauty fix with a hearty side of gossip. Along with her overeager assistant Annelle, Truvy pampers her small-town clients with hairdos, manicures, and all kinds of unsolicited advice. Anybody who's anybody is a regular: There's the doting M'Lynn and her soon-to-be-married daughter Shelby; the moody Ouiser; and the well-to-do widow Clairee. Through witty banter and wisecracks, this hodgepodge group of women form friendships as strong as steel, which they are forced to lean on when tragedy strikes.
MURDER ON THE ORIENT EXPRESS October 21-November 6, 2022
Directed by Melanie Gladstone
Eight suspects, one thrilling ride with this new adaptation by Ken Ludwig!
Board the exotic and mysterious Orient Express as it takes off into the opulence and grandeur of the 1930s. Just after midnight, a snowdrift stops the Orient Express in its tracks. The luxurious train is surprisingly full for the time of year, but by the morning, it is one passenger fewer. An American tycoon lies dead in his compartment, his door locked from the inside. Isolated and with a killer in their midst, the passengers rely on detective Hercule Poirot to identify the murderer - in case they decide to strike again. Join Poirot as he battles the clock to figure out "whodunit" in this sleek, stylish, and surprisingly comedic murder mystery.
A CHRISTMAS STORY December 2-December 24, 2022
Directed by Jennifer York
A TLT audience favorite returns, Leg Lamp and all! 16 Performances!
Humorist Jean Shepherd's memoir of growing up in the midwest in the 1940's follows nine-year-old Ralphie Parker in his quest to get a genuine Red Ryder BB gun under the tree for Christmas. Ralphie pleads his case before his mother, his teacher, and even Santa Claus himself. The consistent response: "You'll shoot your eye out!" All the elements from the beloved movie are here, including the family's temperamental exploding furnace; Scut Farkas, the school bully; the boys' experiment with a wet tongue on a cold lamppost; the Little Orphan Annie decoder pin; Ralphie's father winning a leg lamp; Ralphie's fantasy scenarios and more.
PO BOY TANGO January 20-February 5, 2023
Directed by David Hsieh
A celebration of the human spirit and the joy of cooking.
Po Boy Tango tells the story of Richie Po, a Taiwanese immigrant who turns to his estranged friend Gloria, an African-American Soul Food Chef, to help him recreate his mother's 'Great Banquet'. Despite the challenges of shark fin soup, duck po boy sandwiches, and underlying cultural tensions, they find common ground through their shared humor and the blending of traditional Chinese cuisine and African-American soul food. Helped by lessons from Po Mama's television cooking show, the two discover a deeper understanding of food, culture, and the nature of friendship.
ROCK OF AGES March 3-March 26, 2023
Directed by Maria-Tania Bandes B. Weingarden
University of Washington-Tacoma and TLT join forces!
Aqua Net, Lycra, lace, and liquor flow freely at one of the Sunset Strip's last legendary venues in the 1980s. A place where sex machine Stacee Jaxx takes the stage and scantily clad groupies line up to turn their fantasies into reality. Amidst the madness, aspiring rock star (and resident toilet cleaner) Drew longs to take the stage as the next big thing (and longs for Sherri, fresh off the bus from Kansas with stars in her eyes). But the fairy-tale is about to end when German developers sweep into town with plans to turn the fabled Strip into just another capitalist strip mall. Can Drew, Sherri, and the gang save the strip, and themselves, before it's too late? Only the music of hit bands Styx, Journey, Bon Jovi, Whitesnake, and more hold the answer.
SIGNIFICANT OTHER April 21-May 7, 2023
Directed by Chris Serface
What happens when all of your friends get married and you're still alone?
Jordan Berman would love to be in love, but that's easier said than done. So until he meets Mr. Right, he wards off lonely nights with his trio of close girlfriends. But as singles' nights turn into bachelorette parties, Jordan discovers that the only thing harder than finding love is supporting the loved ones around you when they do. But, as they get married one by one, he is left to wonder why life won't give him the same fairytale ending. Significant Other is an unorthodox romantic comedy that celebrates the highs and lows of twenty- something urban life, wedding after wedding after wedding.
THE SHAWSHANK REMDEMPTION June 2-June 18, 2023
Directed by Blake R. York
Stephen King's novella that inspired the film finally comes to the stage!
Based on the novella by Stephen King, this adaptation of The Shawshank Redemption hearkens to the 1994 critically acclaimed film, bringing audiences to the edge of their seats. Andy Dufresne is convicted of the murder of his wife and her lover and sentenced to life imprisonment at Shawshank prison. While at Shawshank, Andy befriends some of the other inmates, namely a character known as Red. Over time Andy finds a way to live out life with as much relative ease as one can find in prison, leaving a message for all that while the body may be locked away in a cell, the spirit can never be truly imprisoned.
Season Tickets and FLEX passes are available now by visiting www.tacomalittletheatre.com, calling 253-272-2281, or coming in person to their box office (Tuesday-Friday 1:00pm-6:00pm). Season Tickets range in price from $120.00-$155.00 and FLEX passes are $145.00. Single Tickets will be available August 8, 2022.