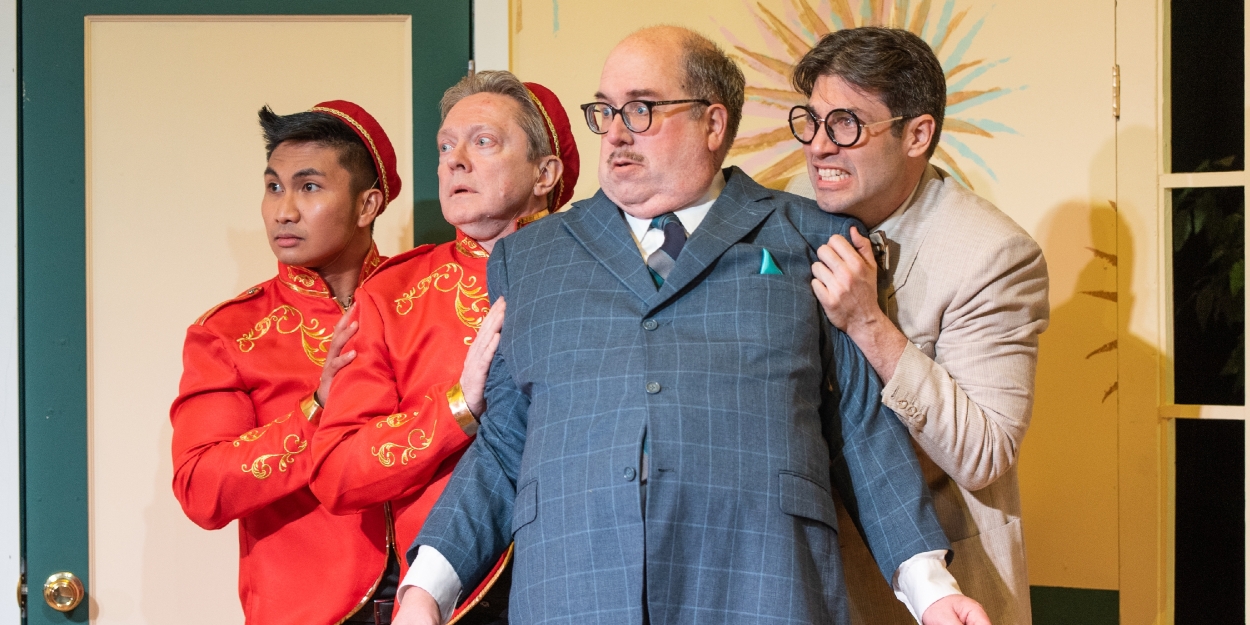 Review: SUITE SURRENDER at As If Theatre
Now through April 2nd
With a parade of mismanaged guests, lurking press, and plucky staff, SUITE SURRENDER at As If Theatre offers us a classic farce for your enjoyment. The show is a treasure trove of classic tropes and exemplary comedy. With the weight of winter receding into memory, this show invites you in for a good laugh as therapeutic as the spring sunshine.
SUITE SURRENDER centers around a theatrical benefit for the WWII troops at the swanky Palm Beach Royale Hotel in Florida. Two dueling divas have been booked into the same suite, the show organizer continually adds new twists of complication, and the hotel staff scramble to put out the fires before the roving reporter can give them bad press. The story is a classical farce where characters and situations entangle themselves into a giant pretzel of a mess before things quickly resolve with a few surprises along the way.
The cast of SUITE SURRENDER hits all the right notes and performs with perfect harmony. Each actor embodies their character with such totality of commitment that it is hard to imagine anyone else in any of the roles. Tina Devrin is the pesky reporter with shades of Rita Skeeter. Emmanuel Suarez and Jay Vilhauer play Francis and Otis, the bellhops. Their physical comedy brings the first laughs of the night and carries through the entire show. Vilhauer gives a repeated line such variation and impact that it is at once simplicity and complexity at its best. Chris Clark (Pippet) and Ashley Rose Klimper (Murphy) are the personal assistants to the two divas. Klimper doesn't pull any punches and gives her backstory the added import to make her character more than one dimensional. Clark is a sentimental favorite from the word go. His down-trodden yes man is sympathetic and endearing. He ups the ante with some heavy doses of physical comedy and deep yearning from some soulful eyes. In a show full of comedy, Jennifer Nielsen as Mrs. Everett P. Osgood sashays into the room adding even more laughs with each appearance. Her obliviousness to impending trouble is delivered with astounding deft. Terry Boyd as Bernard S. Dunlap is at the eye of the hurricane. His one-liners hit their marks with bombing accuracy. Boyd pulls out all his comedy tools for this role and makes a master work of it. Molly Hall as Athena Sinclair has found yet another role she was born to play. Her bright-eyed temptress with the devilish smile seduces us all. Merry Senn as Claudie McFadden is the biggest baddie of them all. If looks could kill, the entire cast and half the audience would be six feet under. Senn leans into the character harder than the Tower of Pisa and earns every inch of entitlement a diva deserves.
As If Theatre performs in the Kenmore Community Club. The transformation of this space continues to evolve and has become almost like a magical pop-up theater. Scenic Design by Rick Wright and Master Carpenter David Baldwin combine to create a set with doors and back areas of a believable hotel suite. With Keith A. Gehrig's lighting design, especially the balcony area, the entire setting works in a way that allows the suspension of reality. Clowning Coach, Ken Michaels, works his magic creating some beautifully synchronized physical scenes that take the comedy to a new level. Director Cindy Giese French doesn't waste a minute but squeezes every laugh from every line, every entrance, every pause, every look, and every movement. The timing was perfect, the pacing brisk, and the blocking natural and without affectation.
Theater is many things. It makes us feel and think and can move us to action. It can also be a respite from the weary world and replenish our souls to face another day. Sometimes a good laugh, a little escape is exactly what we need. In the midst of all the comedy, this show still has heart and little nuggets of truth that it delivers wrapped up in a joke. We all need to remember that the little curties of please and thank you can go a long way to helping maintain relationships. No one likes to be taken for granted, and everyone is seeking a way to stay relevant. SUITE SURRENDER reminds us that laughter is the best medicine to all that ails us. Come to As If Theatre for a dose of good fun to soothe the aches of a long, hard winter.