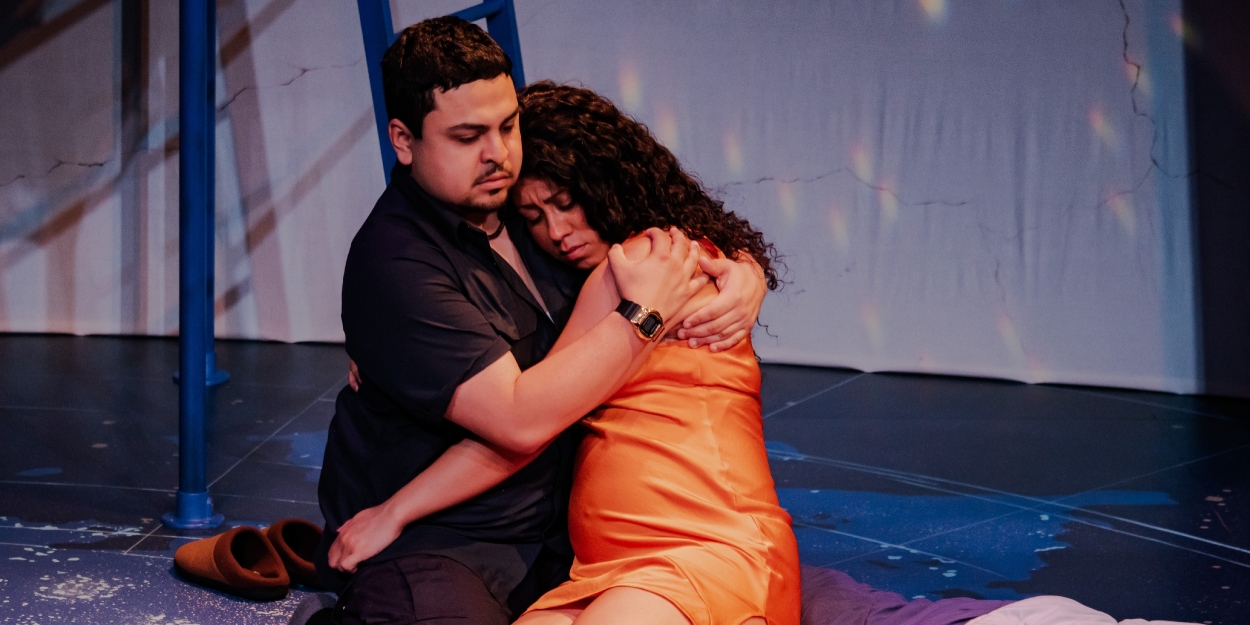 Review: CLOUD TECTONICS from Sound Theatre Company And Earthseed
A sweet and magical little love story.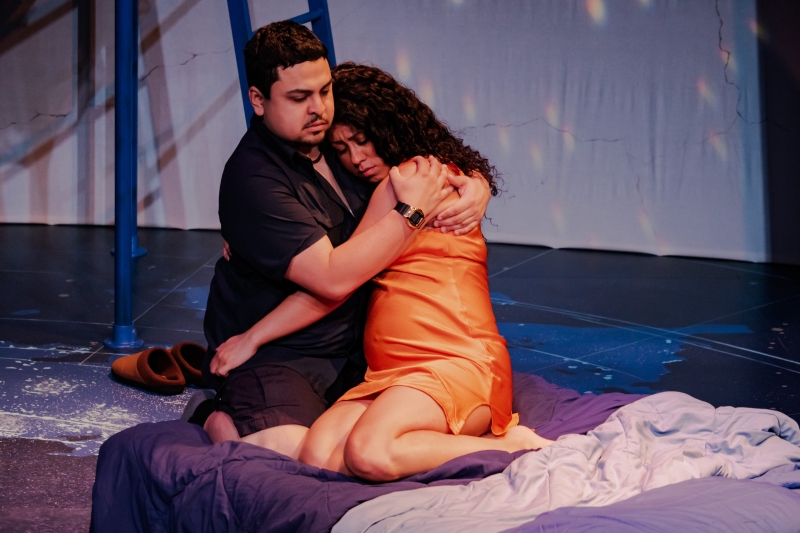 Dear Readers, I am a sucker for both a sweet love story and even more so when we mix in a little magical realism. Movies like "Amelie" or plays like "O Lovely Glowworm, or Scenes of Great Beauty" are some of my favorites. So, something like Jose Rivera's "Cloud Tectonics", currently playing at 12th Avenue Arts from Sound Theatre Company and Earthseed, should be right up my alley. And while I find it a sweet little love story, I have to emphasize the "little". There's not a whole lot to it. But then, that works well since it's only an intermissionless 90 minutes.
The play starts off simply and grounded in reality enough. Celestina (Jay Woods) is waiting at a bus stop in the pouring rain. Pregnant and alone she looks confused and at her wits end. Enter Anibal (Myles Romo), a sweet airline baggage handler with a need to help others who offers to drive her wherever she needs to go. But she really has no place to go, so he offers to put her up for the night. Once at his house she divulges that she's looking for the man who knocked her up. And she's been looking for him for two years. Yup, she's been pregnant for two years. And if that's not odd enough, she's 54 but looks in her mid-twenties. We quickly learn that time does not work as usual around Celestina. Enter Anibal's brother Nelson (Jacob Alcazar), a soldier on his way to be deployed who has dropped in on his estranged brother before he ships out. Celestina's beauty and magic affects them both and begins a bizarre love triangle that traverses decades, or 90 minutes depending on how you look at it.
From the moment you enter the theater you'll be struck by the ethereal beauty of the set by Parmida Ziaei. At the same time practical and transcendent, it's quite lovely. Add into that the stunning lights from Adem Hayyu and costumes from Taya Pyne, and you'll see the fantastic world they've brought you into. But this production is not just about looks, as director Jéhan Òsanyìn has paced it beautifully. Even as the time within the play slows, the moments for the audience never drag. Plus, they've infused the relationships with a realism that makes even the most outrageous seem understandable.
But it's this fine trio of actors that truly bring it home. Alcazar has the smaller of the three roles but makes the most of it as he inhabits this searching young man affected by this magical woman. But the main story is between Woods and Romo and they are wonderful together. Romo couldn't be sweeter and more likable even as he's swept up in this romance that goes against his own circumstance and his final moments of the play are stunners. And Woods from the moment she enters stage owns every inch of it, bringing this otherworldly being to vibrant life.
I can't say this one blew me away (as another one this week did) but it was a lovely little story and told quite well. And so, with my three-letter rating system, I give Sound Theatre Company and Earthseed's production of "Cloud Tectonics" a sweet sigh of a YAY-. I think we can all use a bit of a magical love story in our lives.
"Cloud Tectonics" from Sound Theatre Company and Earthseed performs at 12th Avenue Arts through October 15th. For tickets or information, visit them online at www.soundtheatrecompany.org.
From This Author - Jay Irwin
         Born and raised in Seattle, WA, Jay has been a theater geek for years.  He attends as many shows as he can around the country and loves taking in new exciting... (read more about this author)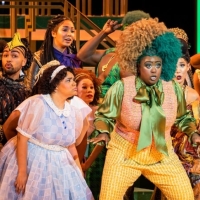 Review: THE WIZ at The 5th Avenue Theatre

November 28, 2022

L. Frank Baum's classic fantasy "The Wonderful Wizard of Oz" is the gift that just keeps on giving. From its 1901 origins to the 1939 iconic film to any number of sequels, movies, and even a Broadway musical or two, we always seem to want to hear more and more about the magical land of Oz. And no small part of those tales is the fabulous William F. Brown and Charlie Smalls, Tony Award winning musical, "The Wiz" from 1974. And now the 5th Avenue Theatre has brought this green gem to vivid life with their current delightful production.
---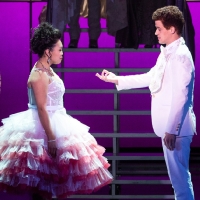 Review: RODGERS AND HAMMERSTEIN'S CINDERELLA at Village Theatre

November 19, 2022

"Rodgers and Hammerstein's Cinderella" is an enduring classic for a reason. Sure, it's family friendly and has a worldwide recognizable name, but in addition to it's wonderful songs, it's shown to be amazingly adaptable based on the production. From the original telecast versions in the 50's and 60's that took a more fairy tale, traditional telling, to the updated Whitney Houston and Brandy Norwood version in the 90's that leaned into the comedy along with updated orchestrations. Not to mention many, many stage revivals. With songs from the original sometimes cut and songs from other R&H shows being added in, this classic is certainly a living and growing thing. The current production from Village Theatre tries to emulate that 1997 version. And while I love that version, this production failed in committing to which story it wanted to tell and ended up being a mish-mash of potentially good ideas never fully realized.
---
Review: NOT / OUR TOWN from Pony World Theatre

November 12, 2022

Dear Readers, there's an interesting an innovative new work based on an old classic playing in Capitol Hill with Pony World Theatre's "Not / Our Town". Even as I arrived at the theater, the pre-show activities the audience must partake in were filled with promise. Unfortunately, that promise quickly waned as this "NOT / Our Town" ended up mostly being "Our Town Highlights" mixed with one of my pet peeves, someone else's therapy on stage.
---
Review: THE AMEN CORNER at The Williams Project And Langston

November 10, 2022

Dear Readers, if you're at all familiar with The Williams Project, then you know of their hard-hitting shows. Their "Blues for Mister Charlie" from 2016 was just one of their outstanding works. Now they're back to take on another piece from James Baldwin, his "The Amen Corner", and once again they show they know how to drive a story home.
---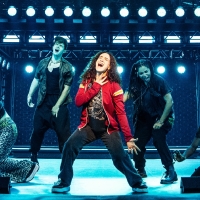 Review: JAGGED LITTLE PILL at The Paramount Theatre

November 9, 2022

Dear Readers, I'm going to offer up a few unpopular opinions of mine. First, I'm not a huge fan of Alanis Morissette. Not that I dislike her, but her album of "Jagged Little Pill" was never my jam. And second, the jukebox musical "Jagged Little Pill", currently playing at the Paramount Theatre, that takes on the music of Morissette has a book that can't find who or what it wants to talk about. So instead, it talks about everyone and everything to pretentious effect.
---