BWW Review: The Williams Project's BLUES FOR MISTER CHARLIE a Masterpiece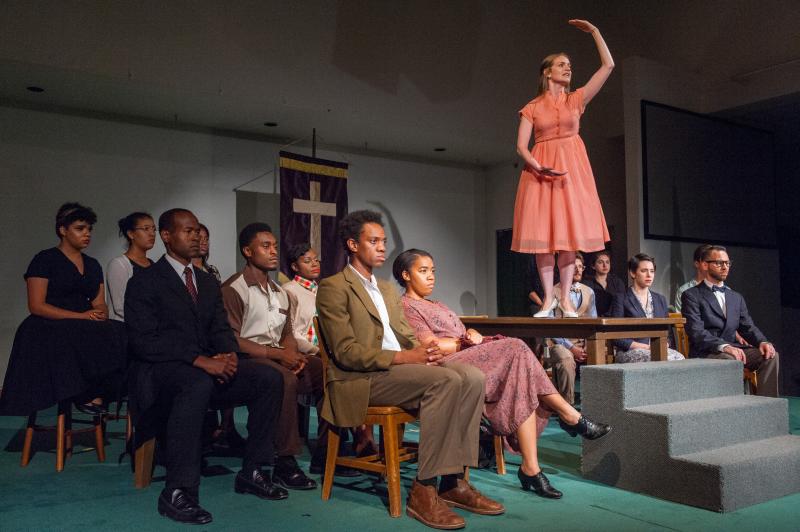 Stop reading and find time in your schedule for this ridiculously good play at www.thewilliamsproject.org. This show has a short run, and it's pay what you can, so there's no reason why one should not see this play.
James Baldwin's play "Blues for Mister Charlie" is loosely based on the Emmett Till murder that occurred in Money, Mississippi, before the beginning of the Civil Rights Movement. A young black man, Richard Henry, has been murdered, and a young white man, Lyle Britten, is the prime suspect. But neither Lyle nor his loved ones seem particularly concerned about his conviction, and Richard Henry's loved ones feel the same way. The narrative cuts back and forth between the past and the present as the truth of Richard Henry's murder slowly unfolds. "Blues for Mister Charlie" examines the differing attitudes and conceptions of white privilege and racial justice, based on age, race, gender, and religion.
This rendition of James Baldwin's social commentary/courtroom drama incorporates strong directorial choices that work. Songs are woven throughout the narrative, mainly as bookends between scenes. They compliment the mood of the moment, given how much of the production takes place in performance spaces or houses of worship. Though the story makes occasional references to characters singing, the music is used to heighten the stakes and amplify the mood in an evocative way. The musical numbers may be familiar to some audience members-there are some church hymns, some soul, some blues-and the singing in this cast is exceptional. One may assume that, upon first impression, these performers are singers first and actors second (because they're that good); but, no. These folks are both exceptional singers and actors, and the live band (Kataka Corn, Kevin Haylock, Sophia Mendez, Rebecca Norris, Olivia Pedroza, Harrison Scannell, and Glory Yepassis-Dembrou) isn't half bad either.
Director Ryan Guzzo Purcell adds dynamic physical choices for the actors to break up the monotony of the court scene. Jo Britten stands propped on the table like a music box ballerina, slowly turning in circles as she gives her deposition. Lorenzo lays on the table, face down, with his hands behind his back. Meridian Henry stands with his arms cocked up and askew like a marionette. Et cetera. Parnell has the burden of taking on every one of the other characters' positions, continuously switching among them: ballerina to fist in the air to arms cradled to laying face-down back to ballerina and so on. His deposition is very long, so this circuit of tableaus is clearly exhausting. It does get a bit distracting, to a point where one struggles to pay attention to what Parnell is saying from all of the position switching. But it drives home the sad reality of white privilege as audiences watch the well-intentioned white man struggle the most at the murder trial of a black man. It's gut-wrenching moments like these (and there are many) where one cannot believe how little things have changed in fifty years. So though the movements are a little distracting, ultimately, they work (and it's really only distracting for Parnell's deposition).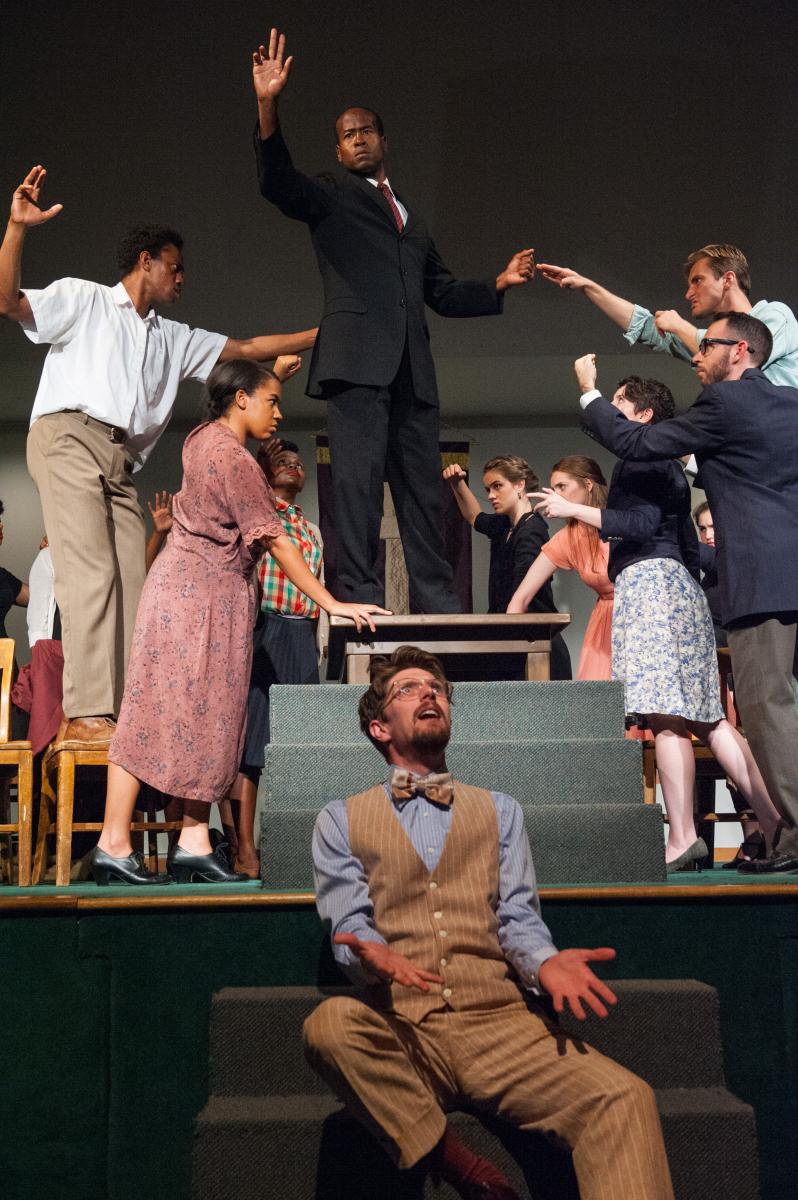 As Juanita, Nancy Moricette gives a vigorous performance, and her harrowing monologue during the courtroom scene burns into the brain. Moricette and French, who plays Richard Henry, have fun chemistry, though Moricette and Rafael Jordan's chemistry as the hardened, grieving Reverend Meridian Henry is more complicated and thus more magnetic. As poor Joe Britten, Brenda Joyner most successfully pulls off making a shameful character sympathetic, being more cognizant of the social injustices but is too loyal to her husband to cross him or anyone that feels the way he does.
Though her performance was good, Alexis Green as Mother Henry does not look nearly old enough to pass as a grandmother. I also found her wavery, guttural "grandmother" voice a bit put-on, but Green makes a staunch Mother Henry, and is especially entertaining in the courtroom.
"Blues for Mister Charlie" has a few thankless roles: as the hot-headed Lyle Britten, Leicester Landon has to relish every racial epithet that he spits out of his mouth. He's despicable and ignorant, but Landon adds just enough sadness to the character to make him feel well-rounded.
In fact, each character was so complicated and dynamic that having Grant Chapman and Elise LeBreton play such monotonous, robotic lawyers throws the balance off such a well-calculated environment. The blatantly despicable characters are still a smidge sympathetic, so why not give the lawyers some depth? The purpose of having such one-note characters was unclear (as well as having the characters repeatedly call Elise DeBreton "sir"). As Hazel, Elise DeBreton captured that perfect balance of a woman thinking she's saying nice things but actually comes off as quite ignorant, and as her husband Reverend Phelps, Grant Chapman has the thickest southern drawl and is eerily matter-of-fact about his racist convictions.
Parnell James is a well-intentioned white man that struggles to navigate wanting to do the right thing for the black community, inevitably falling for the same micro-aggressions and pitfalls as the more transparently racist white folks (much to his chagrin). As Parnell, Max Rosenak's performance is incendiary. Jumping back and forth between Lorenzo and Papa D. is no easy feat, but Reggie D. White navigates the two roles with ease. White does not even need to speak the first time he switches from Lorenzo to Papa D. for audiences to recognize that he's playing a totally different character, and it has nothing to do with costuming or makeup. As Lorenzo, White is fervently pissed off (deservedly so), while as Papa D., he is withered, frightened, and complicit.
On one side of the stage, you have the American flag. The other, what looks like a confederate flag but is, in actuality, the Alabama state flag. Other than a few tables, chairs, and a large cross, this is a pretty bare-bones production aesthetically; no tricks or frills from actors to hide behind, which makes the cast's stellar performance even more impressive.
"Blues for Mister Charlie" by The Williams Project is a smart production with superior acting and chilling vocal performances. For this theatrical tour-de-force, I give "Blues for Mister Charlie" a floored A. This is a high caliber show that is not to be missed!
The Williams Project's "Blue for Mister Charlie" performs at Emerald City Bible Fellowship through September 10th, 2017, and performs at Franklin High School through September 17th, 2017. For tickets and information, visit them online at www.thewilliamsproject.org.
*Update 9/12/17: The Williams Project website was updated to have the correct URL
Related Articles View More Seattle

Stories

Shows
Amelia Reynolds has been writing for BroadwayWorld Seattle since 2015. Born and raised in Wilmington, Delaware (of all places!), Amelia Reynolds has lived and breathed (read more...)