BWW Review: Village's I DO! I DO! a Show about Commitment, That Lacks Commitment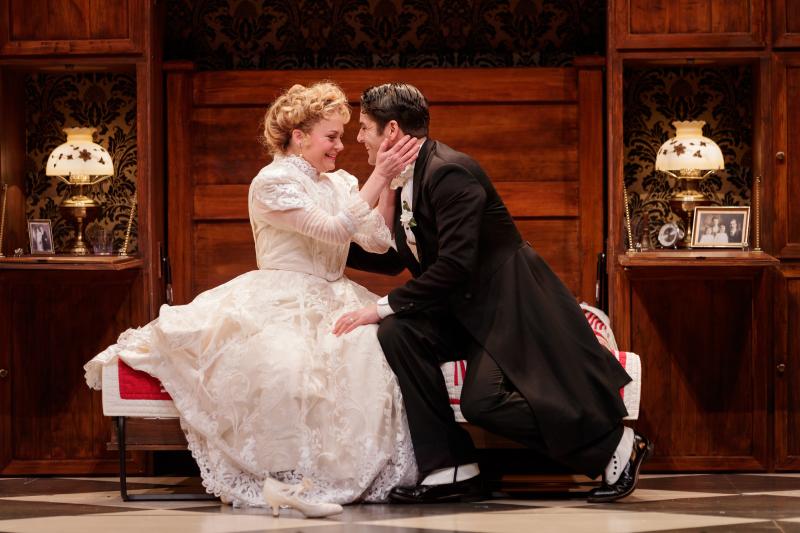 As a self-proclaimed musical theater geek, I'll admit to some gaps in my geekdom and Tom Jones and Harvey Schmidt's 1966 musical "I Do! I Do!" falls squarely into that gap. Before going to see the current production at Village Theatre I knew nothing about it. I don't even think I've heard the errant song from it off one of my many compilation albums. And now having seen it I'm more than happy to let it fall back into obscurity. With its paper thin, almost conflict free storyline, and songs that simply peter out into an air of forgetfulness, the only thing that saved the evening were the two people performing the show, Kendra Kassebaum and Peter Saide, but even they couldn't save this one.
It's the simplest of stories, based on "The Fourposter" by Jan De Hartog, we follow the marriage of Agnes and Michael (Kassebaum and Saide) from 1895 to 1945 through all of its ups and slightly less ups. And that's about it. As I said there's barely any conflict in this relationship. Oh sure, there's a moment where (SPOILER ALERT) Michael has an affair and says he loves another woman and he has a big belty number about how all men are better than women and Agnes has a big belty number about how she's going to get all dressed up and go have a life of her own and she says she's going to leave him. And it's at that moment that the show looks like it might actually become interesting along the same lines as when Nora leaves Torvald in "A Doll's House" or when Mother stands up to Father in "Ragtime" but in the same amount of time it took me to type those two comparisons they resolve that conflict or rather sweep it under the rug as if it never happened and move on with some more banality. There's one more, even less interesting, and totally out of left field, bit of conflict at the end but it's swept away as well as if the show sees conflict and runs away screaming. No, no, everything here is happy, and cliché, and boring.
The same could be said for the songs, only one of which I can almost remember and most of which failed to really end on any kind of crescendo or button, they just end. Especially the Act One finale which left me so underwhelmed that I was tempted to break my rule of never leaving a show at intermission. So, with the lack of commitment to any story, there's also the lack of commitment to finishing a song. Then there's the over commitment to the staging and business on stage from director Michael Arnold. From what I've read, the show is typically just done with a bed as the set but here Arnold and set designer David Sumner have a huge array of cabinets, part of which contains the bed, all on a revolve, adding in so much superfluous business that the over commitment resulted in a lack of commitment for the actors to just be able to perform as they were constantly dealing with hiding things in a cabinet or a bit of business with a chair and clothes line or changing clothes (there's so much changing clothes). In this case, less could be so much more but I assume Arnold didn't see much of a show here either and wanted to pump it up.
Kassebaum is her usual amazing self. Her voice is flawless, and her comedic timing is incredible. And the same could be said for Saide who makes for a perfectly dashing leading man filled with character and a fantastic voice. I only wish the show lent itself to the characters having more chemistry together but since it breezes through their relationship with little substance, there's not much to work with.
Really, it's just a flawed show that I'm not sure why they decided to dust off. And so, with my three-letter rating system, I give Village Theatre's production of "I Do! I Do!" a bewildered MEH. There are a lot of shows out there prime for a revival. This isn't one.
"I Do! I Do!" performs at Village Theatre in Issaquah through February 24th and then moves to their Everett location running March 1st through 24th. For tickets or information contact the Issaquah box office at 425-392-2202 or the Everett box office at 425-257-8600 or visit them online at www.villagetheatre.org.
Related Articles View More Seattle

Stories

Shows
Born and raised in Seattle, WA, Jay has been a theater geek for years. He attends as many shows as he can around the country (read more...)