Review: Two Words for Seattle Shake's BRING DOWN THE HOUSE – Bad Ass
Here in Seattle we are blessed to have an abundance of bad ass female theater professionals some you might even go so far as to call local theater royalty. Well now Seattle Shakespeare Company in collaboration with Upstart Crow Collective have taken those bad ass women and dropped them in a traditionally male dominated play, Shakespeare's Henry VI Trilogy which they have turned into a two parter and labeled "Bring Down the House".
The story is really some kind of sportsball game as the crown is constantly stolen and passed around from one monarch to the other. Henry V has died and so Henry VI (Betsy Schwartz) thinks he should have the throne. But York (Mari Nelson) feels the throne was usurped from his father to begin with so he should be the heir and thus the War of the Roses began with Henry's camp sporting a red rose as their sigil and York's men with a white rose. But the men were not the only ones plotting as Eleanor (Sunam Ellis), wife of Henry's Uncle Humphrey (Marianne Owen) plots to get her husband to the throne and Margaret (Kate Wisniewski), Henry's new wife, is determined to keep the throne for her son Prince Edward (Aishe Keita). And then enter the upstart Jack Cade (Peggy Gannon), a common man who feels that he and his gang should be in power and not the aristocracy.
It could all get very confusing except that we're blessed with an adaptation from Rosa Joshi and Kate Wisniewski and direction by Joshi who keep the houses and allegiances in order beautifully. But of course if you ever get confused as to the house line you can always just look down as the stage of the sparse set from Shawn Ketchum Johnson has been painted with the family trees of the warring factions. A tree which not only gets used by the actors during the storytelling but also gets modified as we go along. And of course a war would be nothing without some good battles and there are swords galore here. I'm not sure who to compliment more here, Peter Dylan O'Connor for his fight choreography or Alice Gosti as Movement Director as sometimes the battles were strict sword fights (and superbly done I might add) and sometimes the battles were translated into gorgeous dance-esque pieces complete with a crown being passed around and the thumping pulse of some on stage drums.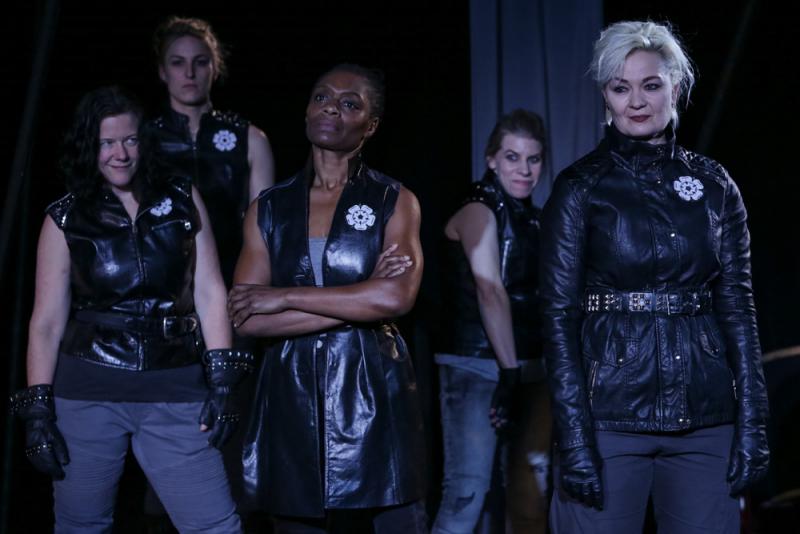 But it's these incredible actresses who truly "Bring Down the House". But I shouldn't call them that, actresses. It struck me as Nelson was killing it yet again in one of her monologues as I thought to myself, "Man she is nailing this. They certainly found the right woman for this role." But then corrected myself, "No, they found the right actor." These gifted actors managed to strip away all gender assumptions with the roles and boiled it down to simply people. And maybe that was the point.
As I said before we definitely had some Seattle theater royalty on board or at least we were supposed to. Suzanne Bouchard was supposed to have been in the show but was injured right before opening. But thanks to the theater gods, a few other members of our "royal family" were able to step in at the last minute. Marianne Owen not only delivered a stunning performance, as always, but made us all forget she had the script in her hand (at least the night I saw her) and never once showed any indication that she had gone on with three rehearsals. Royalty indeed. And for Bouchard's roles in Part 2, Meg McLynn may have had a few more rehearsals and a touch more time to learn her lines but still pulled off a magnificent feat as she stepped into not one but two roles beautifully, including some rousing sword play. Kudos to them both and here's wishing Bouchard a speedy recovery. Not to worry, your roles are in good hands until you get back.
I could go on and on about these fine performers but there are simply too many to go through them all. I do, however want to spotlight a few with whom I may not be as familiar but are quickly on their way to becoming royalty themselves. Nike Imoru simply commands the stage every time she sets foot on it and her duplicitous Warwick was a stunner. Wisniewski was a force to be reckoned with as the powerhouse Queen Margaret. And then there were Peggy Gannon, Kate Sumpter and Sarah Harlett who not only tackled other roles with aplomb but then stepped up as York's three remaining squabbling sons each with their own designs on the crown to glorious end. And I must add that I cannot wait for Harlett's "Richard III". Please someone make that happen.
Simply a stunning ... well ... everything in a brilliant take on a somewhat troubled set of plays is what Seattle Shakes and Upstart Crow have given us. And so I give Seattle Shakespeare Company and Upstart Crow Collective's "Bring Down the House, Parts 1 and 2" a blown away WOW. It just goes to show what fine ACTORS we have here in Seattle.
"Bring Down the House, Parts 1 and 2" perform at the Center House Theatre through March 12th. For tickets or information contact the Seattle Shakespeare Company box office at 206-733-8222 or visit them online at www.seattleshakespeare.org.