BWW Review: Seattle Rep's World Premiere IBSEN IN CHICAGO Tickles While It Captivates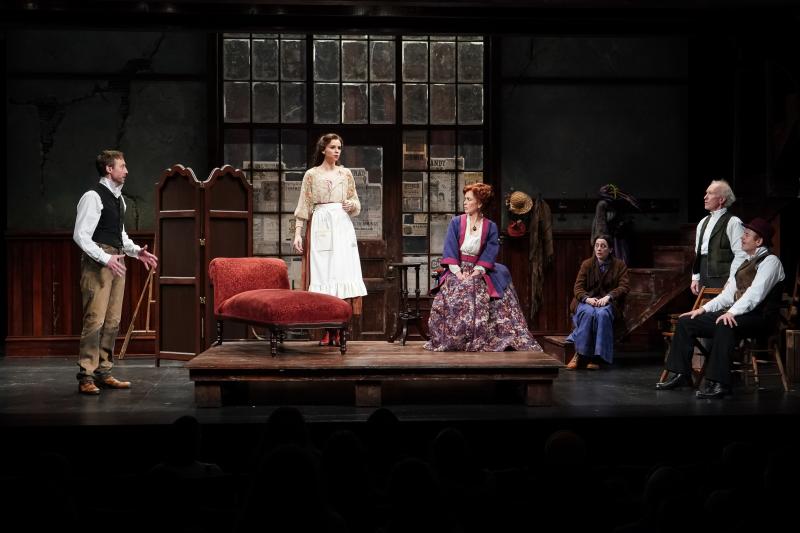 When a show works, when all the elements come together from cast to crew, from set to script, it's just a joy to behold. But when that script is a brand-new piece and you realize you're seeing the birth of something incredible it becomes even more special. Such is the case with the World Premiere of David Grimm's "Ibsen in Chicago" currently playing at the Seattle Rep, a wonderful new work that manages to sneak up on you with how engaging and meaningful it is amidst all the laughs.
In this fantastic piece commissioned by the Rep as part of their "The Other Season" program, Grimm paints a picture of a group of Scandinavian immigrants in 1882 striving to find themselves rather than just surviving in this new country. Henning (Christopher McLinden), a struggling bricklayer, has obtained the rights to produce the latest work from his fellow countryman and idol, Henrik Ibsen, his new play "Ghosts". He's also formed a relationship with the grand Danish actress Helga (Kirsten Potter) who's agreed to be in the show. So, he scrapes together a few backers, finds a ramshackle theater in a questionable area of Chicago and pulls together a rag tag group of actors and crew. There's the eager Per (R. Hamilton Wright) who's looking for more than what life has offered him. The scheming Pekka (Allen Fitzpatrick) who too wants more but is willing to take it by any means. The young and beautiful Elsa (Hannah Ruwe) who poses a threat to the aging diva. And the meek Solveig (Annette Toutonghi) who might be the greatest stage manager ever if she can stop nervously pulling out her own teeth.
Grimm's play is a cavalcade of fantastic characters, each with their own complexities and nuances and each with their own thoroughly captivating arc within the piece. Sure, they're hysterical with all their many idiosyncrasies but they're all so well drawn that they become so much more than clowns. And Director Braden Abraham ensures those arcs and journeys are never stagnant keeping the stakes of each character quite high.
But it's this incredibly tight ensemble that sells it. Lately I've been lamenting seeing shows where the actors fail to listen to each other or connect but there is not one solo performance or weak link here but a group of actors who are all in it for each other and by extension, in it for us. Even Potter, who's Grande dame could have easily been felt as a separate entity from the rest is so securely in this world as she manages such confidence and bearing while still retaining her vulnerabilities. McLinden makes for a stunning straight man as he portrays the lynch pin that desperately tries to hold this group together. Ruwe makes for the perfect foil to Potter and an even better love interest to McLinden as the chemistry between the three of them is palpable. Wright and Fitzpatrick turn in two sides of the same coin brilliantly as blue-collar schemers but with very different moral codes and goals. And then there's Toutonghi who was just plain comedic genius even while saying very little. And when she did say anything it was either comedy gold or absolutely heartbreaking.
If you want a light hearted new work with tons of humor and an engaging story (and who doesn't these days) then definitely check this one out. And so, with my three-letter rating system, I give the Seattle Rep's World Premiere of "Ibsen in Chicago" a truly engrossed YAY+. Who they were was hilarious. Who they became was riveting.
"Ibsen in Chicago" performs at the Seattle Rep through March 4th. For tickets or information contact the Seattle Rep box office at 206-443-2222 or visit them online at www.seattlerep.org.
Related Articles View More Seattle

Stories

Shows
Born and raised in Seattle, WA, Jay has been a theater geek for years. He attends as many shows as he can around the country (read more...)