BWW Review: Seattle Musical Theatre's KISS ME, KATE Not Tongue-In-Cheek Enough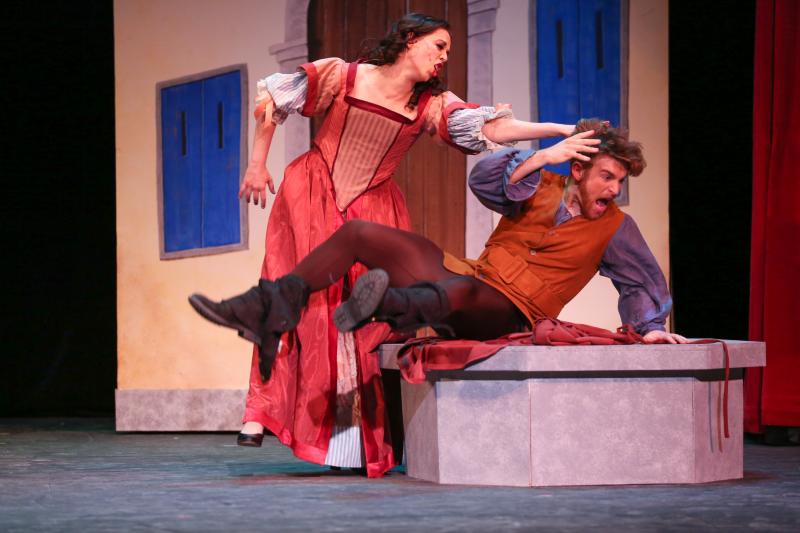 If you have to preface your show with the acknowledgement of misogyny, is showcasing the choreography and vocal talent worth putting on that show?
This is the issue with Seattle Musical Theatre's currently running production of "Kiss Me, Kate", a razzle-dazzle musical from the Golden Era, whose comedy does not age particularly well. Cole Porter's music is squeaky clean, magical, and gilded, recalling the type of theatre from yesteryear. This is an enjoyed, classical musical with domestic violence used repeatedly as a point of comedy, and reductive, tired tropes of female characters (vapid strumpet and jealous ex-wife). The singing and dancing in this questionable production is polished and advanced, but one can stage a classic musical with good singing and dancing that doesn't involve a woman being bent over her ex-husbands knee, and spanked so hard it hurts to sit down. And this is supposed to be funny.
"Kiss Me, Kate" stars hotheaded, divorced actors FrEd Graham (Jimmi Cook) and Lilli Vanessi (Tae Phoenix), who are performing in Shakespeare's "Taming of the Shrew" together. FrEd Graham is handsome, rude, and vain. Lilli Vanessi is beautiful, rude, and vain. While play-acting backstage after spitting venom at one another, their theatre nostalgia reignites sexual and romantic tension between the two, only to create unnecessary disappointment. Lilli receives flowers to commemorate their divorce-iversary from Fred (though they were intended for Fred's costar and young lover, Lois Lane [Miranda Antoinette Troutt]). Then, the remainder of the production centers on Lilli's disdain for Fred (and vice-versa), contained in a play within a play.
There's also a second, less important B-plot involving Lois Lane and her boyfriend, Bill Calhoun (Mikko Juan). Bill gambled away $10,000 that he owes to the mob. Bill cunningly identifies himself as FrEd Graham, so when the Brooklyn mobsters come to make an offer he can't refuse, it's the real FrEd Graham that's in trouble. However, Fred seems more preoccupied by his ex-wife messing with his emotions than getting whacked by the mob.
Director Megan Brewer's "balancing act" of "addressing the misogyny inherent in the script without compromising the story" (as stated in the playbill) was to toss in some minor acknowledgements that did not exactly let the men off the hook. For example, Lois Lane's traditionally ditzy persona had an extra dash of chutzpah and power. This is especially apparent during the musical numbers "Tom, Dick or Harry" and "Always True to You in My Fashion." In both instances, Troutt shows up the dude brigade choreographically after they had their chance to impress. Though Lois is still irresistible, she's in control, and the men come off as buffoons. Given that "Always True to You in My Fashion" is about Lois sleeping with other men for goods and/or services, Troutt's performance was proud and not slut-shame-y.
Here's the kicker-take away the issues with portrayals of women and a frothy plot line, this is a very good production. "Kiss Me, Kate" is not the sum of its parts, in that the singing and dancing parts are quite good. Musically, it's got a little something for everyone: operatic "So in Love" and "Wunderbar", jazzy "Too Darn Hot", and narrative, Shakespearean ballads with "I've Come to Wive it Wealthily in Padua" and "I Am Ashamed That Women Are So Simple". JarEd Jones' choreography incorporates aspects of tap dance, swing, jazz, and waltz. The singing and dancing in this musical are wonderful. But you can't excuse the misogyny and frothy plotline. In Act II, Lilli's fiancée General Harrison Howell (curtly played by Andrew Hunter) comes to the rescue to try and find the man who assaulted Lilli, only to scold him because woman beating is the husband's job. This kind of thing happens over and over again, throughout the show.
Noteworthy performances: Tae Phoenix's brassy Lilli Vanessi was the most sympathetic and dimensional character, and she has impressive vocal range.
Jimmi Cook's FrEd Graham is handsome and mean, the type that you don't want to be attracted to but you can't help it. Miranda Antoinette Troutt's Lois Lane is saucy and ebullient. Anna Vizzare and John Han, as the dipstick mobsters, are a breath of comedic fresh air. You'll be singing "Brush Up Your Shakepseare" as Vizzare did, in her Brooklyn accent, pronouncing Shakespeare like 'shake-speeyah.'
Ultimately, the updates felt more obligatory than poignant. Just acknowledging that you're doing something sexist doesn't mean that you're not doing something sexist. They can say that, technically, they tried to point out the outdated misogyny. But only occasionally, and through such subtle nuances (or the one more blatant, added line, "hey man, not cool"). The bulk of the production still feels misogynistic. For letting a talented cast show off in the wrong musical, I give Seattle Musical Theatre's "Kiss Me, Kate" a 2.5/5 stars.
"Kiss Me, Kate" performs at the Seattle Musical Theatre through April 30, 2017. For tickets and information, visit them online at www.seattlemusical.org.