Review: SKELETON CREW at Arts West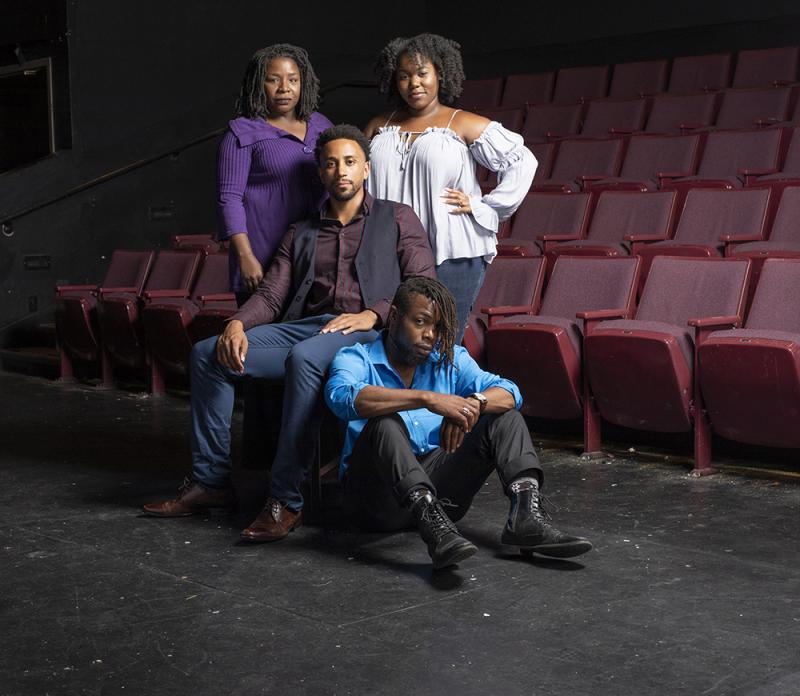 Skeleton Crew at ArtsWest Theatre is a double punch of grit and heart. The recession is wreaking havoc on the auto industry in Detroit, and the plant workers are caught in the crossfire. When you can't control the forces at work around you, your reactions to the circumstances are all you have left. Stress, uncertainty, power plays, and self-preservation are all in the mix. The small but powerful cast will suck you into their world and leave their pain and worry stirring uncomfortably in your belly. In Skeleton Crew nothing comes easy, but building a good life is worth the fight.
The Skeleton Crews follows the stories of four workers at a Detroit auto stamping plant. Faye is the elder just trying to make it one more year so she can retire with thirty years of service, but she's got a lot of baggage to carry along the way. Reggie is related to Faye and more like her son than her own biological son, but as a supervisor he is pulled between his friends working the plant floor and the priorities of management. Dez is a young scrappy worker hoping for a life independent of the plant. He plays everything so close to his chest that his co-workers are often unsure of his loyalties. Shanita is an ideal employee, skilled, hard-working, and always toeing the line. With a baby on the way, her dependence on the plant is immense. The break room is the safe haven where these workers build friendships, vent frustrations, and plan their futures.
Tracy Michelle Hughes (Faye) delivers a powerful and poignant performance. She is heart, the soul, the moral compass, the caretaker, the giver, and the backbone of the show. She fills her character with authenticity and nuance that provide fullness and depth. Hughes commands the stage and demands your attention in both moments of explosion and of complete quiet. She makes you root for Faye, and makes you want to know Faye. She tells the story as if it were her own. Reggie, played by Allen Miller III, is a deceptively complex role. During the first act, he comes off as rather one note, but the second act shows that Reggie's internal conflict was much more than we noticed. While I would have liked a few hints of this part of his character earlier, it could be an artistic choice to portray him more as the other character see him.
Charles Wright as Dez is infuriatingly adorable. To combine immaturity, pluck, devil-may-care, and true sweetness in one character is no easy feat. Wright manages to show all these aspects of Dez while keeping the audience guessing as to which trait will win out. Allyson Brown as Shanita is simply delightful. She breathes air and light into what could be a heavy show. Her sarcasm and wit and pitched perfectly and hit in all the right spots. She shows vulnerability and strength in the ways she relates to the other characters. If Brown ever decided to do a stand-up act, I'm betting she would kill it.
With a compelling story and a killer cast, Arts West has produced another winner. Director Jay O'Leary has staged a show that moves with both ease and intensity. The interspersed bits with mechanical sounds and movement serve both as great transitions and reminders that the center of the story is a factory. Scenic design by Burton Yuen is a realistic look of a break room with company provided necessities and employee added touches. Skeleton Crew, by playwright Dominique Morisseau, hit stages back in 2016, but this production is the Seattle premiere of the show. In a time when tariffs and taxes and domestic manufacturing are a constant topic of conversation, Skeleton Crew reminds us of the people behind the numbers, the people whose lives are effected by government and company decisions. While these conversations and decisions may be hard, the decision to come see this show is pretty easy. This is a story that needs to be told. The only question is if we are ready to listen.
Skeleton Crew is playing at ArtsWest now through October 14th. For tickets or more information, see www.artswest.org.