Review: MY ANTONIA at Book-It Repertory Theatre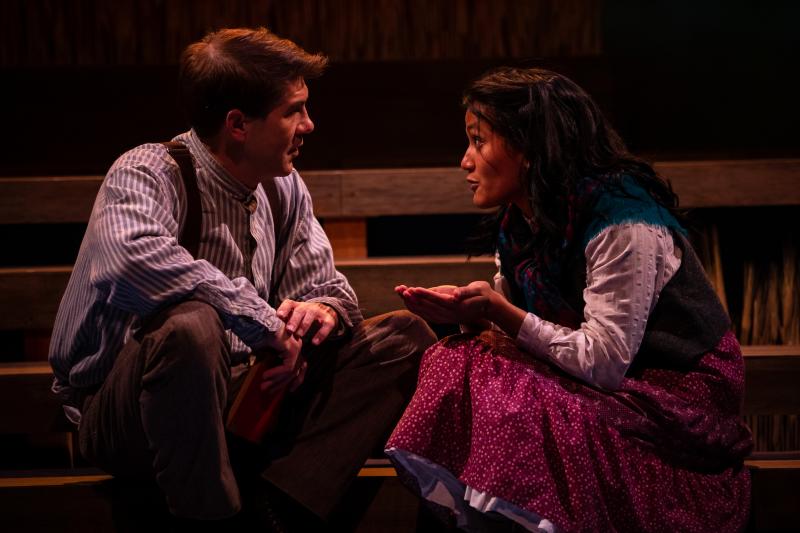 Book-It Repertory Theatre has a winner on its hands. MY ANTONIA sings with triumph as a story we both know by heart and one we long to hear. It deftly deals with the issues of love and loss, class divide, and immigration. Whether a century ago or current day, the story of My Antonia is remarkable for its beauty and authenticity.
The show follows Jim Burden as he moves to Nebraska to live with his grandparents. On the train ride he encounters an immigrant family from Bohemia also moving to the same town in Nebraska. The Shimerda family has several children including a bold daughter names Antonia. The Shimerda family has difficulty adapting to their new home and new culture. Jim begins giving English lesson to Antonia and through their lessons and adventures they forge a bond of lasting friendship. After tragedy befalls the Shimerda family, Antonia's life path is shifted away from its promising future. As their lives unfold, both Jim and Antonia must decide what makes home and who is family.
Tim Gouran (Jim Burden) is the steady ship navigating the course of the show. While maintaining the norms of society, he provides a glimpse of what could be if society worried less about what makes us different and focused more on what makes us the same. Nabilah S. Ahmed as Antonia is a force to be reckoned with. She brings Antonia's fierceness to life in her every movement and gesture. She is beauty and heartbreak, power and helplessness all rolled up into one. William Hall Jr. appears as Mr. Shimerda and Mr. Harling. His performance as Mr. Shimerda is haunting. His grief is palpable and a bold reminder of all that immigrants leave behind when they seek a new life. Jasmine Jean Sim (Lena Lingard) provides the undercurrent of change. Her unwillingness to play the role that society dictates for her is a powerful statement that she presents disguised behind a sweet smile. Kiki Abba as Mrs. Cutter provides some well-timed and much needed moments of levity. Her delivery is dry and biting with the sweetest bit of aftertaste.
The set design by Julia Hayes Welch depicts the fields of the Midwest with golden grain swaying in the breeze with raised areas at the sides and back to delineate different locations. The lighting designer, Ahren Buhmann, uses color and shape to change the set to fit the mood of the scene. Director Annie Lareau connects with Cather's novel on an intimate level and brings that connection to life on the stage. The story in her hands has the weight of history, the breath of the present, and the spirit of timelessness.
The challenges to create a home in a new land and to build family with those around us have been a constant part of the American story. Embracing the new and honoring the old is balance that generations have struggled to achieve. My Antonia is a story that many have left in the past. The production by Book-It Repertory Theatre reminds us how relevant the story still is today.
My Antonia is playing at Book-It Repertory Theatre through December 30th. For tickets or more information, contact 206-216-0833 or Book-It.org.