BWW Review: I Believe! THE BOOK OF MORMON at the Paramount Still Shines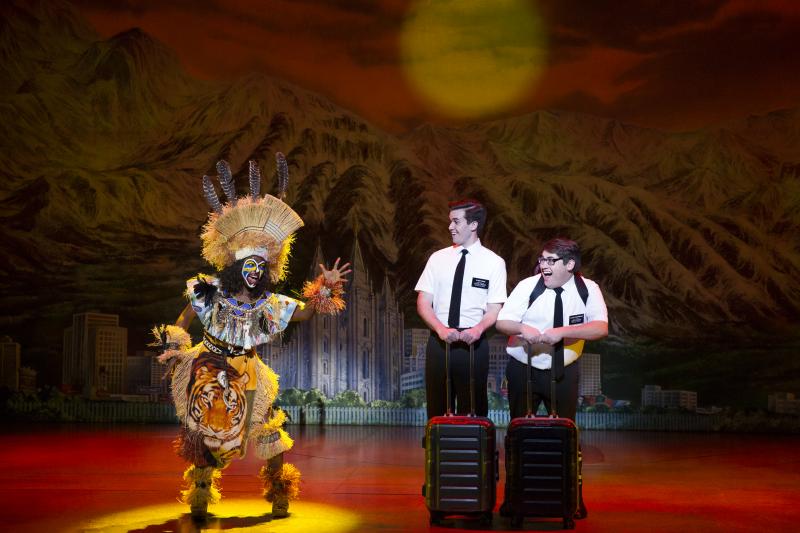 God's favorite musical is back! This is, I believe, the fourth time the tour of "The Book of Mormon", that juggernaut musical from 2011 (the "Hamilton" of its day) from the warped minds of Trey Parker and Matt Stone of "South Park" fame and Robert Lopez who co-wrote "Avenue Q" (as well as that little animated film "Frozen"), has come through town. And the appeal of its crass humor, repeated gay jokes, and borderline sacrilege shows no signs of waning. I know I left the theater smiling and laughing and still humming the songs all the way home because underneath it all, it's still just a damn good musical.
With its send up of the Mormon church you'd think there'd be protests outside each show but as it was from the beginning what you get out in front of the theater are actual Mormon missionaries sharing their ideals (along with a full-page ad in the program for the church) while inside we go on an adventure with Elder Price and Elder Cunningham (Kevin Clay and Conner Peirson). In the show, Elder Price is the top of his class and awaiting his assignment for his mission to spread the word and hoping to be sent to his favorite place in the world, Orlando. But his prayers to Heavenly Father aren't quite answered when he's paired with the class screw up, Elder Cunningham, and sent to Uganda. From there the hilarity ensues as they are forced to deal with villagers with AIDS, fellow missionaries who haven't managed one convert, and a murderous warlord. I told you the humor was crass. But if you're at all familiar with "South Park" you should expect nothing less and personally I find it hilarious.
The tour still holds up just as much as it ever has. You're still getting all the same incredible sets and costumes from the Broadway production and still that fantastic choreography and staging from Casey Nicholaw and Trey Parker. So not to worry, if you're familiar with the show at all, it has not changed (thank Heavenly Father). But how's the cast this time around you may ask.
Well looking through the cast bios I began to wonder what we were getting. It seemed a very young cast many of whom noting their tour debuts. No necessarily a bad thing. I mean the leads are all supposed to be young but can they pull off such a complicated show night after night? The answer, HELL YES! Clay is the perfect Mormon poster boy with his perfect smile and good looks and manages the songs and the comedy with seeming ease. As did Peirson who fits into that adorable awkward chubby guy role perfectly and just plain nails it and blissfully seems to have no shame in any of his dance moves. Kayla Pecchioni as the optimistic Nabulungi is delightful with killer pipes and the sunniest of dispositions. And PJ Adzima is a riot as the so very "NOT gay" leader of the missionaries Elder McKinley and manages to steal most scenes he's in. And every member of the ensemble is right there with them with the craziness. The Mormon boys are all earnest and great dancers, the villagers are all wonderfully snarky until they come around and then put on the best church play ever, and the warlord is equal parts terrifying and hilarious.
Every element of the show that made it great before is here. They found the formula and they recreated it perfectly on this tour. And so, I cannot help, with my three-letter rating system, but give them a still laughing YAY. It was a blast the first time I saw it and it's a blast the fourth time.
"The Book of Mormon" performs at the Paramount through January 14th. For tickets or information visit Seattle Theatre Group online at www.STGpresents.org.
Related Articles View More Seattle

Stories

Shows
Born and raised in Seattle, WA, Jay has been a theater geek for years. He attends as many shows as he can around the country (read more...)