Review: HEDWIG AND THE ANGRY INCH at Arts West is Raw, Real, and Relevant.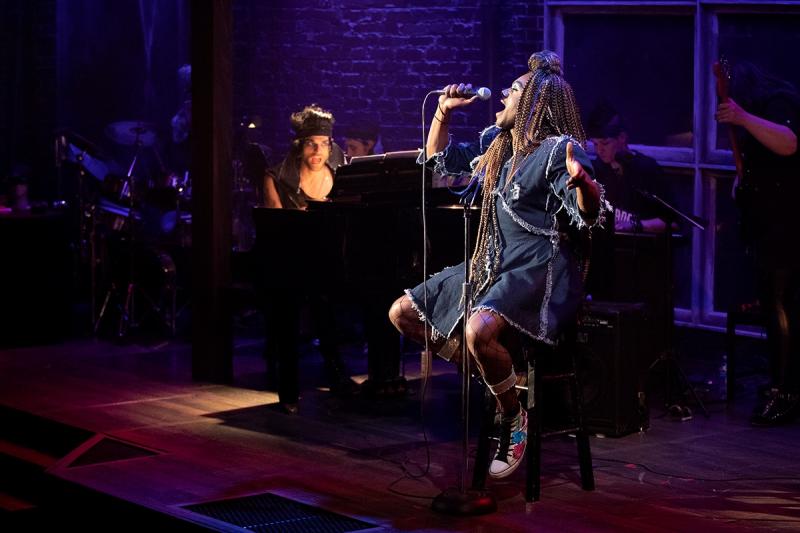 Hedwig and the Angry Inch at Arts West is one of the least passive audience experiences I've ever had. The dialogue and lyrics are clever and full of plays on words and popular culture references. Keep your ears perked to catch all of it, and a few might still slip by. But more than just vocabulary practice, Hedwig challenges your perceptions of norms, your comfort zone, and the very size of your heart. It will move you, tear at you, sucker punch you, make you laugh, and hold you in rapture. The show will leave you exhausted but hopeful and infinitely better than when you entered the doors.
Hedwig is the story of a German youth on the wrong side of the Berlin Wall who is searching for his other half, his soul mate. He is disappointed, manipulated, and ultimately abandoned by those he has trusted and loved. His bitterness and anguish are poured out through his music that finally leads him to redemption. The actual show is Hedwig in concert with his band, the Angry Inch. Between songs, he narrates varies moments of his life. While we learn of others in his past, we only ever see Hedwig and his band. It is an intimate setting in which we learn the very intimate details of Hedwig's life.
The cast of Hedwig and the Angry Inch is quite small, only two actors and five band members. The part of Hedwig, played by Nicholas Japaul Bernard, requires musical prowess, comedic timing, and complete emotional vulnerability. Bernard leaves you believing that Hedwig's story is his story. He is irreverent, seductive, brash, and powerful. His soulful eyes tell a story of their own, flashing with anger, longing for love, and weeping from loss. Dani Hobbs as Yitshak is like Hedwig's moon, drawn to him and stuck in an orbit that neither brings absolution nor freedom. Their voice is beyond beautiful and quite likely not only a source of jealousy as a subplot in the show but also in real life. I'd give my left kidney for that voice. Together the two of them could bring down the house as a regular rock band.
The band, led by the incomparable Chris DiStefano, is outstanding. The band is also in character and adds bits of humor and interludes throughout the show. DiStefano as Krzyzhtoff is a riot. It's amazing how animated a person can be without ever leaving the piano bench. Youngsters Luke Kane and Tyler Harr each add their bit of humor and play their parts well. Beck Martin on guitar is a fury of fingers, and Olivia Hamilton on bass is the epitome of chill. Together they have obvious chemistry and make a believable band and even better music.
Costume Designer Ricky German and Wig Designer Sam I'Am put together a cohesive look for the show. With eye-popping grand entrances and subtle studded details, the costumes made you wish you had more time to study them. With the bulk of the transitions taking place on stage, most of them were pulled off easily, but occasionally a hook would stick or a wig refused to stay perfectly in place. Hopefully it was just opening night jitters, and those tiny breaks will disappear.
Hedwig and the Angry Inch is not produced very often. It requires many magical elements in just the right portions. Arts West has found the alchemy to give us this show in all its authentic, beautiful, and broken glory. The show is not just something to go see but a reminder that everyone wants and deserves to be seen.
Hedwig and the Angry Inch is playing at Arts West through July 8th. For tickets or information, contact www.artswest.org.