Review: EVERYTHING IS ILLUMINATED at Book-It Repertory Theatre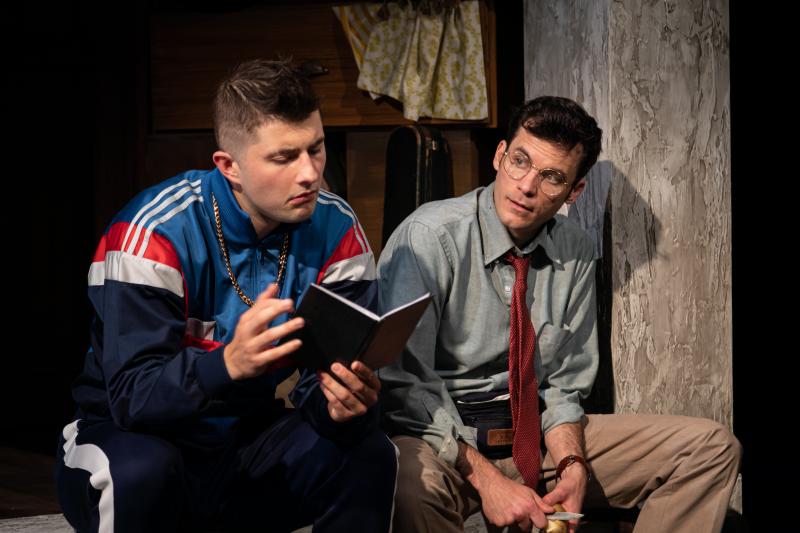 EVERYTHING IS ILLUMINATED is packed to bursting with stories, journeys, memories, and realizations. The show occurs in three different time periods and slowly reveals how two families were shaped by historical events. The show explores how family histories both known and unknown can shape our own self-perceptions.
The first act opens with Alex (Peter Sakowicz) preparing for the next client for his family's business, Heritage Tours. He works as a translator, and his grandfather as the driver and guide. Jonathan Safran Foer (Sean Lally) is coming to the Ukraine in search of answers about his grandfather's past and hopes to find the woman that helped him escape the Nazis. Armed with only a photograph and a few maps, he arrives eager to begin the search. Alex and his grandfather, also named Alex (Michael Winters) are less enthused about the impending trip into the countryside looking for a village that is no longer even listed on maps. The interplay between these characters sets the framework for the whole show. Alex's broken English, misuse of words, and strange word choices bring humor and light to the most mundane conversations.
In addition to the main story, the show also presents the past history of the area, stark look into life in Trachimbrod. It shows the slow but steady oppression of the Jewish community that occurred long before the Nazis arrived. Here we meet Brod (Shanna Allman) who's sad story has many layers. As the story progresses, we also get flashbacks into the 1940s and the lives of both Jonathan's grandfather and Alex's grandfather. It is here that we find as many questions as answers as the realities of horrific events are revealed. One family is left with empty questions, and the other to face memories long buried.
Scenic design by Catherine Cornell provides a clear delineation of the different time periods, and then brilliantly shows how the past pushes through to inform on our present lives. The use of shadow puppets allows for a long history and many details to be shared with narration, providing a foundation necessary for understanding all that is to come. Lally as Jonathan and Sakowicz as Alex are masterful, commanding, and most importantly, incredibly charming. Whether it is Alex's false bravado, or Jonathan's sweet eagerness, they both worm their way into your heart with swift success. Their report with each other always left me a bit sad when the show moved away from their story line. Winters as Grandfather brings it. From his frequent dropping of f-bombs to the way he made a shared potato into a scene bursting with humor and kindness, Winters slowly reveals the many layers of Grandfather, making him into a truly complex, human character.
The heart of the show lies with Jonathan and Alex: their growing bond through their Quixotic journey and a shared past of this land. It is unfortunate that the show chooses to change focus to the grandfather, and his ultimate decision in dealing with his own past rather than staying with Alex and Jonathan and all that they gained through learning their family history and by meeting each other. Just like the book, it was a very unsatisfying end. My biggest issues come from the book and show itself rather than this specific production. The beauty and ease of mixing the comedic and tragic in the first act, is completely lost by the mid-point of Act II. The retelling of some events felt forced and hammered home almost as if the audience (or reader) couldn't be trusted to "get it." The production itself did wonders for keeping the three separate storylines moving and clear. The one glaring fault was the inconsistent accents. Some characters fell in and out of the Russian accent while others never really got there at all. Yet, the show is engaging, endearing, and worthy of being seen.
EVERYTHING IS ILLUMINATED is playing at the Center Theatre now through October 6th. For tickets or more information, visit www.book-it.org.
Born and educated in the South, Kelly Rogers Flynt has happily transitioned to life in the Pacific Northwest where she enjoys more rain and fewer mosquitos. She works as a director, choreographer,&... (read more about this author)
Review: THE WICKHAMS: CHRISTMAS AT PEMBERLEY at Taproot Theatre

November 26, 2022

Christmas is a most favorite holiday to many, and the Jane Austen fan base has never been stronger. What could be more perfect than to revive some of Austen's most beloved characters (and some of her most notorious) in a delightful Christmas setting? THE WICKHAMS: CHRISTMAS AT PEMBERLEY is a holiday treat. The production blends the lavish frippery of the Regency era with dollops of modern humor that is sure to please both traditional and contemporary tastes.
---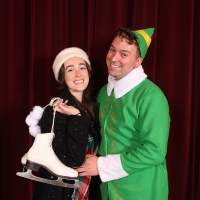 Review: ELF THE MUSICAL at Edmonds Driftwood Players

November 19, 2022

ELF at Driftwood Players is full of humor and heart and a lot of plain old fun. With a set that is one part Jenga and one part Tetris, the Driftwood Theater has tackled this monster of a show with great aplomb. The feel good show of the season leaves everyone smiling with just a tad of delighted surprise that such a small theater could pull off such a big show. Come in from the cold and warm your toes, and this show will warm your heart as well.
---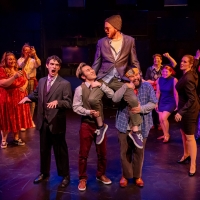 Review: JESUS CHRIST SUPERSTAR at Reboot Theatre

November 17, 2022

JESUS CHRIST SUPERSTAR has long been a mainstay in the musical theater world. Yet, despite its popularity, it is rarely produced outside of large production companies or national tours. Reboot Theater took up the challenge and gives us not only a solid production of this popular show, but also a modern twist. With great acting, some powerhouse vocals, and a clever audio-visual set, this show is one you shouldn't miss.
---
Review: THE GLASS MENAGERIE at Original Theatre Black Dog

October 23, 2022

THE GLASS MENAGERIE invites you to lean in and join the world of the Wingfield Family. Hopes and fears trouble the waters of an uncertain future with equal measure. The ties that bind us can bring us closer, but they can also prevent us from growing. THE GLASS MENAGERIE explores the multitude of emotions that erupt as a family seeks to find stability and security. The show quietly winds its way through their decisions and indecision and straight into your heart.
---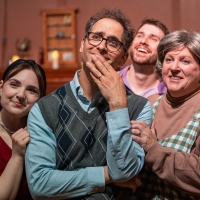 Review: THE FOREIGNER at As If Theatre

October 8, 2022

THE FOREIGNER at As If Theatre provides a farcical romp of entertainment while yet managing to deliver a poignant message on racism and fear of others that remains as relevant today as when Shue wrote it forty years ago. Thoroughly seeded with absurdities and archetypes, the play offers easy laughs. However, the intricacy of the story and writing also provide much more for the audience to digest. THE FOREIGNER engages the mind, lifts the spirits, and soothes the soul.
---