Review: Book-It's RETURNING THE BONES Mesmerizes with Vivid Storytelling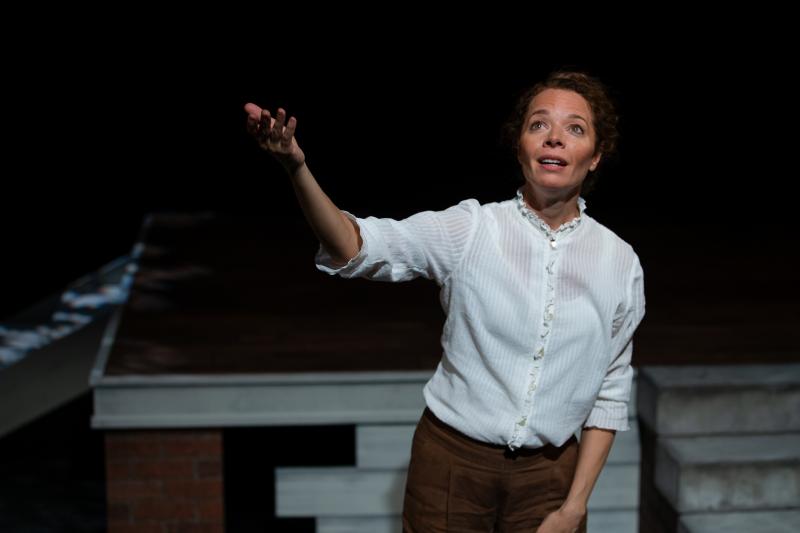 Dear Readers, when I hear those three potentially terrifying words "one person show" I imagine a self-indulgent ride through self-aggrandizing memories that begin with the cliché "Oh hey, I didn't see you there...". But Gin Hammond's "Returning the Bones" currently playing at the Erickson Theatre from Book-It Repertory Theatre could not be further from that stereotype with an absolutely mesmerizing piece that demands to be seen.
Unlike most Book-It shows, this is not adapted from a book, although Hammond has plans to turn the show into a book. The show draws not from Hammond's life but from her Aunt's, Dr. Carolyn Beatrice Montier (a.k.a. Bebe) as she grows up in Texas in the 1930's and 40's. We follow Bebe's incredible life dealing with bigotry and racism in the south from the perspective of a family in the position to help further the cause of equality. Her Father was a Doctor and opened his own hospital (along with many other businesses) as there was no option in that area for black people in the region. Bebe would work alongside her Father in the hospital learning all she could from him so it's no wonder she would grow up and become a Doctor herself. However, her path to medicine was a rocky one and takes her on an incredible journey meeting people such as James Baldwin, Eleanor Roosevelt, and even the Queen of England. But ultimately her journey leads her to decide which is more important, the needs of her people or herself.
The show may appear simple with just an elegant bare platform and a few blocks as the playing area, but the feel of the piece couldn't be more vibrant. The superb lighting from Reed Nakayama helps as does the fantastic staging from Jane Jones keeping the story clipping along. But the world truly comes to life thanks to Hammond as she expertly paints a picture with just her words and herself. The myriad characters who make up this history from her Aunt Bebe and all the rest of her family, to the rest of the town, to her fellow students and the luminaries she meets all come from Hammond with not one ounce of confusion as to who is speaking at any given moment. On the contrary, as she often has conversations between two or more people at any given time, she never appears to be talking to herself but rather we can practically see each and every one of these people spring from her imagination and portrayal. Hammond is a consummate storyteller.
So, what we have is an incredible journey that will have you laughing one moment and crying the next, performed by a storyteller who's not only brilliant at the art but also highly invested in the subject matter. And so, with my three-letter rating system, I must give Book-It's production of Gin Hammond's "Returning the Bones" a must-see WOW. And as this is a shorter run than Book-It's usual fare (only three weeks), be sure to get out there to see it now!
"Returning the Bones" from Book-It Repertory Theatre performs at the Erickson Theatre through April 14th. For tickets or information contact the Book-It box office at 206-216-0833 or visit them online at www.book-it.org.