BWW Review: Book-It's JANE EYRE Has Fire but Lacks Passion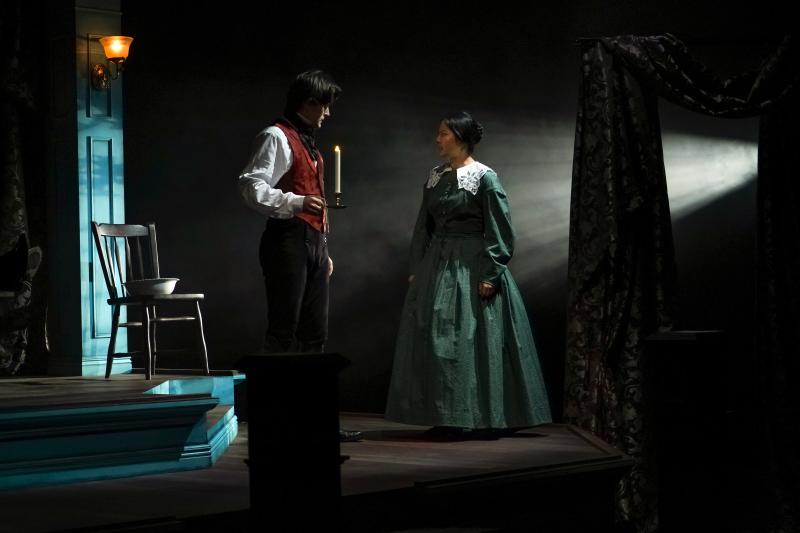 Well, Dear Readers, this is a first for me. It seems the first Mrs. Rochester got a little over excited and jumped the gun as we had a fire alarm about 20 minutes into opening night of Book-It's "Jane Eyre" and we all were treated to an early intermission and a breath of fresh air. Luckily it quickly resolved itself and we were let back in for the show to pick up where we left off, ironically with Jane discussing the fires of hell with Mr. Brocklehurst. And while Jane does get quite keyed up in that conversation and her subsequent one telling off Mrs. Reed, unfortunately that's about as passionate as our Jane got.
For those unfamiliar with Charlotte Bronte's piece, it's told in first person from the point of view of Jane (Mi Kang), a young girl who's lost her parents and been sent to live with an aunt, Mrs. Reed (Marty Mukhalian) who does not want her. Eventually sent away to a charity school, she has a hard life but finds a descent education and becomes a teacher which leads her to the employ of Mr. Rochester (Ross Destiche), a somewhat morose man with a ward for Jane to teach. Of course, Jane and Mr. Rochester eventually fall in love, but all is not well within Thornfield Hall as the house has a mysterious secret that could keep them apart.
The first person telling of the novel lends itself well to the adaptation from Julie Beckman, who also directed the piece, as Jane is able to lead us through her own story. The problem with that is, while I felt Kang was a good narrator, in that I wanted to listen to the story she was telling, her delivery rarely moved beyond that narration and into passion and Jane is supposed to be all about passion. She just didn't bring in the levels needed to separate the telling of the story with the living of it. And that sapped much of the heart for me.
The rest of the cast seems to not have that issue as even when they're narrating small bits, they have the good fortune of doing so in character and their characters are rich and alive. Destiche manages well the broken man still yearning for love but trapped and you desperately want him to find happiness. And I have to give extra kudos to Ian Bond and Ayo Tushinde who brought in multiple characters, each one more individual and engaging than the last. And I must mention Keiko Green who one moment was a stuck-up society debutant and the next was the creepiest, craziest incarnation of a first wife we could ask for, and I still blame her for the fire alarm.
All told I still enjoyed the play but more for the characters revolving around Jane than anything. And so, with my three-letter rating system, I give Book-It's production of "Jane Eyre" a conflicted YAY-. I'm just glad that first fire didn't get us all.
"Jane Eyre" from Book-It Repertory Theatre performs at the Center House Theatre through October 14th. For tickets or information contact the Book-It box office at 206-216-0833 or visit them online at www.book-it.org.