BWW Review: BLISS at the 5th Avenue Theatre Misses the Mark, But Only Slightly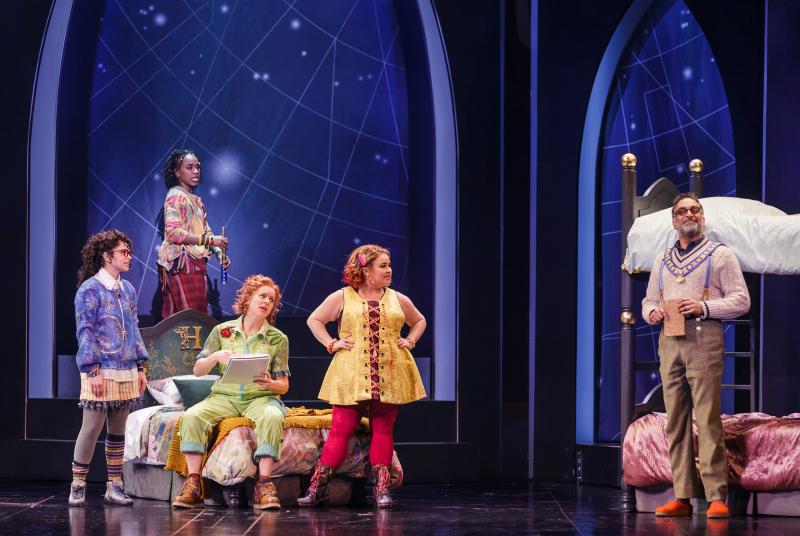 Dear Readers, you may recall that several years ago there was a new musical that came through town, about Princesses (even called that), that many consider, including myself, to be one of the worst things they've ever seen. But as bad as it was, it had three things going for it. First, there was a story built around a Father's love for his daughter. Second, there was a hunky boy-band type, who may have creeped many out with his utterly rapey song "Just Say Yes", but he was still pretty. And third, and most importantly, the show featured one truly great song that spotlighted the quirkier and subordinate "Princesses" of the bunch. Cut to 2020 and enter the 5th Avenue Theatre's latest new musical venture, "Bliss" that, while having no real connection to that other one, blissfully and coincidentally contains those three elements and runs with them, while tossing the rest of that dreadful show into the infernos of musical theater hell (along with the likes of "Flashdance" and "Love Never Dies"). And while "Bliss" may still have some work to do to make it truly shine (which we'll get to in a minute), it's still a delightfully fun romp into the woods with some Princess archetypes who aren't the norm but should be.
In "Bliss" the quirky Princesses aren't relegated to the background and one song, but are front and center and the stars of the piece. There's the eldest, Princess Faye (Kristolyn Lloyd), a warrior badass who dreams of one day slaying a dragon. Second in line is Princess Holly (Claire Neumann), a devout lover of animals. Next we have Princess Carmella (Katy Geraghty), a delightfully curvy girl with a big voice and a quest for fame. And finally, Princess Piper (Gizel Jiménez), a hyper focused girl with a love of numbers and astronomy, who longs to see a comet fly by and dreams of equality for all the creatures of the kingdom. All four of the ladies are extremely learned, due in large part to the fact that their father, The King (Manu Narayan) has locked them in the tower for the past decade in order to keep them safe after the death of their Mother, and demands they keep up with their studies. But the girls long to see the outside world and explore their dreams. So, when the local cobbler Toby (John-Michael Lyles) lets it slip that Prince Devin (Conor Ryan) of the neighboring kingdom is having a ball to find a wife, the girls make it their mission to escape. And escape they do and soon bump into Sir Pincus Glimmermore (Mario Cantone), a Fairy Godfather with his own selfish agenda, who says he can make all their wishes come true.
With book, music and lyrics by Emma Lively and Tyler Beattie, the show contains some delightfully funny and adorable moments with some hilarious dialogue. And while the show is a super fun time, it lacks that spark and pacing to put it over the top. The premise of the book is a fantastically refreshing look at the Princess trope, and the characters of the Princesses are well developed but the payoff of their stories isn't quite there. Sure, they're successful in the end but their proposed hopes and dreams stated at the beginning aren't fully realized. Some kind of happen but we're not privy to the outcome of many of them and are left a bit hanging. The relationship with their Father is there but feels a bit two-dimensional. And most egregiously, a character we come to enjoy in the show, Sir Pincus Glimmermore, isn't given the chance to grow with the rest of them and is simply given a rather harsh ending. The same could be said for Prince Devin, who, while not a villain who's defeated, stays unchanged. The book has tons of potential and the bones of making it great are there, they're just not used.
The songs are fun, and move the story along well, but are not memorable and even the beltier numbers or stirring ballads don't quite stir enough. Plus, there's the downfall that the 5th Avenue seems to keep falling into, their sound system that can't quite get the lyrics heard. And for a theatre that loves to do new musicals, where the audience can't have possibly listened to the cast album and be familiar with the lyrics that are telling the story, that is deadly.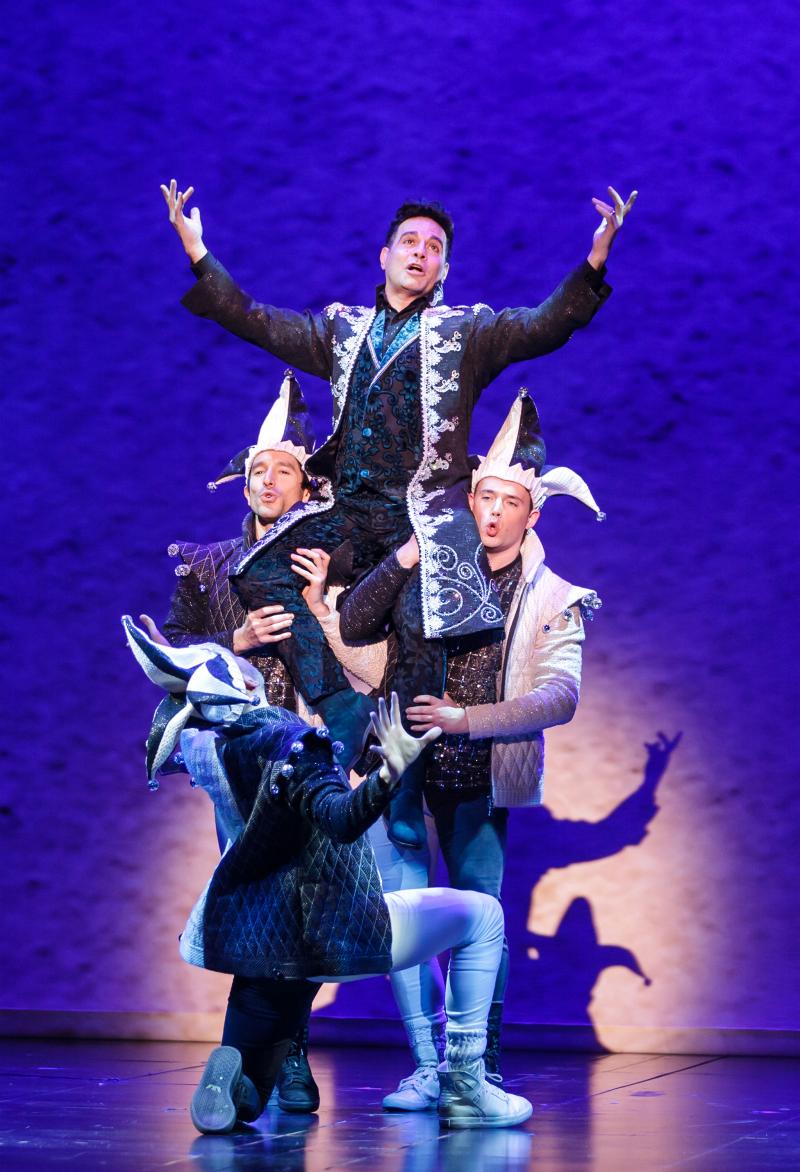 The cast is fabulous especially the four Princesses. Jiménez brings in some of the more touching moments as the Princess who struggles with being herself the most and does it beautifully. Geraghty has got the pipes for 10 Princesses and when she let's her power fly, it's earth shattering. Lloyd brings in the strength and maturity of the piece wonderfully. And then there's Neumann (and my favorite, I'm definitely Team Holly) who had the entire audience in stitches with every coo, grunt, and look. Cantone brings in his usually over the top fabulousness making Pincus a joy to watch. I just wish, as I said before, they'd allowed him to grow with the rest. Ryan is the pretty, brainless hunk the show needs and kills it, but I wish they'd done more with him. Same could be said for Lyles as Toby, who is great but in a part I question the need for. And I must mention a trio of back-up jesters (José Luaces, JJ Niemann, and Ian Paget), who kept us all laughing with their hysterical asides.
With a story and songs with oodles of potential and some incredibly colorful costumes from Paloma Young, the show makes for a fun evening and is certainly head and shoulders above some other new works I've seen. But if they want to take it further, it needs work. And so, with my three-letter rating system, I give "Bliss" at the 5th Avenue Theatre a "left me a bit unsatisfied" YAY-. This is the kind of fairy tale we need nowadays. I just hope they can beef it up, so it has a long and magical life.
"Bliss" performs at the 5th Avenue Theatre through February 23rd. For tickets or information contact the 5th Avenue Theatre box office at 206-625-1900 or visit them online at www.5thavenue.org.