Review: ArtsWest Really Goes for It With Demented Racial Carnival Ride AN OCTOROON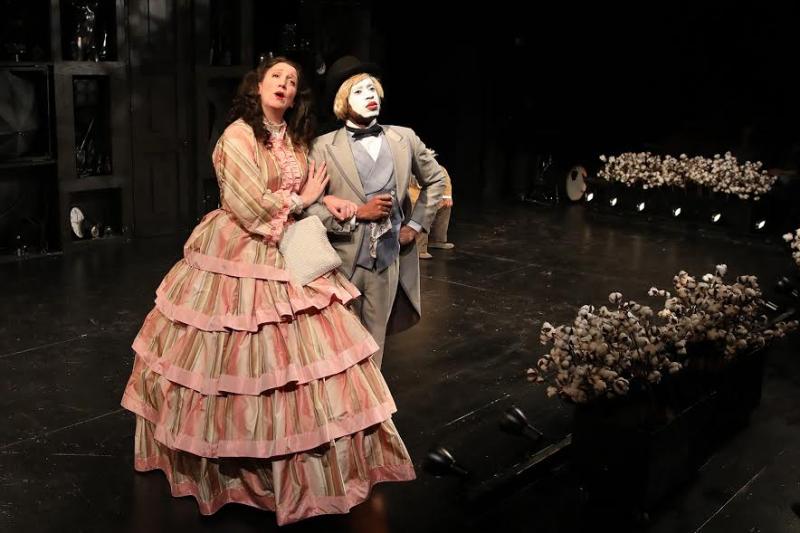 ArtsWest does it again with another cool, cutting-edge production about identity with their latest show, "An Octoroon". Many modern adaptations of antiquated productions pointing out racism, though well-intended, are comparatively watered-down to Brandon J. Simmons' razor-sharp adaptation of "An Octoroon". Thanks to the commitment of the actors and the creativity of the set design, this all-out production apologizes to noone, and uses shock value in an intentional, effective way.
As opposed to the production "The Octoroon", "An Octoroon" exists as a piece of metatheater. Lamar Legend, who plays the playwright Branden Jacobs-Jenkins, walks on stage to introduce the show wearing nothing but a banana hammock. Referred to as BJJ, the scantily-clad playwright proceeds to retell conversations with his therapist about the trials and tribulations of being a black playwright while methodically painting on white face at his vanity. BJJ describes in violent detail a dream where he is suffocated by a swarm of bees. Soon, Mike Dooly as a belligerent Dion Boucicault performs a version of BJJ's ritual, but he carps about how difficult it is working with actors of color in his productions. He, too sits at a vanity and paints on a face, but he paints on redface. He then proceeds to war whoop and tomahawk chop around the stage in nothing but long johns and a stereotypical Native American headdress to the tune of Azealia Banks' "Big Big Beat".
And that's just the prologue.
From here, "An Octoroon" presents a full-length adaptation of Boucicault's "The Octoroon", with the same characters and plot. It's 19th-century Louisiana, and strapping, young George (Lamar Legend) has inherited his late uncle's Plantation Terrebonne. His good looks and good fortune attract the eye of the vulturous southern belle, Dora (Heather Persinger), but he only has eyes for the modest and fair Zoe (Jessi Little). The twist: Zoe is what was known as an "octoroon", or a person that is one-eighth black. Though George has comparatively "pure" intentions when it comes to marrying Zoe and taking over the estate, the evil M'Closky (also played by Lamar Legend) has his own plans to seize both.
As you may have noticed, Lamar Legend plays the white protagonist (George) and antagonist (M'Closky). As George, Legend's portrayal is prudish, lofty and elitist. Conversely, Legend's M'Closky has a gunslinging prospector vibe, clad with melodrama villain mustache. He's like a sinister Yosemite Sam, and Legend does a great job making the cartoonish character have a lecherous and scary undertone. At one point, George and M'Closky have a verbal standoff, and watching Legend gracefully bounce back and forth as he plays both characters is an impressive delight. As a collective cast, Brandon J. Simmons brings together a group of very brave performers who handle this very shocking material with sensitivity and empathy. Jose Abaoag has the thankless position of playing not one but TWO characters in blackface--Paul and N****r Pete--and Abaoag does a great job making sure that the audience does not become desensitized with his manic energy. As the gossipy house slaves Dido and Minnie, Jéhan Òsanyìn and Dedra D. Woods are so much fun to watch kiki, and the switching between modern vernacular while alone versus painfully stereotypical "mammy" voice is a jarring and cool touch.
Some surreal components work better than others in this production. Well, one surreal component does not exactly work. Occasionally, a fancy rabbit man pops in and out of scenes to slink around and pantomime opening a door. In these moments, the action on stage has frozen, and this nightmarish character behaves in a way that alludes to the story existing on a penetrable and escapable plane. But before the rabbit man can cross the threshold, the action continues and the rabbit man slinks away. One question: why? Up until these moments, what makes the show so edgy and insidious is the in-your-face nature of the tone. Coming to a screeching halt over and over so a creepy rabbit man can pretend to open a door, though nightmarish, throws off the flow and does not really say anything (to no fault of ArtsWest, for these are scripted moments).
What makes these moments feel superfluous is the very effective stage design by Julia Hayes Welsh. Perhaps in a more minimalist landscape, throwing in a terrifying nightmare hare would be necessary, but not when Hayes Welsh's physical space perfectly balances realism and surrealism. Yes, the plantation interior contains all the material trappings one would expect from a wealthy slave owner, but everything is black. The shelves are black, the contents are black, the only physical object that isn't black are the blooming white cotton plants.
"An Octoroon" is a demented carnival ride that you cannot wait to ride again. I cannot tell you how many productions since I've moved to Seattle I've seen that take an old production, and adapt it to point out how racist things used to be (and still are). Cultural critiques are a dime a dozen in the theater community, but ArtsWest's "An Octoroon" avoids pandering to Seattle's progressive (but sometimes touchy) demographic and produces a play that takes reframing racism to the next level. For launching this edgy deconstruction into the stratosphere, I give ArtsWest's maniacal, merciless "An Octoroon" very impressed A-. Abandon all hope, all ye who enter here (but absolutely go!).
"An Octoroon" performs at ArtsWest through May 13, 2018. For tickets and information, visit them online at www.artswest.org.