BWW Preview: 14 Questions for LAURA BENANTI...The Tony Award Winner Will Be Performing a One Night Only Cabaret at the Sarasota Opera House on Friday, September 21st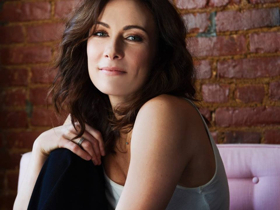 When I heard Laura Benanti was coming to town to perform a one night only show at the Sarasota Opera House on September 21st, presented by Cabaret by the Bay, I squealed like a teenage girl at a BTS concert. Benanti has been a favorite for years, but I think she stole my heart when I first heard her rendition of "Will He Like Me?" in She Loves Me. It was never my favorite song before her version, and whenever I saw the brilliant musical (or even when I directed it), I sometimes wished I could have fast-forwarded past the number in order to get on with the rest of the show. That is, until Ms. Benanti. Her rendition of "Will He Like Me?" has so much passion, so much yearning and soul, that it could make the world's biggest curmudgeon wail. It simply breaks your heart. And it is now easily one of my favorite songs from a show rich with favorite songs. Thanks to her.
To state the obvious, the Tony Award-winning Ms. Benanti has had quite a career on the stage and on the small screen. Broadway musicals like Into the Woods, Gypsy, Nine, Women on the Verge of a Nervous Breakdown and the aforementioned She Loves Me, as well as TV shows like Supergirl, Nashville and The Detour, have made her quite well known. She furthered her career in 2013 as a stunning Elsa who upstaged Carrie Underwood in TV's The Sound of Music Live! (she was so good, you wanted to retitle it The Sound of Elsa!). Her Melania Trump impression, a staple on The Late Show with Stephen Colbert, has given her a new slew of fans (as well as some misguided detractors). And the best is yet to come. Starting October 23rd, she gets to play the role of a lifetime on Broadway: Eliza Doolittle in My Fair Lady. Lucky local fans will get to see her right before she hits the ultimate heights with that iconic part.
Below are fourteen questions that I asked Ms. Benanti, including some emailed by my Theatre students, most of whom knew her mainly from her stint on Supergirl...
BWW: First of all, we are so excited that you will be performing a one-woman show at the Sarasota Opera House for one night only on September 21st as part of the Cabaret by the Bay. What are some of the songs that you will be performing? What can audiences expect? Laura Benanti: Audiences can expect a fun, relaxed evening of stories and songs that appeal to all ages. From classic Musical Theater ("Vanilla Ice Cream," "I Could Have Danced all Night," "The Sound of Music") to Joni Mitchell, the songs are eclectic and fun!
BWW: You've played so many strong and empowering women; which character from your rep do you think is closest to your actual self? Laura Benanti: Amalia in She Loves Me!
BWW: I know that you have revered Stephen Sondheim since you were a child. What Sondheim show is the one closest to your heart, and why? Laura Benanti: I love Into the Woods and A Little Night Music. There is so much humor interwoven with deep sadness and truth.
BWW: You deservedly won a Tony for Gypsy; you were an outstanding Amalia in She Loves Me; and you will be playing Eliza Doolittle in My Fair Lady starting in October. What role that you've never had is on your bucket list? Laura Benanti: This is all of them!! In 15 years I would love to play Desiree in A Little Night Music.
BWW: You are a brilliant Melania Trump on The Late Show with Stephen Colbert; in some ways, you seem more Melania than the real Melania. What is your secret to getting into character for playing such a role? Laura Benanti: I study her, and then I try to bring some levity to a challenging time!
BWW: What was your favorite high school musical memory? Laura Benanti: Playing Dolly Levi in Hello Dolly. I sang the score up the octave because I'm a soprano. I won the very first Papermill Playhouse rising star award for that role which ultimately led to me understudying the role of Maria (at the age of 18) in the 1997 revival of The Sound of Music on Broadway. At 19, I took over the role. It's because of my High School experience that my dreams of being on Broadway came true!
BWW: You have a beautiful daughter who will be turning two in 2019; what shows are you most excited for her to experience? Laura Benanti: Sound of Music, Mary Poppins, She Loves Me, My Fair Lady...anything with Julie Andrews!
BWW: Book, movie, play. If you are stranded on an island, and you can only bring one book, one movie and one play, which ones would you bring? Laura Benanti: Book: Is there a book about surviving on an island because I would bring that. Movie: Muppets Christmas Carol. (It makes me happy!) Play: Anything by Sarah Ruhl. I love how she sees the world.
BWW: How do you feel performing at the Sarasota Opera House? And do you have a special connection with Florida? Laura Benanti: I'm very excited!!! My Mamoo lives in Florida so I'm quite fond of the state for that reason.
BWW: I teach five classes of middle school theatre at a Title 1 school (40 students in each class; they love it), and my students (ages 11-14) would like to ask the next several questions. QUESTIONS FROM RILEY COX AND JADEN McDANIEL: How did it feel to play Alura and Astra on Supergirl? And what was your favorite scene from Supergirl? Laura Benanti: It was fun! My favorite scene was when I was playing Astra and I got to fight Supergirl in The Warehouse when we saw each other again.
QUESTION FROM JENNA KLEDZIK: If you wrote a book about your life, what would you call it? Laura Benanti: Look Mom, I Wrote a Book!
QUESTION FROM MADISON MORROW: If you could change one thing about your life, what would it be? Laura Benanti: I would care less about what people thought about me. I would just be myself more.
QUESTION FROM DONOVAN COOPER: What, other than theatre, are your hobbies? Laura Benanti: I like to read, play piano, and hang out with my baby!
QUESTION FROM EMBER WINANS: Do you have any advice for future actors? Laura Benanti: Be yourself. Figure out what makes you special and commit to it. Be kind to everyone, not just the people who can help you get ahead. Be respectful and on time.
BWW: Thank you so much, Laura! We can't wait to see your show at the Sarasota Opera House on Friday, September 21st. And by the way, please write Look Mom, I Wrote a Book; it would be an incredible book on an incredible life. And someday way off in the future, I know I am not alone when I say that I would stand in line for hours in the rain to see you as Desiree in A Little Night Music!
Laura Benanti's concert is presented by Sarasota Opera House Presents, in association with Carolan Trbovich, "Cabaret by the Bay." Ms. Benanti will perform her cabaret at 7:30 PM, Friday, September 21st. At the Sarasota Opera House, 61 N. Pineapple Ave., Sarasota. $26-$65. (941) 328-1300; sarasotaopera.org