Review: THE HEADLANDS at A.C.T. Tells a True Crime Tale That Hits Close to Home
Christopher Chen's beguiling love letter to San Francisco runs through March 5th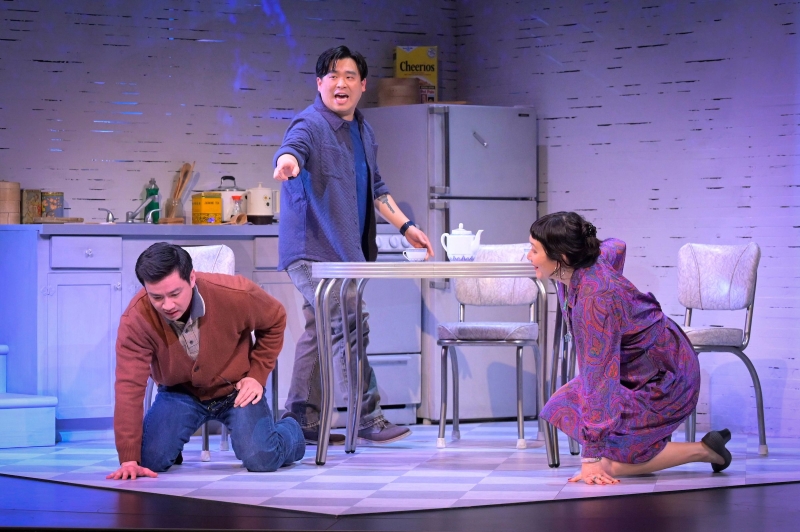 Who are we? Where do we come from? What are the idealized portraits of ourselves that we offer up to the world? What are the lies we tell ourselves? Do we ever really know our parents? Do we ever really know anyone? These are some of the existential questions raised in A.C.T.'s production of Christopher Chen's The Headlands, a beguiling riddle of a play disguised as a true crime tale.
The play is also a love letter to Chen's native San Francisco. When was the last time you saw a play set in its Sunset District? I'm guessing never. And yet it's a perfect locale for a slow-boil mystery, given its endless avenues of nearly indistinguishable stucco homes, most featuring curtained picture windows that afford a view only of the nearly identical houses directly across the street. Looking in from outside, you can't help but wonder about the life that is lived inside each one. The homes appear so benign from their exteriors that surely nothing could be amiss behind those curtains, could it? Never mind that such a house in the Sunset exploded just this past week. Poof. Gone. And the neighbors all wondered what had been going on inside.
It is Chen's wont to wrap moral quandaries inside twisty theatrical entertainments that at first appear to be one thing and end up being something else. This makes his plays challenging to review without revealing any spoilers, so all I will say here is that in The Headlands he spins an amateur detective story that gradually keeps hitting closer to home. Borrowing conventions from film noir and Hitchcock, Chen begins with disarming humor as the lead actor emerges from the wings before the lights have even gone down to introduce himself to the audience and present a whimsical, sanitized version of his life circumstances. From there, things get much more complicated without ever becoming impenetrable. While the program notes cite Chen's affinity for the film Vertigo as a major influence, for me the Hitchcock movie the play most calls to mind is Shadow of a Doubt, wherein a young woman living a placid middle-class existence in Santa Rosa gradually comes to understand that her idyllic family harbors a disturbing secret.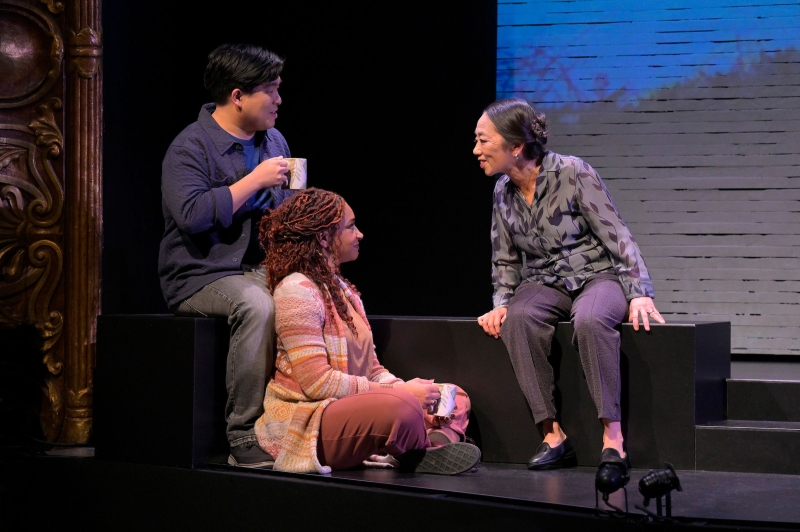 Chen offers a perceptive depiction of fractured relationships between parents and children, and how the latter tend to connect rosy family memories to favorite foods and TV programs. Thus a father-son ritual hike becomes more about the scrumptious sandwiches they consume than the stunning vistas they see along the way. Chen also has a keen understanding for how a mere 10-year-old knows when something is terribly awry even if he can't yet put the pieces of the puzzle together. I do have some quibbles with some late-in-the game plot developments and revelations that feel a little contrived and thus false to the characters, but I was never less than entranced by his portrait of Chinese-American family dynamics.
The multiple layers of Chen's narrative create an intriguing challenge for director Pam McKinnon and her designers, and they have largely succeeded in meeting that challenge. Alexander V. Nichols' turntable set of a starkly off-white home operates effectively as a movie screen for the video projections that take us all over the City and up into the Marin Headlands, but I wish the interiors had included more specific detail to evoke the distinctive Sunset District architecture. Wen-Ling Liao's lighting is suitably atmospheric, carefully delineating seasons and times of day. Lydia Tanji's costumes are appropriately understated and utilitarian, except for the character of Jess, whose more elaborate and colorful outfits imply she comes from a different world than the others.
The play's seven actors are all called on to create characters that are at once detailed and opaque, and some are more successful at this than others. Phil Wong registers strongly in the central role of the narrator who becomes more entangled in this random unsolved murder than he would initially seem to be. Wong is affable and relatable throughout, even as his character toggles back and forth between adolescence and adulthood. I was especially taken with Johnny M. Wu as the inscrutable father figure. Wu's performance has just enough guarded warmth and undercurrents of sadness to keep you guessing about who this rather impenetrable man really is. Jomar Tagatac is quite engaging in a role that ties up some loose ends even as it takes the story in new directions.
And speaking of those new directions, I was ultimately more satisfied by the journey this play takes you on than I was by its final destination. Then again, perhaps that was Chen's point all along? Either way, this one's definitely a thinker and will likely have you mulling it over for days afterward. It's certainly got me re-evaluating my own family history, even if no major crimes were involved. Or were they?
(all photos by Kevin Berne)
---
A.C.T.'s production of The Headlands performs through March 5th at the Toni Rembe Theater, 415 Geary Street, San Francisco, CA. Running time is approximately one hour 40 minutes, no intermission. For tickets and additional information, visit www.act-sf.org.