Presidio Dance Theatre to Present NOROUZ CELEBRATION at Opera House This Month
Performances will take place at San Francisco War Memorial Opera House on Monday, March 20, 2023.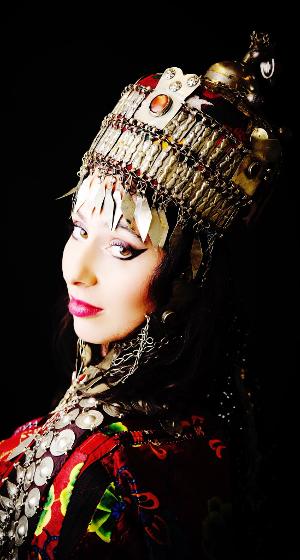 Presidio Dance Theatre will present a NOROUZ CELEBRATION in honor of the Persian New Year, as part of the company's annual Children's Day at the Opera House with a program of international dance works from Iran, Armenia, Assyria, Ukraine, Italy, China, Mexico, Hungary, Tahiti, and the U.S.A.. The entire program is curated by company Artistic and Executive Director, Iranian-Assyrian American artist, Sherene Melania. These performances for Bay Area students and families are presented free of charge and underwritten by the Presidio Performing Arts Foundation. Performances will take place at San Francisco War Memorial Opera House, 301 Van Ness Avenue on Monday, March 20, 2023 for two 45-minute performances at 9.30 a.m. and repeated at 11 a.m.
In the Opera House foyer, a beautiful traditional Persian "Haft-Sen" display in honor of Norouz and the advent of spring, will be featured along with new, bold artwork by Iranian American artist Jaleh Etemad, entitled, "Tears of Iran" regarding the current Iranian government's program of social injustice towards women and girls. With its mantra of "justice through dance," Presidio Dance Theatre dedicates this Norouz Celebration to the Women and Girls of Iran.
Iranian American San Francisco Supervisor Ahsha Safai will welcome audiences to the 9.30 a.m. show and prominent Iranian American lawyer and SF Arts Commissioner Mahsa Hakimi will welcome audiences to the 11 a.m. performance. Internationally acclaimed Iranian American fashion designer Lily Samii is Presidio Dance Theatre's Spring Season Artistic Adviser.
Sherene Melania said, "Each year we welcome young audiences to the Opera House, and this season's return to in-person performances, which coincides with Norouz, is especially meaningful as we showcase the beauty of Persian culture during this time of extreme oppression and injustice in Iran. Presidio Dance Theatre has long been an advocate of justice through dance, as evidenced by our many award-winning community programs, and we are proud of our continuing efforts to build bridges of tolerance and understanding through the medium of dance. Our Children's Day concerts at the Opera House are a cornerstone of the company's activities and over the years, I'm proud to say that more than 120,000 underserved students have enjoyed this award-winning show."
Sherene Melania, Executive & Artistic Director of Presidio Dance Theatre, is known for seamlessly blending classical tradition with innovative forms of artistic creation. She is an acclaimed performing artist, director, choreographer and producer, specializing in classical ballet, dance theatre, multi-disciplinary productions, arts education, and cultural diplomacy through dance. She has led the company on numerous successful tours to Europe with performances in Ireland, Hungary, Belgium, Turkey, Russia, Greece, France, and in 2021 to Rome and San Francisco's official Sister City, Assisi.
Sherene served as a San Francisco Arts Commissioner for 12 years, representing the fields of dance and arts education. In 2019, she was appointed by UNESCO's International Dance Council (CID), as the founding President of the UNESCO CID West Chapter, representing the western region of the United States.
From Harvard University, she holds a Master of Arts in Education; a Certificate of Ballet Direction Specialty and Choreography from the Saint Petersburg State Conservatory in Russia, and a Bachelor of Arts summa cum laude from the University of San Francisco in Performing Arts and Social Justice, where she received the Dean's Medal for Excellence in the Arts.
Sherene has performed and choreographed for dance companies nationally and internationally. She has been commissioned to present pieces for the United Nations, the European Parliament, the International Red Cross, and PBS. Her work has been recognized by the press nationally in Dance Magazine and Dance Teacher, and has been internationally broadcast. As an Iranian American, she is widely regarded for her work in cultural preservation and dance ethnology.
Known as the prima ballerina of the Assyrian nation, Sherene has served as a Principal Artist & Choreographer with Les Ballets Persans, UNESCO's Journée Internationale de Norouz, Aga Khan Foundation, and the Assyrian Aid Society. A visionary leader in the world of arts and culture, she is recognized by the U.S. State Department for "Distinguished Service in Cultural Diplomacy through Dance" and by the European Parliament "as an exemplary artist, merging art and social justice." Sherene is fluent in French, Russian and English.