Merola Opera Program Announces 62nd Season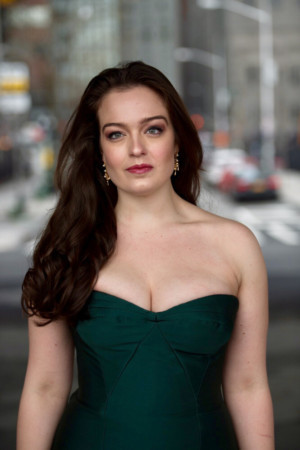 San Francisco's acclaimed Merola Opera Program, one of the most prestigious and selective opera training programs in the world, launches its 62nd season offering audiences a look at the opera stars of tomorrow. The 2019 Merola Summer Festival announces this year's 29 Merola artists, selected from more than 800 international applicants from as far away as Brazil, South Korea, New Zealand, and Colombia, as well as across the U.S.
Along with the announced world premiere of If I Were You (August 1-6) by Jake Heggie and Gene Scheer, the singers will perform in the Schwabacher Summer Concert (July 11 & 13) and Merola Grand Finale (August 17). The 2019 Merola Summer Festival includes performances in San Francisco at various locations. Individual event tickets and information available at www.merola.org or 415-864-3330.
Schwabacher Summer Concert - July 11 & 13
Star-crossed lovers, brothers separated at birth, a deal with the devil, a comic marriage, and a jaded courtesan longing for true love. Some of the most exciting moments in opera come to life as Merola's young artists perform staged scenes from Lucia di Lammermoor, Il trovatore, Faust, Die schweigsame Frau, and La rondine in the Schwabacher Summer Concert. With performances in French, German, and Italian (with supertitles), the Schwabacher Summer Concert will be conducted by Craig Kier, Director of the Maryland Opera Studio at The University of Maryland, and directed by Jose Maria Condemi (Merola 1999/2000), the Carol Franc Buck Distinguished Chair and the Director of Opera and Musical Theater at the San Francisco Conservatory of Music (SFCM). The Schwabacher Summer Concert will be presented 7:30pm, July 11 and 2:00pm, July 13 at the San Francisco Conservatory of Music.
WORLD PREMIERE: If I Were You - August 1-6
If I Were You, by distinguished American composer Jake Heggie and noted librettist Gene Scheer, will be the first-ever commissioned work in the Merola Opera Program's 62-year history. Loosely based on the novel Si j'étais vous by the French-American writer Julien Green, If I Were You is a contemporary story of identity with echoes of classical literature, from Faust to Jekyll and Hyde. The lead character is Fabian Hart, an aspiring writer who yearns for adventure and a way out of his stifling existence. Brittomara, a shape-shifting devil, appears to him in many guises, finally offering Fabian a supernatural power that will allow the writer to transfer his soul into other people's bodies, living their lives as their own souls languish in a shadowy netherworld. Thus begins the journey of If I Were You as Fabian moves his increasingly lost soul from person to person in search of a better identity, leaving a trail of human wreckage and hollow shells. It will be conducted by Nicole Paiement, Founder and Artistic Director of Opera Parallèle, and directed by Keturah Stickann, best known for bringing to stage new productions of Orphée, Rigoletto, and La rondine, among many others. If I Were You will be presented August 1-6 (times below) at the Herbst Theatre with two alternating casts.
Merola Grand Finale - August 17
The Summer Festival concludes August 17 with the Merola Grand Finale, a concert at the War Memorial Opera House featuring the 29 young artists of the 2019 Merola Opera Program, who will showcase a dazzling array of opera's most exciting arias and ensembles. Conducted by Maestro George Manahan, Music Director of the American Composers Orchestra and Portland Opera, and directed by 2019 Merola Apprentice Stage Director Greg Eldridge, this evening showcases the hard work and extraordinary talent of the Merolini. The Merola Grand Finale will be presented 7:30pm, Saturday, August 17, at the War Memorial Opera House. Following the performance, audiences may join the Merola artists for a celebration in the Veterans Building Green Room (separate ticket required).
The Merola Opera Program is widely regarded as the foremost opera training program for aspiring singers, coaches, accompanists, and stage directors. Merola nurtures the opera stars of tomorrow and offers outreach through educational programs for students and the general public. Throughout the summer 29 Merola artists, selected from more than 800 international applicants, participate in master classes and private coaching with opera's most accomplished singers, conductors, and directors. Participants also receive training in operatic repertory, foreign languages, diction, acting, and stage movement. Offered free of charge for all participants, the Merola Opera Program is unique in the industry in many ways. It is the only young artist program to provide financial support to developing artists for five years following participation, offering aid for essential career development expenses including coaching, language classes, and audition travel. In addition, only Merola graduates are considered for participation in the San Francisco Opera Adler Fellowship Program. Merola has served as a proving ground for hundreds of artists, who have gone on to impressive careers in opera, including Anna Netrebko, Ailyn Pérez, Patricia Racette, Nadine Sierra, Elza van den Heever, Carol Vaness, Deborah Voigt, Joyce DiDonato, Susan Graham, Dolora Zajick, Brian Jagde, Stuart Skelton, Rolando Villazón, Quinn Kelsey, Thomas Hampson, Lucas Meachem, and Patrick Summers, among many others.
This year's Merola Opera Program artists include:
Sopranos
Anna Dugan, Cranford, New Jersey
Chelsea Lehnea, Chattanooga, Tennessee
Anne-Marie MacIntosh, Langley, BC, Canada
Amber Monroe, Youngstown, Ohio
Hyeree Shin, Cheonan, South Korea
Elisa Sunshine, San Clemente, California
Esther Tonea, Buford, Georgia
Patricia Westley, Santa Barbara, California
Mezzo-sopranos
Brennan Blankenship, Klein, Texas
Alice Chung, Loma Linda, California
Cara Collins, Amarillo, Texas
Edith Grossman, Elma, New York
Tenors
Salvatore Atti, Buffalo, New York
Michael Day, Rockford, Illinois
Nicholas Huff, Kenosha, Wisconsin
Brandon Russell, Springfield, Missouri
Victor Starsky, Richmond Hills, Queens, New York
Baritones
Jeff Byrnes, Baton Rouge, Louisiana
Edward Laurenson, Auckland, New Zealand
Timothy Murray, Whitefish Bay, Wisconsin
Laureano Quant, Barranquilla, Colombia
Bass-Baritones
Andrew Dwan, Mountain View, California
Rafael Porto, São Paulo, Brazil
Bass
Stefan Egerstrom, Brooklyn Center, Minnesota
Apprentice Coaches
Andrew King, Syracuse, New York
Christopher Koelzer, Sunnyvale, California
Nicholas Roehler, Allentown, Pennsylvania
William Woodard, Normal, Illinois
Apprentice Stage Director
Greg Eldridge, Melbourne, Australia
Related Articles View More San Francisco

Stories

Shows
More Hot Stories For You