IMAGINARY COUNTRY Opens in May at Z Space
 Imaginary Country runs for three performances, May 12 - 14, Friday to Saturday at 8 p.m., and Sunday at 2 p.m.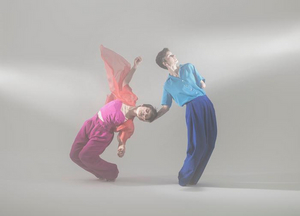 Sharp & Fine, a contemporary dance company known for its original experiments in theatrical storytelling, has announced its newest work, IMAGINARY COUNTRY, premiering May 12 at Z Space in San Francisco. Featuring five performers and four musicians, Imaginary Country asks, What would happen if you could see the future?
Imaginary Country runs for three performances, May 12 - 14, Friday to Saturday at 8 p.m., and Sunday at 2 p.m. Tickets, $25 - $35, go on sale March 1 at zspace.org. For more information visit sharpandfine.org/imaginarycountry.
Under the direction of sisters and company Co-Founders Megan and Shannon Kurashige, Imaginary Country tells the story of a friendship altered when one of the friends can suddenly see the future. "We are interested in the enormous power and intimacy that would come with the gift of clairvoyance, and how that might challenge a relationship," said Megan. "It's interesting to consider how utterly vulnerable you would be if someone knew everything that was going to happen to you."
In Imaginary Country, the revelation of one character's power to see everything ripples through her relationships with everyone around her. A woman, paralyzed by her fear of the future, transforms into a monster. A mother receives a phone call from the future and confesses all the things she did not prepare her child for.
The Kurashige sisters developed their ideas for Imaginary Country through a series of workshops with a wide range of people "of varying ages and with different histories and cultural backgrounds," said Shannon. "Working with these groups affirmed something we already knew, namely that there's a lot of apocalyptic thinking about the future: endless fires, the loss of resources, an ever-widening and irreparable divide between the haves and have nots. The list is long and disheartening."
"People feel there is nothing they can do. However, when you ask them to imagine a future that includes people that they care about, there is always hope that comes into the picture. It might be fragile or small, but it feels very real, and it feels like the key to building something better. Those little flashes of hope have been directing our way of thinking about the piece."
The cast for Imaginary Country includes longtime Sharp & Fine collaborator Sonja Dale alongside newcomers Julie Crothers, Caitlin Hicks, Molly Levy and Meredith Webster. Percussionist Jordan Glenn, bassist/cellist Max Judelson and reeds player Cory Wright return, together with pianist and flutist Erika Oba, in her company debut. Imaginary Country features a commissioned score composed by Glenn and Judelson.
Additional collaborators include award-winning lighting designer Allen Willner and costume designer Emily Kurashige.
The creation of Imaginary Country is supported in part by the San Francisco Arts Commission. For more information visit sharpandfine.org/imaginarycountry.