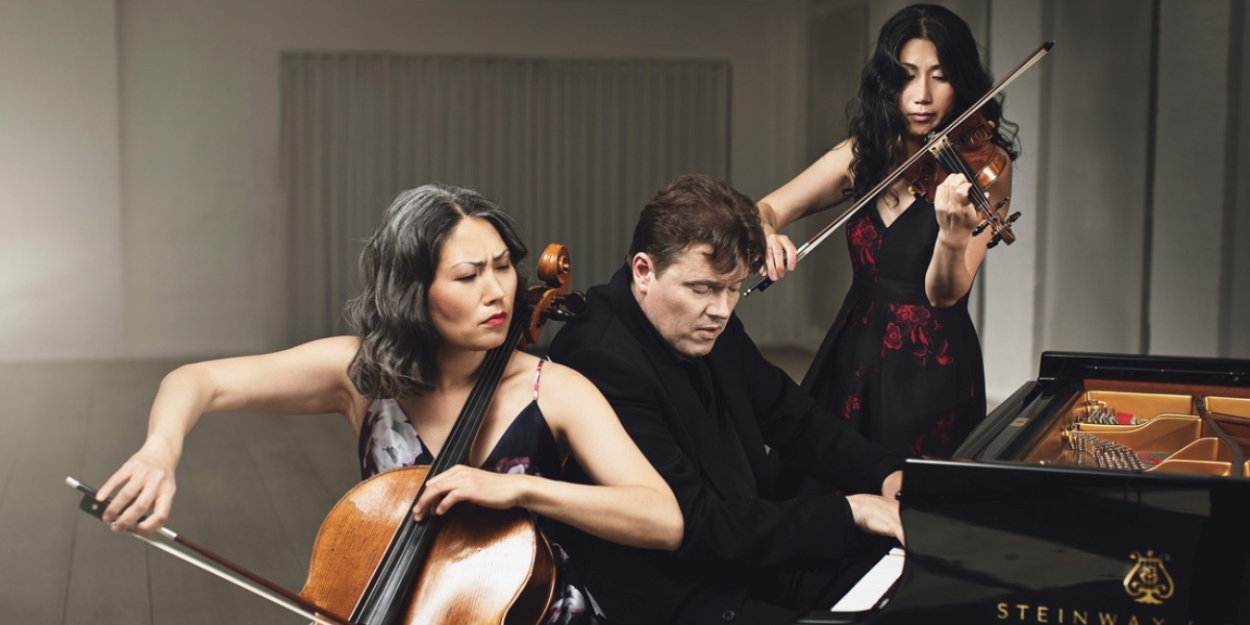 Denmark's TRIO CON BRIO COPENHAGEN to Perform at Kohl Mansion in February
The concert will take place on Sunday, February 5, 2023 at 7 p.m.
Denmark's Trio con Brio Copenhagen, one of the most acclaimed and exceptional chamber music piano trios in the world returns to the Bay Area for a one-night-only concert of sublime chamber music presented by Music at Kohl Mansion (MAKM), a nationally recognized presenter of chamber music now in its 40th season. The concert will take place on Sunday, February 5, 2023 at 7 p.m.
PROGRAM:
Haydn: Piano Trio No. 44 in E Major, Op. 86, No. 2, Hob. XV:28
Arensky: Piano Trio No. 1 in D minor, Op. 32
Schubert: Piano Trio No. 2 in E-flat Major, Op. 100, D. 929
Jens Elvekjaer, piano; Soo-Jin Hong, violin; Soo-Kyung Hong, cello
Acknowledged as one of the world's finest piano trios, the Trio con Brio Copenhagen's multifaceted members are not only performing artists who tour extensively, but also esteemed recording artists, artistic directors and educators. Founded at the University of Music and Performing Arts in Vienna in 1999, the trio is now based in Copenhagen and tours worldwide. The Trio was born out of an idea of the coming together of 'musical pairs' - of the two Korean-born sisters, Soo- Kyung Hong (cello) and Soo-Jin Hong (violin), with Soo-Kyung and her husband, Danish pianist Jens Elvekjaer. They quickly gained a reputation for their fresh and contemporary approach to the core repertoire.
The Trio appears regularly at the world's leading venues and concert series, including Carnegie Hall, Lincoln Center, Wigmore Hall, Berlin's Pierre Boulez-Saal, the Concertgebouw, and all of the leading concert halls across Denmark. Trio con Brio (Lively with Spirit) is a recipient of the Carl Nielsen and Anne Marie Carl-Nielsen Award, one of Denmark's most prestigious prizes. They are hailed for their exceptional musicianship, fresh approach to the core repertoire, adventurous programming and a commitment to bringing music to young people through their highly creative concerts.
Single tickets for all concerts are $55 (general), $52 (senior) and $25 (age 30 and below); visit musicatkohl.org or call the Music at Kohl Mansion Box Office at (650) 762-1130.
Trio con Brio Copenhagen will appear in a free public conversation performing musical excerpts at the San Mateo Public Library, Saturday Feb. 4 at 3 p.m., Oak Room, 55 West 3rd Avenue, San Mateo.
The MAKM season continues with the Berlin-based Fauré Quartett and mezzo-soprano Frederica von Stade, Sunday, March 12, both in their MAKM debuts; Curtis On Tour with Ida Kavafian & Peter Wiley, Sunday, April 16; and the Alexander String Quartet, Sunday, May 7.
For revised COVID-19 protocols, visit www.musicatkohl.org.