Boxcar Theatre Sets Year-End Dates for THE SPEAKEASY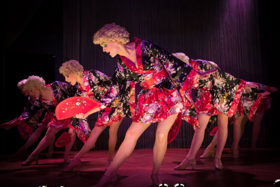 Boxcar Theatre has released its 2017 year-end tickets for The Speakeasy and announced the opening of a new bar, the Gaslamp Lounge.
Starting October 5, San Francisco's runaway, immersive hit show will run Thursdays, Fridays and Saturdays, with a final performance scheduled for Sunday, November 26 at 5 p.m. The Speakeasy will resume its run on January 5 with a new block of tickets to be released later this fall.
Tickets for The Speakeasy start at $65. To reserve, visit thespeakeasysf.com/reservations.
Boxcar Theatre has also scheduled a number of special events to conclude the year. On Friday, October 27 and Tuesday, October 31, The Palace Theatre will host All Hallows' Eve at The Speak, a Halloween party set in an abandoned and haunted speakeasy. The evening will include a mentalist stage act, séances, tarot card readings and live music performed by Parlor Tricks, San Francisco's "Industrial Ragtime Band." Specialty themed cocktails will be on offer, and a costume contest with prizes will take place at the stroke of midnight. General admission tickets start at $55.
In the final week of the year, Boxcar Theatre will present The Kinsey Sicks, America's favorite "Dragapella" Beautyshop Quartet, in Oy Vey in a Manger, "a raunchily audacious declaration that nothing about the holidays is sacred" (The Washington Post). In a musical tribute to the season, Oy Vey features reinterpretations of holiday classics such as "God Bless Ye Femmy Lesbians," "Satan Baby," "I'm Dreaming of a VAnna White Christmas" and "Soylent Night." Seven performances of Oy Vey will take place from Tuesday, December 26 through Saturday, December 30, with shows each evening at 7:30 p.m. and a matinee at 2:30 p.m. on Wednesday the 27th and Saturday the 30th. Cocktail service will be offered at all performances. General admission tickets start at $45.
Finally, for the third year in a row, Boxcar Theatre will celebrate New Year's Eve in a fashion fitting an idol of the silver screen. This year's event will also celebrate the grand opening of the Gaslamp Lounge, a swanky new bar adjacent to the cabaret. A live band and actors in period character will set the mood. Counting down to the year 1928, festivities will include an open bar and a 1000 balloon drop. VIP tickets will give patrons access to the Gaslamp Lounge to enjoy high-end cocktails, shrimp and caviar, and rooftop access to watch San Francisco's firework display. General admission tickets start at $225.
"It's been an incredible first year," said Creative Director and Producer Nick A. Olivero. "We have met so many fans who are excited to see what's next for The Speakeasy, which is constantly evolving. During this holiday season while our theater is reserved for a number of private events, we plan to revamp parts of the show with some new dramatic twists. Audiences can look forward to a new experience at The Speakeasy next year."
Boxcar Theatre was co-founded in 2005 by Nick A. Olivero, and has produced over 60 plays and musicals including Hedwig and the Angry Inch, Little Shop of Horrors, Clue, three Tennessee Williams plays in repertory and four Sam Shepard plays in repertory. It has also been the home for such companies as Crowded Fire and the Neo-Futurists as well as dozens of other emerging groups over the years. In 2007 the company opened its first venue, the Boxcar Playhouse in San Francisco's SoMa district, and in 2010 their second space, the Boxcar Studios in the Tenderloin. The company is currently located in The Palace Theatre, a multimillion-dollar space designed and built for Boxcar Theatre, which opened in 2016.
Boxcar's marquee show, The Speakeasy, reopened in its current form in fall 2016. "An intoxicating delight," (San Francisco Chronicle), "Period perfect," (San FranciscoExaminer), "A voyeur's playland" (San Francisco magazine), and "An extraordinary night out," (Frommer's) are among the rave reviews it has received. The company recently celebrated its 100th show. For more information, visit thespeakeasysf.com.
SPECIAL EVENTS:
Boxcar Theatre presents All Hallows' Eve at The Speak
Friday, October 27 at 8:30 p.m.
Tuesday, October 31 at 8:30 p.m.
Boxcar Theatre presents The Kinsey Sicks in Oy Vey in a Manger
Tuesday, December 26 at 7:30 p.m.
Wednesday, December 27 at 2:30 p.m. and 7:30 p.m.
Thursday, December 28 at 7:30 p.m.
Friday, December 29 at 7:30 p.m.
Saturday, December 30 at 2:30 p.m. and 7:30 p.m.
Boxcar Theatre presents New Year's Eve at The Speak featuring the grand opening of the Gaslamp Lounge
Sunday, December 31 at 8:30 p.m.
All performances take place at The Palace Theatre, a secret venue near Chinatown and North Beach in San Francisco. Ticket buyers will receive a text or email with directions on how to obtain the address.
For tickets ($45 - $400), visit thespeakeasysf.com/reservations. No tickets available at the door. Ticket pricing is subject to change. Patrons must be age 21 and up.
Go to thespeakeasysf.com for more information.
Photo by Peter Liu