BWW Review: KING OF THE YEES at SF Playhouse: an epic ride across cultural, national and familial borders
King of the Yees
Written by Lauren Yee
Directed by Joshua Kahan Brody
SF Playhouse
Lauren Yee's love story to both her estranged father and San Francisco's Chinatown is a resounding success, but the play, King of the Yees never really happens. Wildly imaginative in its structure and wonderfully acted, King of the Yees demolishes the fourth wall, pulls in audience member actors, and is full of amusing, clever surprises that are sure to entertain and inform.
The first act is a knockout, one of the finest I've seen. The rehearsal of Playwright Lauren Yee's (Krystle Piamonte) new play is interrupted by Lauren's father Larry (Francis Jue) who's pre-occupied with setting up a benefit dinner for his political idol State Senator Leland Yee. The house lights go up and the audience becomes privy to the intimate relationship that will be developed between daughter and father.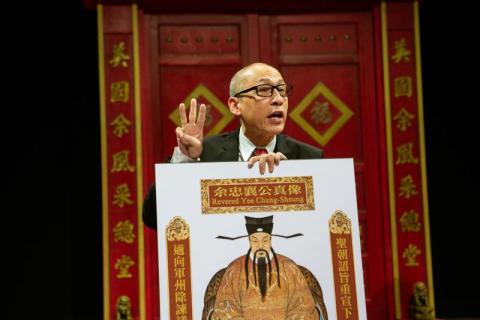 Her two actors, Actor 1 (Ronabeth Apostol) and Actor 2 (Jomar Tagatac) are told to take five, and they move stage left to have some very hilarious conversations about opportunities for Asian actors and faking accents. They will reappear in a myriad of roles throughout the play. Actor 3 (Will Dao) is pulled from the audience by Larry Yee and becomes an integral piece of the crazy puzzle that develops. Veteran actor Francis Yue (Soft Power, Pacific Overtures) is a marvel here, taking over the rehearsal and turning it into a cultural lesson brimming with humor, stereotypes and wisdom. His philosophy is derived from the old country, transported to San Francisco's Chinatown and to be passed down, in this case, from father to daughter.
Director Joshua Kahan Brody (The Last Tiger in Haiti, True Believer) works wonders with the movement both onstage and off, drawing the audience right into the proceedings. Having broken the fourth wall, we feel an added affinity to the characters and fall in love with the strong convictions (even some misguided loyalties) of Mr. Yee.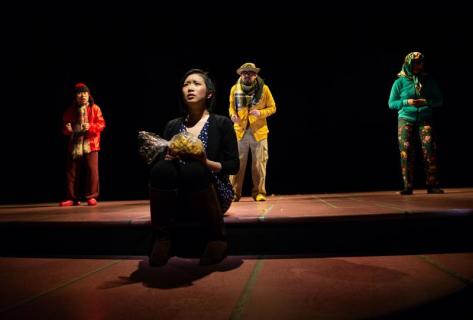 Mr. Yee is steeped in his Chinese culture, running an obsolescent men's club that bears his family name. Ancestry, heritage and lineage are major themes of the first act. Family is all that matters to the elder Yee, so the news that his daughter, who has moved to New York City and barely visits, is moving to Germany with her new Jewish husband is devastating. When she tells her father she may not have children, Larry is despondent and disappears behind the red gated Chinese doors that only Yees can penetrate.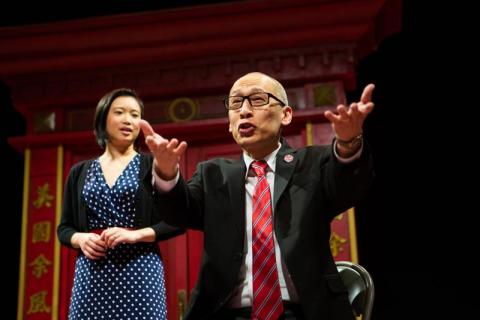 The second act follows Lauren's attempt to find her missing father and here the story crosses from the familiar into the magical, mystical world of ancient customs and rules. There's plenty of action presented; a Chinese lion dance, a Sichuan face changer cipher and a silly appearance by convicted Chinatown gangster Sonny "Shrimp Boy" Chow, but the heart and intimacy of Act One seem lost.
There's some really funny moments in King of the Yees, like when the two actors teach each other Chinese accents, or when two women argue over who's suffered more. The acting is top-notch and the direction superb. What starts out as a playwright attempting a simple two-hander about the demise of Chinatown, becomes something quite different.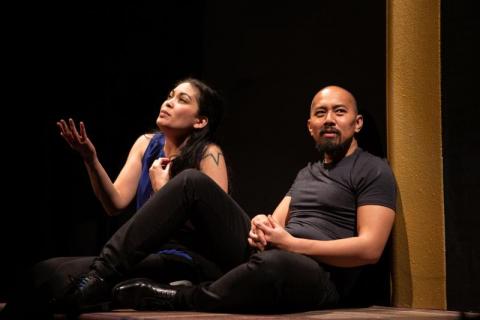 The second act take too long to arrive at the destination we all know will occur: a reconciliation of sorts between Lauren and her father. An understanding of the gap between modern youth and ancient customs is heartfelt and emotionally satisfying. King of the Yees is wildly imaginative, full of creativity and delicious humor. The spectacular first act and Francis Jue's enchanting performance make this must- see theatre.
King of the Yees continues through March 2nd, 2019 at SF Playhouse, 450 Post Street, San Francisco. Tickets are available at www.sfplayhouse.org or by calling (415) 677-9596.
Photos by Jessica Palopoli.
.