Jane Austen's SENSE AND SENSIBILITY To Open In Fallbrook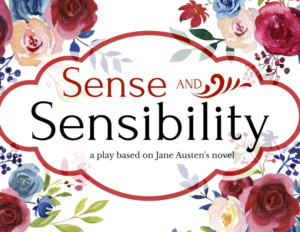 The 413 Project Theater will open a play adaptation of Jane Austen's Sense and Sensibility on June 22nd, 2018, at the Tea Lane Parlor in Fallbrook.
Based on the classic novel, two sisters, Elinor and Marianne, are thrust into poverty by their brother's scheming and manipulative wife. Reduced to living with their mother in a tiny cottage with their prospects for marriage nearly ruined, the sisters are nevertheless courted by three dynamic men, each with a dark secret. The shy and awkward Edward Ferrars wins Elinor's cautious but constant heart, neglecting to tell her he is already engaged to another. Colonel Brandon desperately loves Marianne, but his former attachment to the ill-fated Eliza and his old-fashioned habits fill Marianne with mistrust and disdain. Instead, Marianne, passionate and reckless, falls head-over-heels in love with the dashing Willoughby, only to be deserted when his true character emerges. Their hearts broken, Elinor and Marianne nearly give up on love until fate intervenes.
The 413 production will feature a full cast of talented San Diego actors, beautiful costumes and an immersive high tea dining experience. All general admission tickets will include the Tea Lane Parlor's scrumptious English high-tea meal, which includes assorted tea sandwiches made from local Fallbrook farms, freshly baked scones with preserves, handmade desserts, and of course, tea.
All performances will take place at the Tea Lane Parlor located in beautiful, historic downtown Fallbrook. General Admission is $55.00 Reserved is $89.00. Shows will run June 22nd to July 1st, 2018, with performances on Fridays, Saturdays at 7:00 pm, and Sundays at 2:00 pm.
For more information or to purchase tickets, please visit: www.the413project.org or call (619) 786-7248.
Photo Credit: Katherine Rose Photography