Review: THE PLAY THAT GOES WRONG at Pioneer Theatre Company is So Wrong It's Right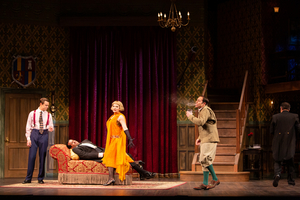 One of the first regional productions of the recent Broadway hit comedy, THE PLAY THAT GOES WRONG at Pioneer Theatre Company is so wrong it's right.
THE PLAY THAT GOES WRONG, by Henry Lewis, Jonathan Sayer, and Henry Shields, is ostensibly the Cornley Polytechnic Drama Society's production of whodunit THE MURDER AT HAVERSHAM MANOR. When a man is murdered, his fiancé, brother, and friend are all suspects. But the bigger mystery is how the actors continue their performance through seemingly everything that could possibly go wrong in a community theatre production. From set and prop mishaps to forgotten lines to performer injury, the show must go on...ingeniously and hilariously.
The hysterically funny cast works together like one tight-knit unit, making every problem and mistake feel spontaneous. They include William Connell as Chris, Greg Balla as Robert, Eric Santagata as Dennis, Jordan Sobel as Max, Brandon Contreras as Jonathan, Ruth Pferdehirt as Sandra, Kirsten Wyatt as Annie, and Archelaus Crisanto as Trevor.
The haywire unit set by James Kronzer is an absolute wonder, as it must go wrong exactly the same way every performance in a very precise manner while still appearing to be completely unplanned. He has succeeded in this spectacularly.
The costume design by K.L. Alberts is also just right. It's aesthetically pleasing and period-appropriate while not appearing out of place in a community theatre production.
Director Karen Azenberg has masterfully balanced all the necessary elements to induce uproarious, nonstop laughter in the audience from start to finish.
THE PLAY THAT GOES WRONG plays through December 21, 2019. For tickets, call the box office at 801-581-6961 or visit www.pioneertheatre.org.
Photo Credit: THE PLAY THAT GOES WRONG cast
| | |
| --- | --- |
| Vote Now for the 2022 BroadwayWorld Salt Lake City Awards | |
| voting ends in | |
Tyler Hinton has been a contributing editor at BroadwayWorld since January 2012. He has a BA from Brigham Young University (BYU) in Communications with an emphasis in Public Relations and a minor i... (read more about this author)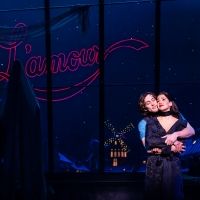 Review: MOULIN ROUGE! at the Eccles Theater is a Euphoric Heart-Filled Extravaganza

December 3, 2022

The national tour of MOULIN ROUGE! THE MUSICAL at the Eccles Theater is not just "spectacular spectacular"--it is "spectacular" a million times over with dazzling scenic and lighting design that has to be seen to be believed, and even then it feels unbelievable. The entire production is a luscious extravaganza of visuals and music, thanks to the unparalleled artistic vision of Tony-winning director Alex Timbers and his collaborators. But it's not just shiny veneer with no substance. Lying just under the surface is a pulsating heart of humanity, filled with love and pain and aspiration, driving the experience to euphoric heights.
---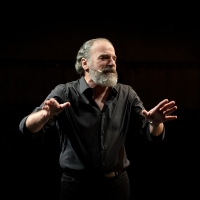 Review: Mandy Patinkin at the Eccles Theater was Unconventional and Unforgettable

November 21, 2022

MANDY PATINKIN IN CONCERT: BEING ALIVE played the Eccles Theater for one night only on Saturday, November 19, 2022, spotlighting the stage and screen star's distinctive singing, acting and personality.
---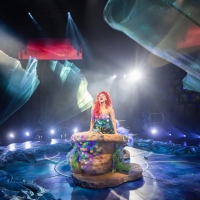 Review: Hale Centre Theatre's THE LITTLE MERMAID is Magical

November 20, 2022

Disney's THE LITTLE MERMAID on Hale Centre Theatre's Centre Stage in Sandy is an oceanic paradise of possibilities--you never know what new visual delight might be in store.
---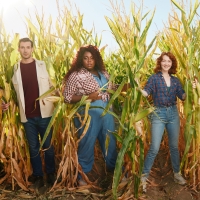 Review: Pioneer Theatre Company's Broadway-Bound SHUCKED Deserves to Be a Corn-Fed Hit

October 31, 2022

The world premiere of the Broadway-bound musical comedy SHUCKED, currently playing at Pioneer Theatre Company, is hilariously corny with story and song as sweet and juicy as fresh, buttered corn on the cob. It's an unexpected show that grows on you as it goes along, and like kernels stuck in your teeth, it stays with you long after. 
---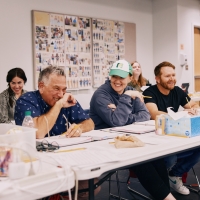 Interview: Tony Winner Robert Horn on His New Broadway-Bound Musical SHUCKED

October 29, 2022

Robert Horn won a Tony for TOOTSIE, adapted his own book of the musical 13 for its Netflix adaptation, and has written a number of television projects, including TEEN BEACH MOVIE and TEEN BEACH 2.  Generous and genuinely funny, he recently spoke with BroadwayWorld about his involvement in this new project.
---