BWW Review: Hale Centre Theatre's THE MOUSETRAP is Engrossing
THE MOUSETRAP plays through November 20, 2021.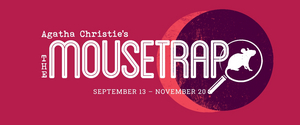 Agatha Christie's THE MOUSETRAP on Hale Centre Theatre's Jewel Box Stage is a thoroughly engrossing mystery that is well produced, directed, and performed.
THE MOUSETRAP by Agatha Christie is the longest running play in history, having been performed in the West End since 1952. It is the opening day of newlywed couple Giles and Mollie Ralston's guesthouse, Monkswell Manor. But a heavy snowstorm and word of a murder in London cast a pall over the Ralstons and their eclectic group of mysterious guests, especially when they discover one of them may have an unexplained connection to the crime.
Well directed by Jim Christian, the acting in the production is impeccable. It is difficult to single out any specific superior performances, as each actor succeeds at masterfully bringing his or her character to life.
These include Bradley Mackay (double cast with Adam Packard) as Detective Sergeant Trotter, Kristi Curtis (double cast with Morgan Fenner) as Mollie Ralston, BJ Whimpey (double cast with Clayton Barney) as Giles Ralston, Colton Hattabaugh (double cast with Samuel Wright) as Christopher Wren, Bonnie Wilson Whitlock (double cast with Heidi Scott) as Mrs. Boyle, Douglas Irey (double cast with Bradley Moss) as Major Metcalf, Diego Rodriguez (double cast with Chandler Bishop) as Mr. Paravacini, and Taylor McKay Barnes (double cast with Kaitlyn LeBaron) as Miss Casewell.
The set by Jenn Taylor is wonderfully realistic and at once imposing and intimate. The subtle video/projection design by Bobby Gibson adds a touch of spectacle. The costumes by Peggy Willis and sound design by Michelle Ohumukini add wonderfully to the ambiance, and the lighting by Colin Skip Wilson makes for a thrilling first act finale and satisfying climax.
How to Get Tickets
THE MOUSETRAP plays through November 20, 2021. For tickets, call the box office at 801-984-9000 or visit www.hct.org.
Photo Credit: Hale Centre Theatre.