All Female Trio Give Modern Dance A New Home In Hudson Valley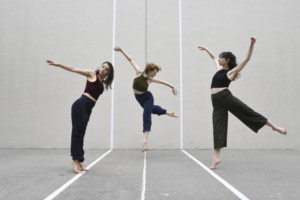 A-Y/dancers, a new company with a repertoire committed to the preservation of classical modern dance and the creation of emerging choreography, debuts with their first evening of dance in the Hudson Valley, October 13-14at the Howland Cultural Center. Led by three women, Sienna Blaw, Claire Deane and Erin Landers, the evening will celebrate the work of iconic postmodern master Merce Cunningham as part of the Trust's centennial milestone, acclaimed contemporary dance maker Doug Varone and emerging choreographer Hannah Garner.
Representing a program spanning across 3 distinct generations of creation, the trio has built the company to not only license works of yesterday, but to curate educational programming to juxtapose classical, modern and contemporary dance vocabulary in the same program to understand the legacy and continuity of concert dance. Set by former Cunningham dancer Jean Freebury, a Minevent for 4 dancers opens the evening, presented as part of the larger Cunningham Centennial celebration. Set on 4 women, Freebury has sampled the Cunningham repertory, weaving together the choreography from works that made their premieres in 1967, 1969, 1972 and 2008 set to a modern piece of live music by composer Jonah Udall. From Canfield, Landrover, Scramble, and Interscape, A to Y MinEvent is a uniquely staged celebration of movement born across different times of Cunningham's career­­- an iconic way to begin the careers of three new female dance leaders.
Additionally, set by Hollis Bartlett of Doug Varone and Dancers, Varone's Of The Earth Far Below is a physically graphic depiction of war set to Steve Reich's fiercely bowing violin music. A vision of a community on the verge of total destruction, Blaw, Deane and Landers, accompanied by 5 additional female artists, demonstrate the physicality of Varone's aesthetic; tumbling, whipping and colliding, in contrast to the geometric and linear approach of Cunningham. "We've created a program that shows both the range of modern concert dance and the through-line that connects it all," explains co-founder and artistic director, Claire Deane. "As the next generation of dance artists," she explains, "we are taking agency in the way companies are run, and the way dance is presented by cataloging it through the works that came before us to influence the works commissioned for audiences of today."
Rounding out the evening and following a week-long residency with emerging choreographer Hannah Garner, the trio embarks on a dance theater piece through humor, spoken word, and more poignant partnering. Yet to be titled, the work examines the large topics of right and wrong, good and bad, while employing metaphor, relationships and complexity.
PERFORMANCE and VENUE INFORMATION
A-Y/dancers at the Howland will be performed Saturday, October 13 at 8:00 p.m. and Sunday, October 14 at 4:00 p.m. at the Howland Cultural Center, located at 477 Main Street in Beacon.
Adult tickets, $12, and student tickets, $10, are available at https://aydancers.brownpapertickets.com. Sponsorship tickets with an embedded contribution to the further development of future programs are available for $100, $75, $50 or $25.
Related Articles View More Rockland / Westchester

Stories

Shows
More Hot Stories For You